By Leigh O'Connor.
No big celebration is complete without delicious canapés and finger food to accompany the best wine and cocktails – and New Year's Eve is no exception.
Finger foods have been around for a long time and over the years have gained more sophistication and elegance. As the name suggests they were originally designed to be eaten with one hand, so guests could still hold their drink with the other.
To help cater for your big New Year's Eve bash, we've put together five beautiful bites to tempt tastebuds come December 31:
Cutting edge style delivering atmosphere-driven dining is what you will find at
Miss Moneypenny's
on Surf Parade in Broadbeach. Architecturally designed by leading Australian firm Kelly Designs and taking inspiration from the original Noosa venue of the same name, expect modern Mediterranean coastal ambience with casual Gold Coast sophistication.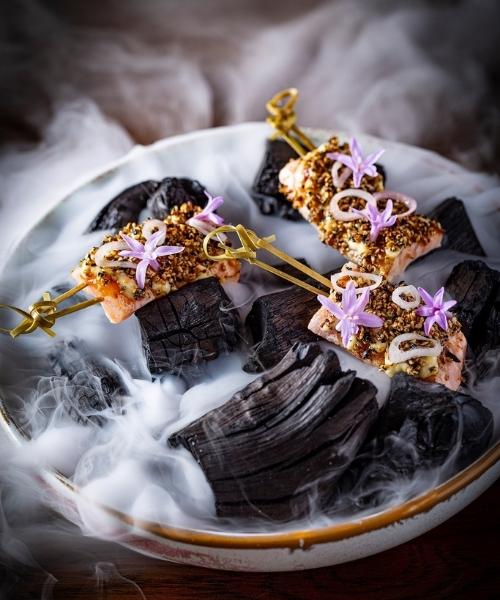 Char-grilled salmon belly from Miss Moneypenny's Broadbeach.
A staple and favourite on the menu is Executive Chef Adam Dundas-Taylor's
char-grilled salmon belly
– a beautiful colourful dish with Asian flavours that is as tempting on the plate as the palate. Easy to make at home, these delicious skewers will be a huge hit with friends and family on New Year's Eve.
Imagine a small bar in Asia off the beaten track and immerse yourself in true and authentic flavours at
Eddy + Wolff
on Ron Penhaligon Way in Robina. Named after the two streets the Vietnamese owners grew up on, this cosy intimate space transports you to another time, where you feel a sense of belonging and a connection to where their love for food all started.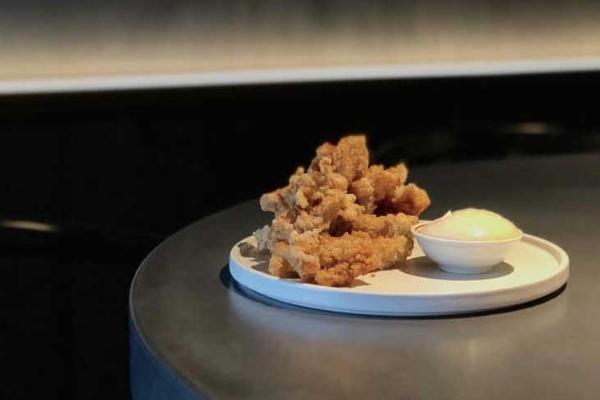 Crispy chicken bites and roasted garlic mayo from Eddy + Wolff.
Try this recipe for
crispy chicken and roasted garlic mayo
from Chef Vien Nguyen and watch the tantalisingly crisp and crunchy chicken thigh bites disappear off the party plate before you can say 2022.
Sharing the knowledge and experience from more than 35 years in the hospitality industry, Director Ivan Shatford offers the services of
CNI Catering
to Sydney City and the outer regions. Providing much more than just basic refreshments, CNI Catering can cater to breakfast boardroom meetings, team building days, weddings, large events and functions, and small at-home gatherings with a menu designed to suit your group's needs and tastes.
Ivan's
truffle, mushroom and Parmesan arancini balls
are mighty little morsels of celebratory goodness that will have your guests saying 'please sir, can I have some more'? Fried until golden and crispy, serve these with your favourite relish or chutney – be aware, one is never enough!
A promise in a name,
Locale Pizzeria Deakin
on Hopetoun Circuit provides inspired Italian dining to Canberra locals. Drawing an after-five crowd, Locale encourages guests to take time dining with family and friends, relaxing, celebrating and socialising over sumptuous food. A smart menu remains simple, serving favourites featuring ingredients prepared onsite with pasta and pizza cooked in a wood-fired oven to release mouth-watering flavours.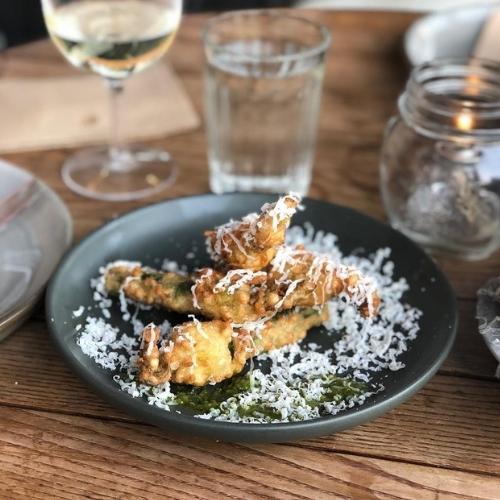 Tangy and crispy zucchini flowers from Locale Pizzeria Deakin.
Pesto adds a great tang to these
crispy zucchini flowers
, while the smooth and creamy goats' cheese in Chef Kevin Rhind's recipe is an ideal filling to complement the delicate squash flavour and soft, velvety texture of the blooms.
Since 2011,
Citrique
has continued to deliver on high standards expected of modern and elegant dining inside the J W Marriott Gold Coast Resort & Spa. Interactive zones set in sleek, contemporary surrounds provide guests with a myriad of choices and ample space to relax while deciding a route of dining.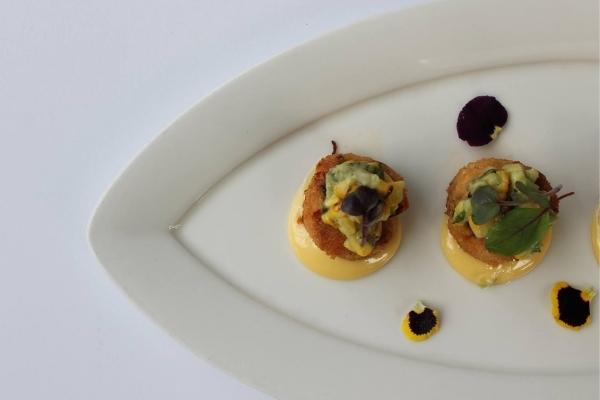 Small bite, big flavour punch – crab cakes from Citrique.
For more New Year's Eve small bites recipes, click
here
.