By Freya Ensbey.
Luke Mangan's influence on the food industry can be found across five countries in 19 different restaurants, as well as in the air on Virgin Australia business class flights and at sea, on board five P&O cruise ships; so, it goes without saying that Mangan knows how to bring people together to enjoy meals shared, the central concept and anticipation of his latest cookbook, Sharing Plates.
As the saying goes, "happiness is only real when shared," and we believe this ethos no truer than the happiness and memories that can be created whilst preparing and enjoying food together. We spoke to Mangan, who uses this theme throughout the book, sharing with us his passion for Middle Eastern cuisine, bringing people together, his tips on creating the perfect dishes for sharing and his must have ingredients for any home cook.
In celebration of Mangan's latest cookbook, we're giving you the chance to win 1 of 3 copies, simply enter via our facebook page.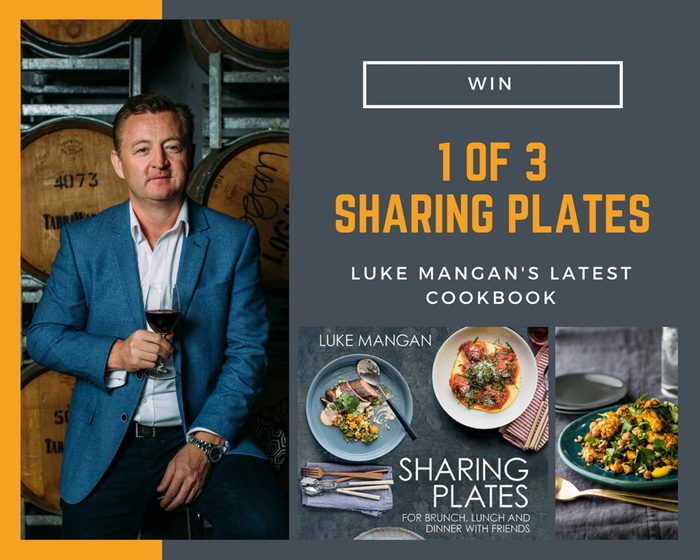 AGFG speaks with Luke Mangan
AGFG: Why do you think it is inherently more enjoyable for a meal to be shared?
Mangan: The best thing about having a shared meal is that you can have a little bit of everything, I think these days people don't want to be restricted to a 3-course meal. Sharing meals provides conversation and interaction at the table. When I'm entertaining I'll just put lots of dishes in the middle of the table for guests to help themselves to what they like.
AGFG: What is it about the Middle Eastern cuisine that makes it so accessible for entertaining?
Mangan: This book embraces all cuisines from Middle Eastern dishes like cauliflower salad with saffron yoghurt to Asian inspired dishes and small bites of chicken katsu sandwiches and mini milk buns with lobsters and Vietnamese slaw.
For taste and balance, choose a few dishes from the book that share the same theme but at the same time be a bit adventurous and explore different tastes and flavours in one sitting.
AGFG: What is your biggest tip or rule when creating share plates?
Mangan: There are no rules really – the best thing about shared plates is having variety. I make sure I have all basis covered, catering for everyone including any guests that might be vegetarian; this will include a selection of meats, salads and sides. Think about the time you have to prepare and try to do as much as you can in advance. No host wants to be slaving in the kitchen all night! If you are relaxed, then your guests will be relaxed too. And if all else fails, make sure there is plenty of good wine!
AGFG: If you could work with only a handful of ingredients for the rest of your career, what would they be?
Mangan: Olive oil, fresh herbs and sea salt – all equally great to have on hand and can turn a good dish into a great dish!
AGFG: What is your go-to share plate or tapas from the book you whip up when friends pop in?
Mangan: This will depend on the season; in Summer, I love a cold lunch like some oysters and fresh seafood – it's quick and easy and you can do a lot of the preparation beforehand. The Oysters and Sashimi chapter of the book is perfect for this sort of entertaining – from tempura oysters with wakame salad to a plate of kingfish sashimi with nam jim and coconut yoghurt.
In Winter, I find I have more time in the kitchen for the slower type of cooking and heavier dishes like, blood sausage with pipis, spiced lamb empanadas and beef short ribs with Pedro Ximenez.
AGFG: What is your most exciting share plate dish to WOW guests when dining?
Mangan: I could never pick just one dish from this book – there are recipes here for all occasions from small bites to main meals. I really love our Snacks and Salads chapter as it has some great little bar snacks like crispy fried chickpeas, salt and pepper popcorn chicken and the most amazing sweet potato and chilli salt fries with gorgonzola cream, also fresh seasonal salads like honey and oregano halloumi salad with fig and golden beetroots.
AGFG: If you could choose to invite anyone dead or alive to share a meal, who would you pick and why?
Mangan: Frank Sinatra and my mum of course! Frank Sinatra because I have always loved his music and my mum because we love cooking and sharing meals together – she is my best critic and I love her honesty!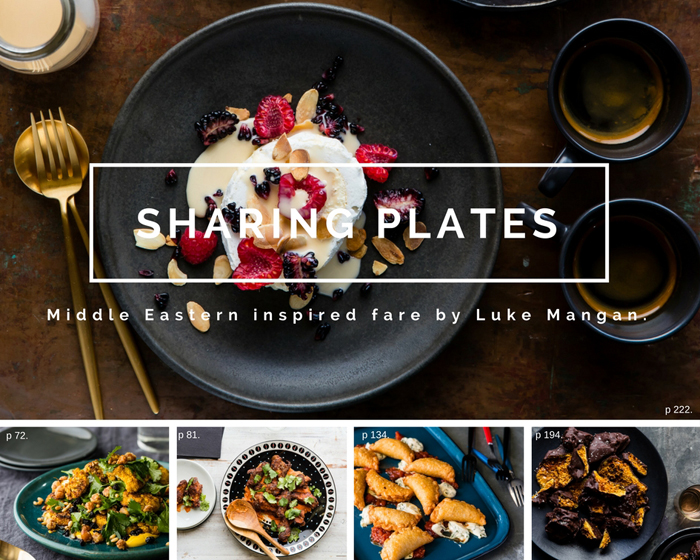 Sharing Plates by Luke Mangan
"There is something truly satisfying about sharing good food with family and friends." ~ Luke Mangan.
Mangan's Sharing Plates delivers page after page of mouth-watering Middle Eastern inspired tapas dishes, showing us how to really make the most out of shared occasions, Australian style, throughout the 100 plus recipes, accompanied by vibrant photography and aligned with easy to follow methods and categorised chapters for easy reference.
Sharing Plates shows us how to think about balancing flavours and textures, how much time you have for preparation and what elements of the menu can be made in advance, to ensure you are free to enjoy the leisurely process of grazing and feasting with loved ones.
Begin your tapas party with a plate of Moroccan cauliflower salad with saffron yoghurt, pine nuts and currants. This is an ideal lighter vegetarian option for an entrée, packing a spicy punch alone or can be served as a heartier main with the addition of the Moroccan lamb cutlets. Or perhaps serve up a bowl of tasty crispy salt and pepper popcorn chicken dipped in a spicy homemade chipotle mayonnaise, for an easy finger food option.
Mangan recalls his travels through Spain, developing a love for freshly made empanadas, which he would enjoy as a bar snack served with Spanish white wine, returning home to recreate this experience with his spiced lamb empanadas with tomato chutney and basil mayo. These flaky little pockets are full of flavour and are versatile enough to be stuffed with beef, pork or chicken to suit different tastes.
For a simple dish you can prepare the night before, look no further than the baked spicy chicken drumettes with romesco. With the addition of spices like sweet and smoked paprika, curry powder and the use of oregano leaves, these succulent morsels will have your guests licking their fingers down to the very last drop.
Any meal wouldn't be complete without finishing on a sweet notes and this book delivers, with a whole chapter devoted to desserts that are not only simple to make but that can also be easily shared, like the soft Swiss meringue with berries and almond anglaise. Break all of the rules and serve this meringue in the centre of the table, for guests to dig in and help themselves, with the raspberry coulis and almond anglaise in separate jugs for a theatrical drizzle. Or whip up a batch of salted chocolate honeycomb bombs and keep them in the freezer, so you can pull them out at any time that calls for a sweet little bite.
Sharing Plates incorporates a little taste of everything, for just about everyone, and for just about any occasion, whether it's a lazy weekend brunch, casual supper for friends at the kitchen table, a special occasion lunch, or drinks with nibbles, this cookbook will be a staple addition for any kitchen.
Images and recipes from Sharing Plates by Luke Mangan, Murdoch Books, RRP $39.99 with photography by Nikki To.