By David Ellis from vintnews.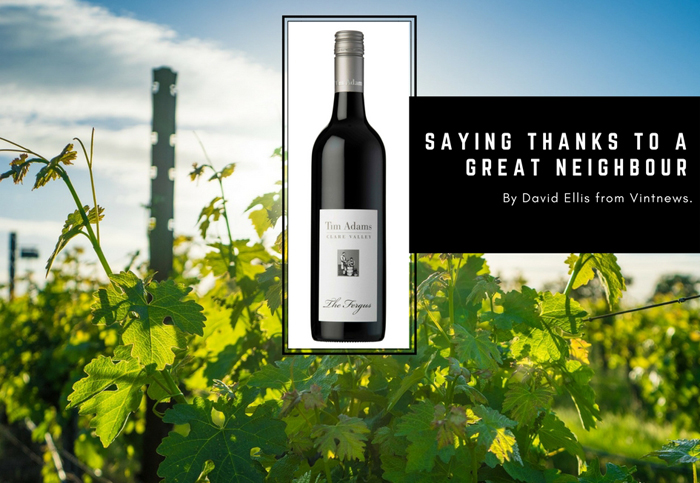 There's no disputing that Tim Adams gives us not just some of the best wines from South Australia's Clare Valley, but some of the best-value wines from the Clare too, and one of the latter has a most fascinating tale behind its creation.
It was back in 1993 when the Clare suffered a dire shortage of Shiraz and Cabernet fruit, that to help him keep afloat, Tim's neighbour Fergus Mahon graciously sold him a vineyard of Grenache for Tim to blend-in with his own Tempranillo and Malbec – making for a nicely medium-bodied and food-friendly soft red.
It turned out so successful, that Tim made a similar blend the following year, and the year after that and then the year after that too. And when that wine soon became one of his top-sellers, he paid homage to his wonderful neighbour who sold him that Grenache in 1993, and named his blend The Fergus.
Today it's still one of Tim Adams' top-sellers, his latest release being from 2014 and a lovely drop with lifted red berry aromas, flavours of cherries and plums from the Tempranillo, Malbec's red berries and violets, and spiciness from the Grenache.
Pay $24 and for a great food match enjoy with a lamb leg roast or BBQ lamb chops.
One to note: the Canberra region's Shaw Vineyard Estate had a cracker 2015, with their Estate Riesling becoming arguably their most popular wine to date, quickly selling out in just a few short months.
And says owner/winemaker Graeme Shaw, the following year was another brilliant vintage with good rainfall and warm days, combined with Murrumbateman's usual cool nights, bringing 2016 close to the highs of the 2015. "And whilst equal in quality to 2015, our 2016 Estate Riesling also has its own personality including alluring graphite acidity coupled with characteristic regional fresh lime juice," adds Graeme.
Great at $30 for enjoyment now – and for a few to cellar for five, ten or fifteen years down the track – it's perfect with most Asian dishes and seafood.