An island with more churches than houses, more donkeys than people and more wine than water – Santorini has long been at the top of many travellers' bucket list.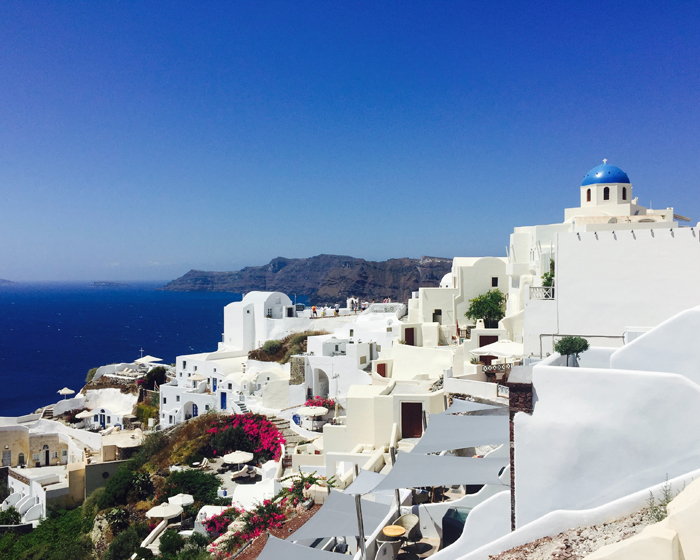 Santorini, Greece.
With white washed, blue-domed houses perching and spilling over spectacular cliffs, the azure blue waters of the Aegean Sea and postcard views at every turn, Santorini is a tourist mecca. One of the Cyclades islands, it was devastated by a volcanic eruption in the 16th Century, forever shaping its rugged landscape and resulting in the trademark underwater caldera (crater).
The two principal towns of Fira and Oia cling to cliffs above the caldera, overlooking the sea, small islands to the west and beaches made up of black, red and white lava pebbles. While ancient history and ruins abound, Santorini is also a foodie haven with fresh seafood and locally produced wines served at the many restaurants and tavernas around the island.
For those wanting to get their Greek on, island style, there is no better place on Earth. Let's take a look at what makes Santorini so special.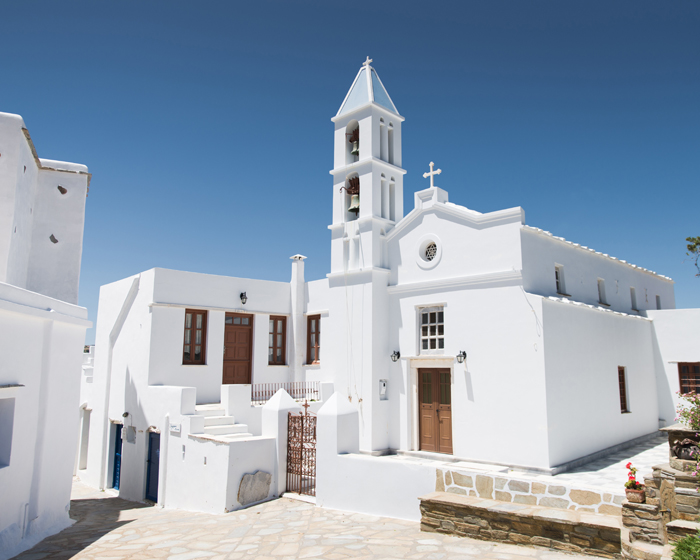 One of Greece's many churches in Tinos.
Ancient Akrotiri:
First discovered in the late 1860s, Akrotiri's buildings date back to pre-17th Century BC. Once a thriving port and considered one of the most important prehistoric settlements of the Aegean Sea, the city was destroyed by the massive volcanic eruption that created the Santorini of today.
About one-third of the site has been excavated, allowing visitors to explore multi-level buildings, marvel at ancient pottery and drainage systems. It is recommended to take a guided tour to explain the rich history of the site, while to get a better look at frescos and other art found at Akrotiri, visit the Museum of Prehistoric Thira.
Red Beach:
One of the most famous and beautiful beaches on Santorini, Red Beach is only a short stroll away from the ancient site of Akrotiri. These days it can get very overcrowded as it is not a very large beach area, with many visitors choosing not to walk all the way down to ocean, but admire the red and black volcanic rocks from the headland.
Check out the different colourings of the cliff face while descending to the shore, where sunbeds and umbrellas await. Snorkelling is also recommended, due to the interesting underwater rock formations.
Cliff Jumping at Amoudi Bay:
For beautiful views of the caldera, descend 300 steps from the northern city of Oia to the charming port of Amoudi Bay. Surrounded by striking red cliffs and dotted with whitewashed buildings typical of Santorini, this charming little village features quaint tavernas, great swimming in crystal clear water and cliff diving from a designated point on the small island of Saint Nicholas.
The beaches are rocky, so make sure to wear appropriate footwear, especially if planning on diving from the tall cliffs towering above the bay. While the trip down the stairs to reach Amoudi is very scenic – watch out for donkeys – the steep climb back up is a serious hike.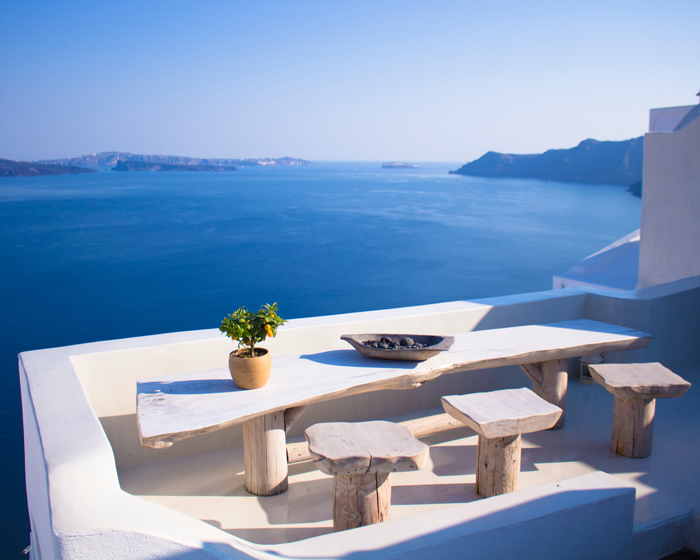 Oia, Greece.
Scenic Hike from Fira to Oia:
The best way to see Santorini is to walk and the scenic hike from Fira to Oia is one of the routes to take in the island's beauty in all its glory. About 10 km in length, this hike passes through four towns – Fira, Firostefani, Imerovigli and Oia – and along the way are numerous sites worth stopping for, in addition to spectacular ocean views and picturesque villages. Skaros Rock headland is a popular vantage point for watching sunsets and in yesteryears it housed a castle, that served as a meeting place for Christians during the 1800s.
With numerous churches dotted along the trail, stop by blue-domed St Gerasimos, which offers fabulous views of the volcano; and once arriving in Oia, explore the Byzantine castle ruins.
The best time to start this trek is in the morning, as there is no shade along the way and the afternoon sun can be very oppressive. It usually takes about three hours, depending on fitness and the number of stops for sightseeing; make sure to wear sturdy footwear as some parts of the hike are rocky.
Kamari Beach:
Santorini's volcanic history is reflected in some of the more unique beaches in the Greek Isles. About 6 km southeast of Fira on the east coast, Kamari Beach has the largest stretch of black sand on the island. Lounge chairs and umbrellas are available on the beach, while the nearby town of Kamari is a popular resort with restaurants, beachside bars and shops.
Dip the toes into turquoise blue waters and admire the imposing views of Mesa Vouno hill, where Ancient Thira sits. Sandals are a good idea for the beach, as the pebbly terrain can get very hot with the Mediterranean sun beating down.
Ancient Thira:
Stroll through Ancient Thira and discover ruins of religious sites, a theatre, old city administrative buildings and even a gym for military trainees. This archaeological site was first claimed by ancient Greeks in the 9th Century BC, and is home to remnants of the Hellenistic, Roman and Byzantine eras.
It is about an hour's scenic walk from Kamari up to Mesa Vouna, depending on how distracting the breathtaking view of the Aegean proves to be. The site is open from Tuesday to Sunday from 8am-3pm all year round.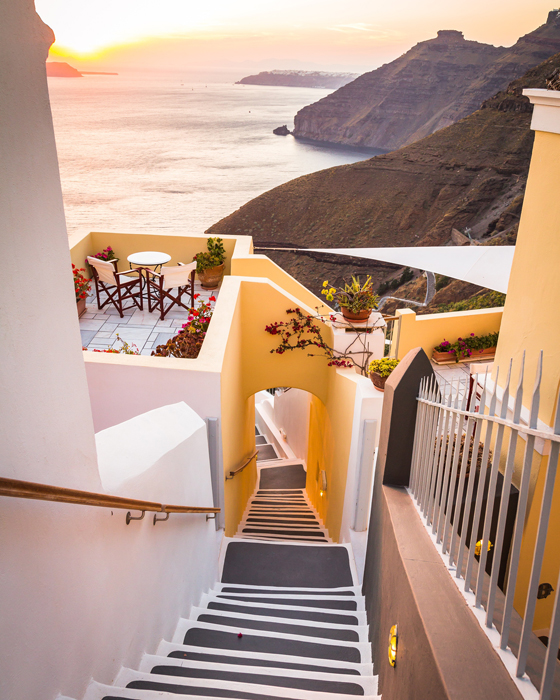 Fira, Greece.
Winery Tours:
Santorini is considered one of the premier wine destinations in Europe, as its rich volcanic soil imparts an interesting flavour not found anywhere else. The indigenous Assyrtiko grape vines are often formed into circles and grown on the ground to protect them from strong, coastal winds.
Most wineries are concentrated in the central Santorini region, with Santo Wines at Pyrgo the largest on the island. Founded in 1947, this co-operative is known for white wines with a citrus fruit and honey undertone, ideally partnered with fish and seafood.
Venetsanos Winery in Megalochori, about 1 km south of Santo Wines, overlooks the caldera and has a very long family tradition of producing whites with a complex aroma of pear, white flowers and citrus, with hints of fennel root.
Domaine Sigalas in Oia was founded in 1991 and exports wines all around the globe, including Down Under. With some vines more than 50-years-old, Domaine produces whites with citrus aromas, accompanied by hints of herbs.
Wine tastings are usually teamed with complimentary snacks such as bread and cheese, and for those without time to take a tour, keep an eye out at local restaurants for drops such as Vinsanto (a dessert wine), Nychteri, or Assyrtiko.
Stay in a Cave House:
While Oia has been one of the most sought after travel destinations in the past few decades due to its picturesque beauty and infamous sunsets, it is also home to unique cave houses, dug into cliff faces by poor sailors who couldn't afford to build their houses on top of the hill.
The cave houses of Santorini's old settlements have been preserved and restored, with many of those built inside the caldera turned into guest houses or restaurants. Hector Cave House is one such accommodation option, with breath-taking views over the Caldera Cliffs from the private verandah and deck.
Carved into the cliffs more than 250-years-ago and originally used as a wine cellar, this traditional cave house became a family-owned Summer residence, before opening its doors to travellers from around the world.
Take in a Romantic Sunset:
Romantic and mesmerising, there is nothing like watching a Santorini sunset from the clifftops, with a glass of wine in hand. Oia is said to have some of the most beautiful sunsets on Earth, but there are many spots around the island where the last pink and gold rays of the day cast their glow over whitewashed buildings.
The village of Imerovigli is one, along with Vlichada Beach with its volcanic scenery, however the view from Profitis Ilias Monastery on the highest point of the island is probably a local favourite.
Sensational Santorini beckons as a holiday haven for travellers wanting to soak up sun, history and culture… want to know more? Click here.