By John Rozentals.
The Rutherglen district of North-Eastern Victoria seems to be going through a bit of an identity crisis.
Its most highly regarded wines — richly flavoured fortifieds — are on a downward slide in the marketplace, though the top examples of mature muscats and tokays fetch the seemingly astronomical process they deserve.
The area has tried, with mixed success, to match it with cooler area in producing dry white table wines.
A recent tasting of a range of wines from one of its oldest producers, Jones Winery & Vineyard, showed that Rutherglen's real future may lie in another blast from its past — big, gutsy dry reds.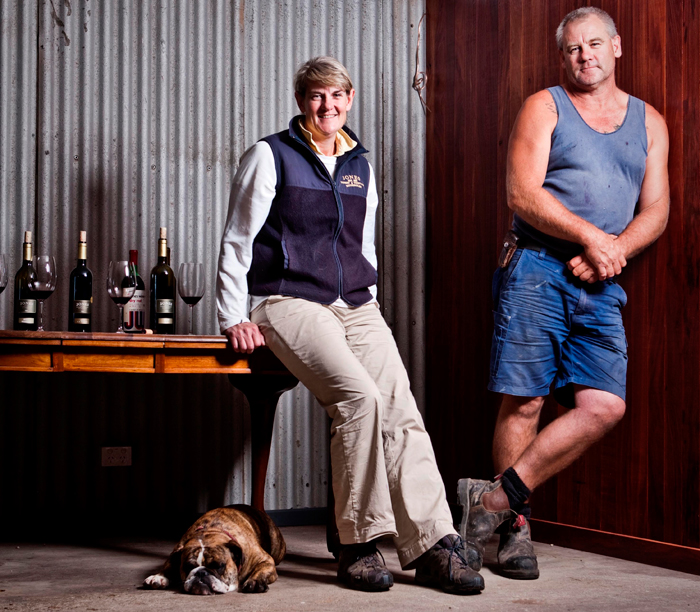 Siblings Mandy and Arthur Jones ... genuine Australian characters producing genuine, big, Australian reds.
Wine Reviews:
Jones Winery & Vineyard 2013 Shiraz ($32): Rutherglen prides itself on making 'wines fit for heroes.' As a devout observer of drinking habits in restaurants over the past few years, especially the tendency for the big, bold reds to mainly appear on tables occupied by women, so I hope that in these more politically correct times the term includes what we used to describe as 'heroines.' This is definitely a big, robust red that will certainly do extreme justice to a rare char-grilled steak. The juices in the steak will combine with the wine's tannins and render a very satisfying combination. Take care with it, though. It carries a hefty 14.5 per cent alcohol as well as a significant flavour punch.
Jones Winery & Vineyard 2015 Malbec ($35): Malbec is huge in Argentina, which, incidentally produces a similar share of the world's wine as does Australia. Not so much in Australia, where its chief claim to fame lies in famous blends with cabernet, especially in the Clare Valley. This is a solid, intriguing dry red with some very attractive notes of dark berries and spices. Well made, with quite an earthy feel to it and it's potentially a tasty accompaniment to lamb fillets. I do have some questions about the price, though. I'd prefer to see it in the mid-$20 range rather than in the mid-$30s. Visit www.joneswinery.com.au.
Wine of the Week:
Margan2017 Albarino ($30): The popular Iberian white variety albarino has had a controversial time in Australia, with much of the original intended planting now recognised, correctly I presume, as the French variety savignan, which is not to be confused with sauvignon blanc. Anyway, if this wine is anything to go by, albarino has a tremendous future here as a leading aromatic variety, certainly a better bet than most pinot grigio. This Hunter Valley dry white shows the variety's renowned apricot character but I also pick up a blast of Asian spices, including what I interpret as a good dose of ginger. I'd love to try the wine with some spicy Vietnamese or Thai cuisine — or perhaps even some fiercely hot Szechuan crab or chicken.