'Take the journey, experience the abundance of fresh local farm produce this region has to offer' - Nelly le Comte, Remy Tancred.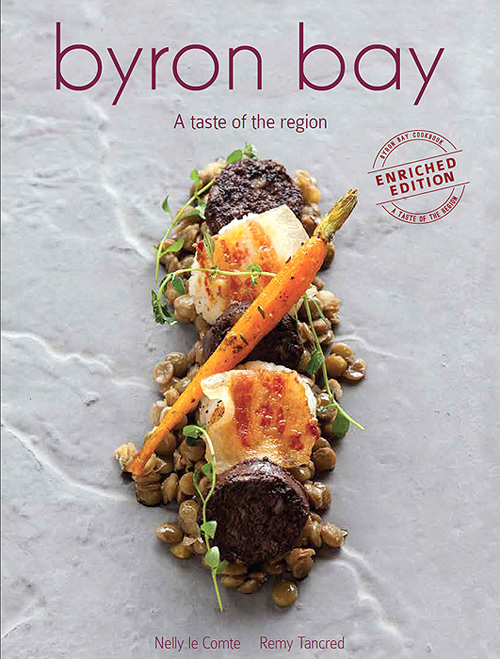 An inspiring collection of recipes from the best chefs and foodies in Northern NSW, Byron Bay; a Taste of the Region showcases all of the exceptional produce available in the region. This second edition of the stunning cookbook is a reprint of the first edition but with an additional 25 mouth-watering recipes from talent that was not seen in the first book. Authors of the cookbook, Nelly le Comte, a food and lifestyle photographer and Remy Tancred, Sample Food Festival director and publisher, both share a passion for innovative recipes and beautiful imagery and this is evident throughout their book. Their hugely successful first edition of the Byron Bay cookbook was published in 2013 and since then a number of restaurants and cafes have opened up in the region. This prompted the pair to create the 'enriched edition' of the cookbook to incorporate the recipes from these newly opened establishments and to also include new recipes from those already included in the first edition.
Byron Bay; a Taste of the Region features recipes from revered chefs such as Clayton Donovan from Jaaning Tree, Katrina Kanetani from Town in Bangalow, Ed Halmagyi (fast Ed) television personality and Terase Davidson from Taste Byron Bay; as well as recipes from a number of the preeminent local cafes, restaurants and food producers in the region.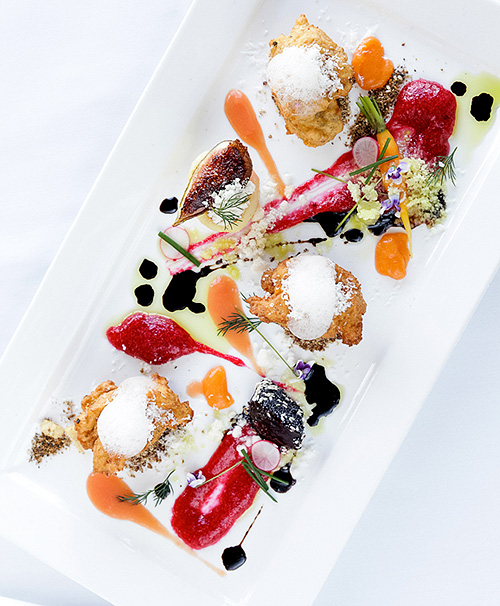 Clayton Donovan's Macadamia Nut and Cheese Beignets with Native Reduction, p.53.
The array of delicious recipes offered in the cookbook allows readers to recreate a sense of the Byron Bay vibe at home. Lemon miso scallops with green paw paw and ogonori pickle is a dish that is sure to arouse memories of Byron's iconic sandy beaches and their surrounds. The book also features the local award winning produce from Brookfarm and world famous Byron Bay Chilli Company sauce. Think fried green tomatoes in brown ale butter with macadamia salsa and sublime pear and almond tart with Habanerno apricot glaze - even the home cook can master a chef inspired dish through Clayton Donovan's macadamia nut and cheese beignets with native reduction.
Byron Bay; a Taste of the Region brings together and celebrates the regions finest produce, restaurants, cafes and food producers in a way that has never been done before. A truly delightful collaboration of recipes that encompass everything that this spectacular part of the country represents.
You can purchase Byron Bay; a Taste of the Region from here.
Recipes and Images from Byron Bay; a Taste of the Region, published by Tancred Holdings Pty Ltd and Nelly le Comte Photography.
By Sarah Dionysius.