Malaysian cuisine is intrinsic in its definition, due to the vast population of Malaysia being divided among three major ethnic groups of Malay, Chinese and Indian, it is more accurately described as a fusion cuisine due to its rich history of multiculturalism.
Malaysian is a complex display of flavours, however, one constant found in most dishes is rice, whether it's in noodle form, as a side or even sweetened in desserts. Chilli is another prominent ingredient used for heat and spice, along with shrimp paste, soy sauce, coconut and chopped nuts for texture.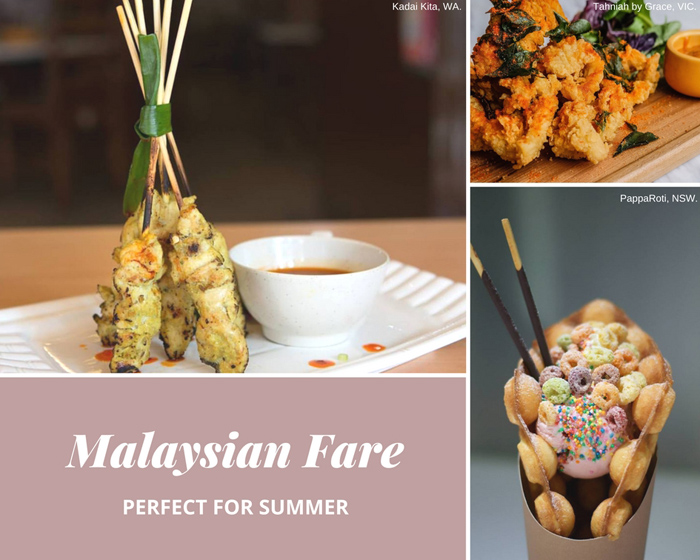 Street food is a popular option in Malaysia with many food carts lining the side roads of markets and serving fresh and fast meal options for locals, whilst bustling restaurants offer heartier mains of curries, peanut sauce salads, fried rice, noodles and seasonal fruits.
As we come into Summer here in Australia, Malaysian is the perfect cuisine to delve into, as they usually experience heat and humidity all year round, with seasons affected by a monsoonal climate and sporadic downpours. Whether you have plans to visit this vibrant country or not, you can always savour a taste of Malaysian cuisine here at home, with our top picks of Malaysian restaurants down under, filled with flavours that are sure to tingle your tastebuds.
Kedai Kita | WA
A short drive from Perth's CBD along the Albany Highway in Victoria Park, resides Kedai Kita. Opt to take a seat inside the spacious dining area, with high ceilings, exposed banisters, stacked stone walls and timber furniture, creating a relaxed space to devour scrumptious Malaysian fare. Sample starters of Tahu Bakar - fried tofu served with sweet peanut sauce before a main of Nasi Goreng Kampung – spicy fried rice, mixed with anchovies and prawn crackers, ideal with a side of chicken satay skewers.
Albee's Kitchen | NSW
Set amongst the diverse dining scene of Campsie is Albee's Kitchen. Serving Malaysian and hawker style cuisine to Sydney's inner west, Albee's offers a cosy dining space to experience authentic tastes with a menu of authentic flavour. Try the finger-licking-good Malay style fried chicken or opt for stir fried Hokkien noodles with black soy sauce and hard fried pork lard. Be sure to save room for a slice of baked tapioca cake with coconut topping.
PappaRoti Macquarie | NSW
Residing in the Macquarie Centre in the heart of East Sydney, PappaRoti draws locals and tourists alike to enjoy traditional Malaysian cuisine in a warm and welcoming environment. PappaRoti keep up to date with seasonally available produce and offer a regularly changing menu of Chef's specialties, with breakfast options like the beef rendang with a side salad and roti. For larger bites, enjoy filling meals like Pappa's favourite - Nasi Lemak, with perhaps a choice of a chicken curry and side of coconut rice, ideally washed down with a cup of ice cold fruit tea.
Tahniah by Grace | VIC
You will feel as though you have boarded a plane and landed in Malaysia when visiting Tahniah by Grace, tucked along Camberwell Road in Hawthorn East. Sit amongst potted orchids in the alfresco dining area with twinkling fairy lights overhead, exposed painted brick walls and relaxed intimate seating, allowing the warmer night air in. Order starters of Malaysian pan-fried dumplings stuffed with minced chicken, cabbage and onion served with Szechuan sauce, with seafood main options of Malay sambal calamari or Chinese style grilled tamarind prawns.
Kampung Malay | QLD
Gracing the Gold Coast with scrumptious and daring flavours, Kampung Malay is located in three locations of Bundall, Mudgeeraba and Robina. Each dining space is styled with a modern interior of potted greenery, palm leaf wallpaper and ambient down lighting over dark timber seating, creating a tranquil and calming space reminiscent of the Malaysian jungle. Slurp up an entrée of wanton dumpling soup as an aperitif before delving into a seafood mee goreng with wok fried egg noodles cooked in a seafood curry sauce.
The Malaya | NSW
Sharing the aromatic and spice driven Nyonya flavours of Asia's southeast with Sydneysiders, The Malaya offers diners the tried and tested dishes from the original 1963 signature recipes it was first known for. Take a seat in the sophisticated dining area styled with bold orange seating, dark timber tables, chocolate brown carpet and floor to ceiling windows overlooking sprawling water views of Sydney's King Street Wharf and beyond. Accompanying an extensive wine and cocktail list, are tantalising dishes like the King prawn laksa made with vermicelli, bean sprouts and your choice of toppings served in a spicy milk soup and garnished with dried onion, shallot, coriander and chilli.
For those who instead wish to stay home and get their hands dirty in the kitchen, why not create your own Malaysian banquet for the family with our guide on How to Host a Malaysian Dinner Party.