By Freya Ensbey.
Following 14 gruelling weeks in the kitchen and 48 episodes later, a record breaking number of viewers tuned into the seventh season finale of My Kitchen Rules last year, to see "The Spice Sisters" crowned as the winners.
>> WIN A TASIA & GRACIA HAMPER via our Facebook page on Friday, November 17 @ 4pm! <<
However, as the studio lights dim, the signature aprons are folded away and the other contestants go back to their day jobs, the lives of bubbly sisters, Tasia and Gracia Seger have changed forever, now $250,000 richer.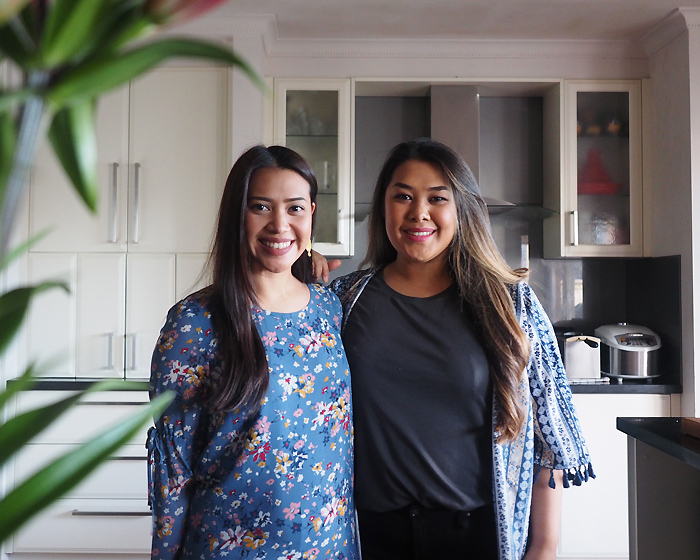 Tasia and Gracia Seger, The Spice Sisters.
The popular show has launched a culinary career of many wanna-be home cooks, showcasing their talents in the kitchen and their personalities outside of it. Tasia and Gracia entertained us all with their endearing sibling bickering whilst cooking together, but it was their use of hot chilli, perfectly pungent sauces and seemingly iron stomachs which gained the judges attention, seeing them labelled as The Spice Sisters.
Born in Indonesia, the Segers moved to India before settling down in Melbourne, giving them a worldly understanding of several cuisines. The centrepiece to their family gatherings, holidays and special occasions, food was always a prominent aspect of the girls' life.
Using their fondest food memories as recipe inspiration, the sisters have forged a strong food philosophy in the kitchen: cooking to recreate memories for people.
The dynamic duo says that the show has gifted them many opportunities in the food industry and to pursue paths in this field, recently launching their very own sauce label, with the first edition being their smooth Satay Sauce recipe which had the judges raving on the show.
We sat down with the Spice Sisters to chat about their time on My Kitchen Rules, their inspirations and of course the launch of their well awaited famous sauce and what the future holds for them.
Why did you first apply for My Kitchen Rules?
Applying for MKR was a 5 year "work in progress," we had both been watching the series since season 2 aired and were waiting since then to apply as we both had university commitments. So, in 2016, when we both had finished our studies we jumped at the opportunity, applied and got into the competition. Part of the reason we applied was to prove to our family that we could cook together - without killing each other. But most importantly, [we wanted to showcase] our passion for food and to show people the type of food we like to cook and eat.
You mentioned that you both would love to get invited back on MKR and set a challenge for the new contestants. What do you have in mind?
This would be a dream come true to be invited back on MKR and be able to set a challenge for the new contestants. One challenge we have in mind is to recreate our childhood dish with a modern twist. How fun and creative would that be? Perhaps being able to do that as a destination challenge? In Bali? Or India?
What tips has your Grandma taught you and how do you feel she has influenced your love of cooking?
The biggest tips we learned from our Grandma was to not be afraid to add that extra pinch of salt, as seasoning is very important, and to always trust your tastebuds. She also taught us to be creative with our cooking and that even with limited ingredients you can create something delicious. Our Grandma and our Mum definitely influenced our love of cooking. Having moved a lot when we were younger the one thing that made it feel like home was Mum's home cooked meals whenever we came home from school! Food became a very important part of our family's tradition; our dinner parties and celebration would revolve around food, it was our way of showing the new people in our life a little bit about our family traditions and cultures.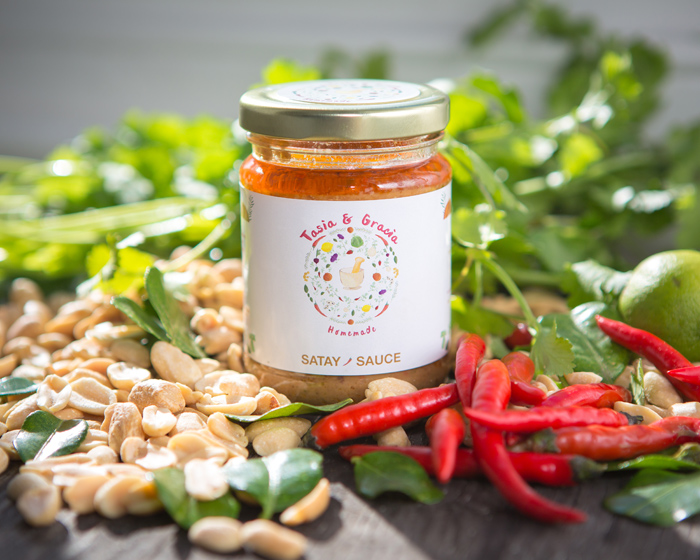 Tasia & Gracia's first product launch, the MKR favourite, Satay Sauce.
Why did you decide to run with your Satay Sauce as your first product launch?
We chose the Satay Sauce for our first product launch as we thought that the sauce was a big hit for the judges during MKR and they were praising the sauce. While there are many ranges of satay sauces on the market, the flavours are leaning towards Thai satay sauces instead of the Indonesian version. Our Satay Sauce is also versatile, it is great for stir fry, marinades and delicious as a dip.
What product would you like to develop and sell next?
We want to do a sambal range, as we believe that people have higher tolerances for chilli now, as Asian food has soared and become a go to favourite when eating out. Especially with the rise of Asian Fusion. We want to also introduce a different kind of Indonesian sambal to market, as Indonesians have more than 30 kinds of sambal, all having different profiles to them. Perhaps we can start with 3, instead of 30!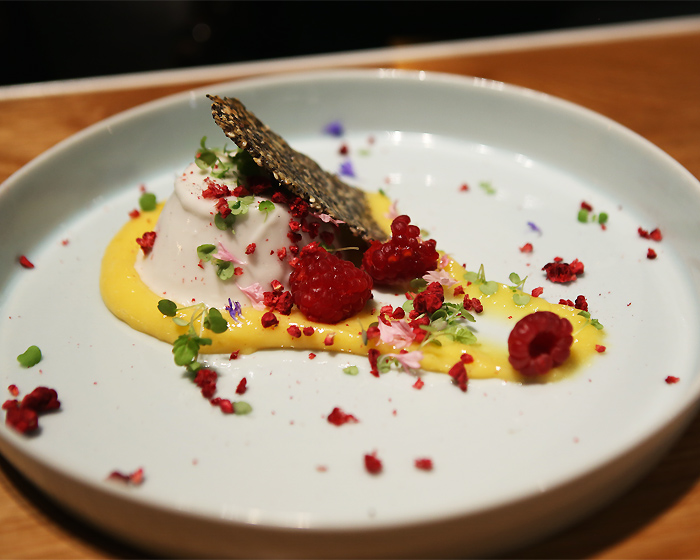 Tasia and Gracia's Summer Delight.
We are excited to follow the sisters and see where they end up with their range, but for now, why not make your own kitchen rule by adding Tasia and Gracia's Satay Sauce (available from November 25) to your pantry staples? For a refreshing dessert to cool the palate after so many Asian inspired, punchy flavours, whip up their impressive Summer Delight of Coconut Panna Cotta with Lemon Curd and Toasted Coconut.