The most famous season in the Blue Mountains has experienced a renaissance and refresh, with new businesses embracing the festival and traditional venues renewing offerings with gusto.
From June 18 until July 30, crackling fireplaces, steaming drinks, cheery decorations, rousing entertainment and snow-dusted landscapes can be found just 90 minutes from Sydney by car, tour bus or train.
Blue Mountains Tourism president Jason Cronshaw says: "Yulefest 2022 is a time to celebrate the warmth of togetherness and community, whether you're a visitor to our region or a local.
"We have new owners at the `Home of Yulefest' (the Mountain Heritage Hotel) who have recharged their festival offering; new businesses embracing the festival with fresh energy and even a new ice rink for the season.''
Many cafés and restaurants, hotels and guesthouses throughout the region will host Yulefest celebrations every weekend throughout July. Some establishments will stretch festivities into August, and others serve Yulefest throughout the week.
Visitors in self-contained properties and locals can also join in the festivities.
The Blue Mountains Yulefest Story:
One freezing night in 1980, a small group of Irish visitors relaxing in front of a fire at
Hotel Mountain Heritage
(formerly The California) in Katoomba. They glanced out the frosted window, saw snowflakes dancing in the wind and thought of home.
"Celebrating Christmas in Australia during the heat of Summer just doesn't feel quite the same,'' one said to then hotel owner Garry Crockett.
As he listened to his guests, Garry remembered stories his own Irish father Bill used to tell about a Northern Hemisphere White Christmas with traditional cards, sleigh rides, frosted windows, hot feasts and singing.
So he put on a festive feast with all the trimmings to ease the pangs of homesickness for the group of nostalgic Celtic guests.
It was a hit and he then laid out Noel every Saturday throughout Winter.
Word soon got out, Yulefest became a regional festival and Winter is now the season for which the Blue Mountains is best known.
Friday and Saturday nights, June 24-August 6.
The original Yulefest dining room offers three festive menus – a five-course degustation, five-course vegetarian menu and a three-course children's menu, accompanied by live music from resident pianist Alan Johnson.
Snowmania, throughout Katoomba.
June 18-July 30.
Katoomba Chamber of Commerce
is leading the inclusivity charge with Snowmania, when cafés and restaurants prepare hearty Winter meals, hotels and bars light cheery fires, play music and serve hot buttered drinks and mulled wine, and shops display their finest Winter stock and snowmen in the windows.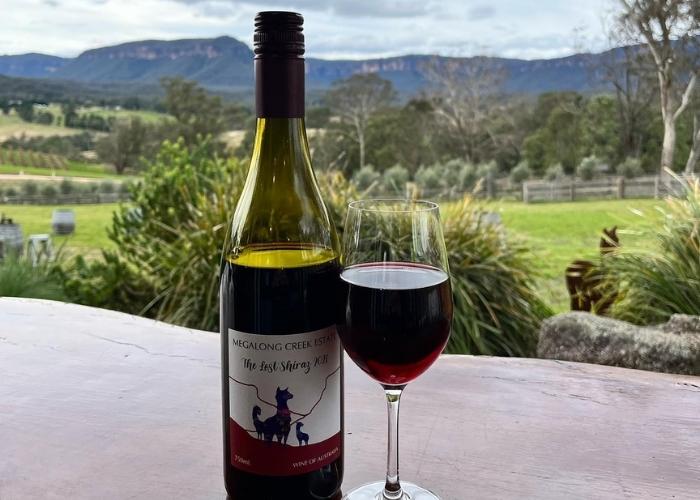 Saturday, July 23, 12pm to 5pm.
Celebrate Yulefest in the MCE Barn with a hot roast lunch, a glass of wine or mulled wine and live music entertainment from local group The Orchard Boat. Transport and festive cheese grazing boards are also available as add-ons.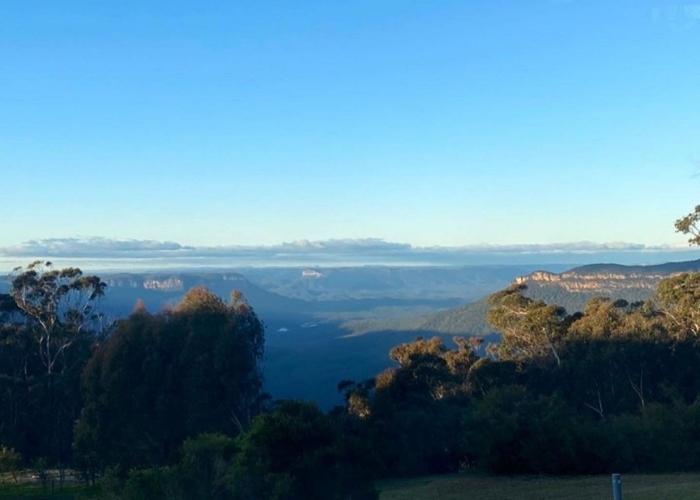 Saturdays June 25 to July 2, 6pm-9pm.
Kids of all ages can immerse in ice magic at the new Blue Mountains Ice skating rink at the resort. As well as the 599 sqm arena open to beginners and experts, visitors and locals, there will be a kiosk and skate shop.
Scheduled to open during July, it will be part of the resort KidsZone facilities that already boast four child-friendly spaces, an original Gasparini organ and working model train set, the Fairmont Express Train, mini merry-go-round and pony rides.
End the day with a festive Grand Ballroom dinner. The sumptuous buffet includes a whisky eggnog on arrival, 2.5-hour beverage package (adults) and live music throughout the night.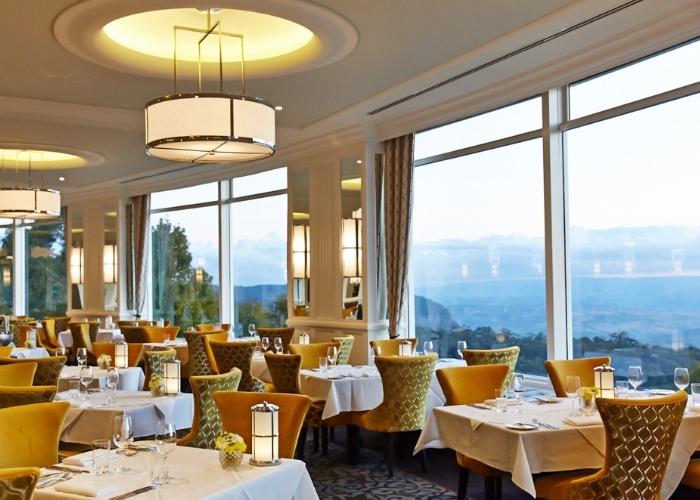 Every Saturday, July 2-30, 6pm-9pm.
This Chef-Hat awarded venue with magnificent views hosts a Yulefest celebration at the iconic Wintergarden Restaurant at the Hydro Majestic Hotel.
On offer is a five-course degustation, with mouth-watering creations including a raspberry coulis and caramelised baby pear crème brûlée, blue fin tuna and cured salmon mosaic, pan-seared duck breast served with spiced celeriac purée and a trio of pork cuts.
Friday and Saturday nights and Sunday lunch (12pm-2pm) throughout July.
Staying true to its Italian roots, Hotel Etico offers a European-inspired five-course Buon Natale meal featuring antipasto starters, seafood entrées and a main of either roast porchetta, or vegetarian parmigiana; rounded out with cannoli and biscotti.
Dinner throughout July.
Snuggle in front of a raging log fire in this traditional mountain guesthouse with singalongs, festive fare, occasional snowfalls and perhaps even Santa Claus.
The menu features all your festive favourites. After a glass of bubbly, Chef will present a selection of appetisers, followed by a warming bowl of butternut pumpkin soup. Roast turkey and glazed ham with all the trimmings are the mains, followed by a sorbet palate cleanser and an assortment of traditional cakes and desserts.
Saturday lunch throughout July.
A Yuletide series of dining events will feature a two-course set menu of roast turducken (turkey, duck and chicken) with roasted vegetables straight from the Kyah garden, Yorkshire pudding, followed by Christmas pudding with eggnog custard.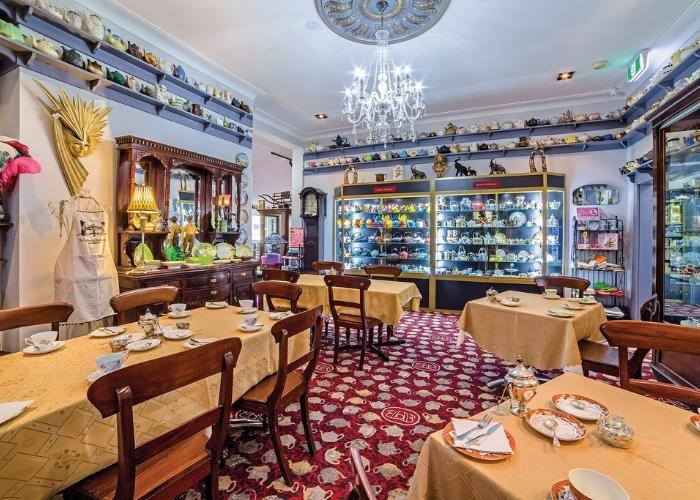 Daily luncheon July 16-31, 12.30pm.
Traditions are centre stage at Leura's beloved teapot museum, with all your seasonal favourites on the set menu. Catering specifically for groups (minimum booking four people), the menu features a canapé platter for the table, entrée of either pumpkin soup or cauliflower, leek and bacon soup (alternative drop), followed by a turkey and ham roast with all the traditional trimmings.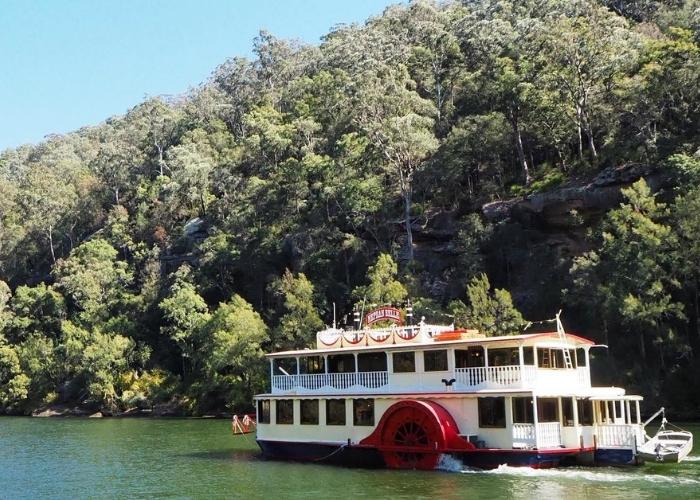 `Tis the season to cruise the tranquil waters of the Nepean River aboard the regional aquatic icon on your way to or from the Blue Mountains.
The heritage-style Nepean Belle paddle-wheeler will be festooned with festive decorations and guests will board for luncheon to the strains of popular carols against the picturesque backdrop of the Blue Mountains escarpment.