By Sean Melrose.
"Salvatore, our guide around Palermo, likened Sicilian culture to lasagne, with each layer a different layer of history. You can take a bite from the lasagne but you cannot separate the layers; you bite into them all together." ~ Katie and Giancarlo Caldesi.
Katie and Giancarlo Caldesi present a tome of authentic recipes straight from the streets of Sicily. The region known as 'Italy's market' has incredible flavours to offer, but as the Caldesis point out, the food is also an extension of the people, interwoven cultures and intricate history.
The thing about 'Sicily - Recipes from an Italian island,' is that a narrative behind the food always presents itself, there is always a reason, a historical significance. The book delves into what constitutes each style, along with its origins and region of birth. For instance street food: according to the guide Salvatore, street food has to be soft with few ingredients so that it's easy to make (and eat if you happen to be missing some teeth). Dishes also need to tell a story about the land and its people.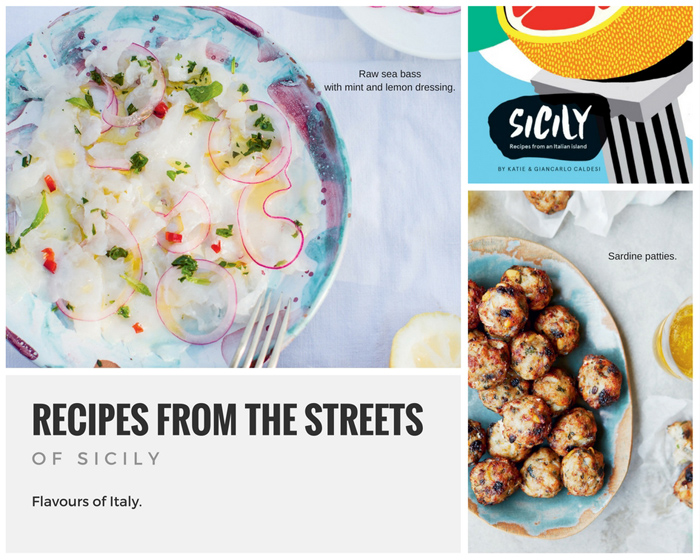 "Arancini were taken on hunting expeditions by the aristocracy so that they could eat without having to light a fire and thus draw attention to themselves. The Chef also covered them in egg and breadcrumbs to provide further protection and it is this coating that gives the arancini their crunch. In this way, they are similar to Cornish pasties, as you were supposed to eat just the inside and discard the crust, which was dirty from being handled." ~ Katie and Giancarlo Caldesi.
This archive of traditional Sicilian recipes kicks off with a historical timeline, relevant to understanding the vast, interwoven influences from other cultures. It spans from the Greeks in 650BC, to the Spanish in 1302 and the Italians in 1789. Amongst 4000 years of invasions there are even some Arabic influences, leading to ponderings of whether Sicily might not be home to the world's first real fusion food.
Tucked away in a recipe for fresh lemon and orange salad, nuggets of history and folklore are found, in this case the idea that the mafia took root in Conca d'Oro, where Arabs began planting lemon trees and absentee landlords would pay locals protection money to look after the bountiful citrus trees.
As asserted early on in the book, Sicily is a paradise that has been ravaged by cruel invaders, but also corrupted from within by the mafia. Whatever the reason, the reality remains that the island has suffered periods of extreme poverty, while it has obvious downsides, it has also led to a cuisine ideal for cooking simple yet delicious food on a limited budget. Not to say that there aren't extravagant, jaw dropping dishes, they're just allocated to what the Caldesis like to call "our weekend way of eating."
In old Sicily, beef was no doubt hard to come by, recipes here are full of little notes referring to people who by way of necessity, substituted expensive ingredients for what was readily available and of course, cheaper. Sardines and aubergines for beef, breadcrumbs for cheese and cauliflower for cream. Abundant are fresh herbs and garnishes like parsley, fennel leaves, rosemary, oregano and basil, reminiscent of what was at hand to season with.
Katie and Giancarlo have delivered a book that will have readers searching the markets asking if the wares are fresco, cheerily whipping up raw sea bass with mint and lemon dressing, envisaging themselves as the next Italian cooking sensation.
Sardine patties, zesty salads, familiar classics and rare appearances, the list runs on, loaded with authentic recipes hand delivered from the aged stone archways, moss covered stairs and edgy streets of Sicily. It's a visual journey as much as a written one and the images go far in showcasing the beauty of the produce, landscape, architecture and people. Descriptions cause an itch to go see and taste what the pages so lovingly illustrate.
Sicily, looks at Italian cooking from a fresh and invigorating angle, incorporating a fascinating history, gorgeous accessible recipes and plenty of olive oil.
Recipes and images from Sicily by Katie & Giancarlo Caldesi, published by Hardie Grant Books, RRP $49.99 and is available in stores nationally.