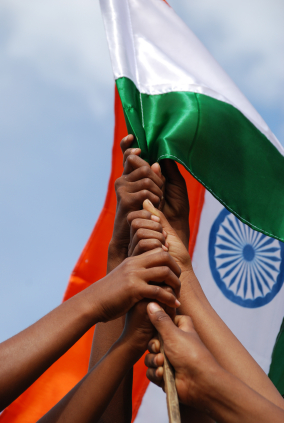 If you see an army of Indian tricolour flags being waved around on Friday 15th August 2014, it's not because India has won their Pataudi Trophy cricket match against England (although it would be nice). Rather, it's because August 15 is the day when India gained independence from the Kingdom of Great Britain after 200 years of British rule.
All over India, millions of people will participate in flag-raising ceremonies and parades. Many more will proudly adorn their attire, homes and vehicles with the national flag. Furthermore, patriotic movies and TV shows will be shown across cinema screens and homes across the country. It is also a time to bond with family and friends.
Closer to home, Indian migrants around Australia will also celebrate the 68th Independence Day. Melburnians, for example, can attend the official Consulate General of India flag-raising ceremony at the Consulate in Toorak at 9:30am.
Meanwhile, Brisbanites can sample an array of Indian treats and view parades, live performances and fireworks at the all-day GOPIO Queensland Independence Day event. The fiesta will be held at Roma Street Parklands on Sunday 10th August 2014, from 10:30am until dusk.
For those who can't afford to take the morning off, why not fly a kite? Kite-flying is a popular activity on the day – it symbolises the eve of Independence in 1947 when India's first Prime Minister Jawaharlal Nehru unveiled the Indian tricolour flag on the Red Fort in Delhi.
The special day can also be celebrated by a meal at your favourite Indian restaurant, for your closest restaurant, head to the AGFG Indian cuisine section.