Take a dip at some of the state's top beaches
Queensland beaches are one of Australia's most iconic holiday destinations, full of sun, surf and sand and regardless of season, are always adorned with sunbathers, surfers and swimmers. With over one thousand to choose from, you'll be spoilt for choice when looking for a beach in Queensland, from Port Douglas in the north to Surfers Paradise in the south. One the summer sun hits, expect beaches all over Queensland to be covered with towels and umbrellas. Car parks can be somewhat difficult to obtain by the beach, especially on summer weekends, so if you plan on spending a day there, public transport is usually the easiest means by which to get there.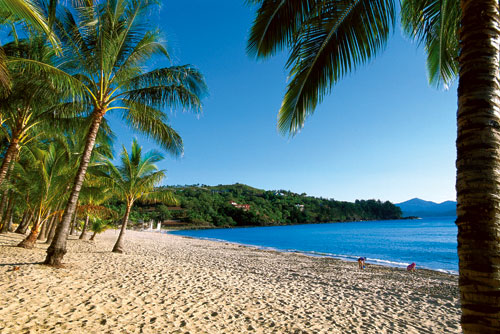 Where are some of Queensland's best beaches?
For beaches best suited for chilled cocktails and a good book, head to tropical north Queensland, where the likes of Whitehaven Beach, Fitzroy Island and Four Mile Beach await. As a bonus, some of the beaches in the state's north are so secluded, so if you're lucky, you may just have one all to yourself for a few hours.
To try your hand at hanging ten, head to Queensland's south, where an abundance of surfing beaches awaits. The world famous Surfer's Paradise is just one of the Gold Coast's bustling beaches, alongside the swells of Stradbroke Island, Burleigh Heads and Kirra Beach. The Sunshine Coast has an idyllic set of beautiful beaches, with Noosa Main Beach and Sunshine Beach a haven for surfing and being seen.
For more of Australia's special seaside destinations, read our article on beaches and surfing in Western Australia