Drive amongst the sand dunes
If you have a taste for adventure, a love of the outdoors and are not afraid to get a little bit muddy, sandy or wet, then quad biking is an activity best spent in the fresh, open air of Australia. Take off on your own four wheels to admire and explore your surrounds while you are taken on a tour of the Australian land and shown its hidden hotspots. Tackling the tough terrain or kicking up the sand has never been so adventurous. Each state and territory in Australia offers an array of quad biking activities, each having its own unique landscape and landmarks to admire.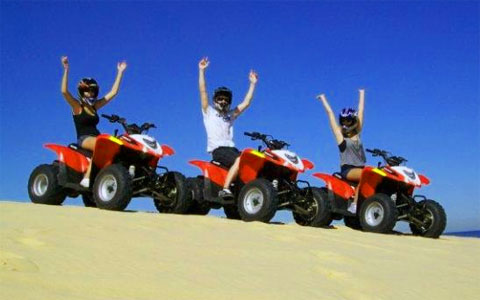 Where can I quad bike in Australia?
When quad biking in New South Wales and Queensland, you will have the chance to explore the splendour of the east coast hinterland, challenge your riding skills on the sand dunes and marvel at the natural wild life. If you're keen to tackle Australia's outback on four wheels, quad biking in the Northern Territory is full of majestic river gums, varied terrain and dusty plains.