By Freya Ensbey.
There is no holiday quite like that of Christmas which brings families together. It's a time to reflect together on the past year's twists, turns, triumphs or turmoils. A time to regroup and nurture each other, whilst bonding over good food and great wine. As your focus turns to guests arriving, friends visiting and the children on holidays underfoot, we have done the hard work for you and taken to some of our country's best providores to hand select the must have products you need to stock up on to give Christmas that special touch this year. With home delivery just a click away, providore perusal has never been so easy.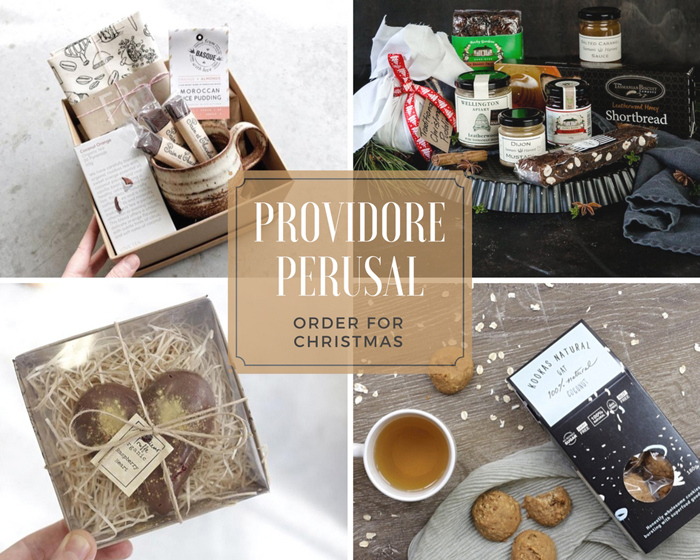 Brisbane based company, Ugly Duck Preserves is a boutique gourmet preserves company which use 100% Australian grown and seasonal produce sourced primarily between the regions of Stanthorpe and Gympie.
With a business philosophy of reducing food wastage, Ugly Duck Preserves' focus is to source bumper-crops from farms direct and fruits and vegetables which are perfectly fresh and full of taste but have been rejected simply due to their odd shapes and sizes.
A defining element to the business lies within the small batches which are made entirely by hand, this ensures quality control as well as the balance of flavours and harmony of ingredients.
Each product made by the company is free from preservatives, artificial colours, flavours and the addition of synthetic pectin, with the added bonus of being vegan friendly and naturally free from gluten.
From fruit pastes and fruit spreads to rich marmalades, relish, chutney and sauces, Ugly Duck Preserves has the perfect condiment to lift any meal or snack to another level. For a show stopping Summer seafood dish, glaze salmon steaks with a dollop of Ruby Grapefruit Marmalade or add the award winning Quince Paste to a cheese board for a pop of flavour. Whilst online be sure to grab the Cheese Lovers Gift Box as a ready to go accompaniment to a bottle of wine when visiting friends.
Tasmanian Gourmet Online is the start-up created by passionate sixth generation Tasmanian, Duncan Garvey to showcase the products and produce of the island state.
A gourmand himself, Garvey produced Australia's first French black truffle in June 1999 and actively established Australia's French truffle industry.
Based in South Hobart, Tasmanian Gourmet Online offer a range of over 400 products from over 40 Tasmanian producers, which are all produced and made in Tasmania by small artisan niche companies.
Tasmanian Gourmet Online stock pantry staples of pickles and chutneys, to inventive breakfast spreads like the Vintage Whisky Marmalade, to gourmet flavoured salts like the Tasman Sea Salt Pepper Berry perfect to sprinkle on steaks, right through to sweet treats like the Anvers Chocolate Truffles.
However, it is the Christmas hampers which got our attention, offering everything you need to gift to your fellow foodie friends, all wrapped up and ready to pop straight under the tree. For the gin lovers, opt for the Tasmanian Gin Gift basket, which includes a Hellfire Bluff London Gin, a bottle of Josef Chromy Sparkling, Wellington Apiary Hobart Leatherwood Honey and Bruny Island Fudge. For larger families, choose the Family Christmas Hamper to share together throughout the holidays with everything you need for a festive celebration, filled with traditional Christmas pudding, Christmas cake, buttery shortbreads, salted caramel sauce, honey, mustard jam and Pan Forte.
The Food Repository is a passionate Melbourne based company which was born out of a desire to share their obsession of delicious food made by small businesses who only use real and wholesome ingredients.
Founder and Owner Joni Marcelis, was raised in a family who appreciated food, with dinner time being a ritual to bring everyone together, rejoicing in good, honest cooking and sharing in conversation, engraining from a young age the importance of food quality.
The Food Repository highlights their concerns with the downfall industrialisation and technology has played on the food industry, as large companies now mass produce food, in turn compromising their values of health and product quality in return for larger profits.
After finding herself spending hours at the supermarket, reading product labels to figure out what food was made of and where it came from, Marcelis decided to open her own providore and stock only products from small businesses who used real ingredients which were prepared in small batches.
Offering a well-stocked online store, peruse the digital shelves for breakfast delights like the Honey Peanut Butter by Fix and Fogg, with added New Zealand Beechwood honey, and Marlborough sea salt or the Dark Cacao and Pink Salt Granola by Humble Homies as a morning healthy treat the kids will love during the school holidays. Those still needing stocking fillers can pick from an array of beautifully packaged gift boxes to have sent straight to a loved one's door, like the High Tea Gift Box, stocked with a handmade ceramic teacup, a hand designed tea towel, a Moroccan rice pudding blend, coconut orange tea pyramids and dark chocolate and sourdough bars.
West of Queensland's rural suburb of Gympie, Philippine born Cecilia Diaz-Petersen, fondly known to loved ones as 'CC,' is adding her touch of gourmet pizazz to the foodie world with her range of jams, syrups, cordials, glazes, vinegar, sauces and salts.
CC's Kitchen aims to create a taste likened to that of childhood memories, a time before preservatives, artificial flavourings and colourings were used to create preserves, and it was the norm for food to go straight from the garden to the pot and then to the plate. All of the products produced at CC's Kitchen are 100% made and produced at the Petersen's farm at Woolooga, with the produce grown by CC's husband, Greg Petersen and his parents.
CC's Kitchen specialises in products made from the Rosella plant, capturing the vibrant ruby red colouring in her products and harnessing the naturally tart flavour which works harmoniously with the sweetness of the products.
For an ideal Australian Christmas Day ham, grab a jar of CC's Kitchen Rosella Jam for Ham, to add a distinctive feature pairing, working in much the same way as turkey and cranberry sauce. The Rosella Chilli Jam is perfect to dollop over a baked wheel of Camembert, whilst the Rosella Jamis a must have breakfast staple for your guests to spread on their Christmas morning croissant.
Established in 2012 by cousin duo Stefano De Blasi and Edoardo Perlo, Salt Meats Cheese is a family owned Italian restaurant group offering gourmet Italian produce. With seven stores already in New South Wales and three in Queensland, business is booming for the company who have stayed true to their business philosophy of creating honest Italian cooking, using quality ingredients and traditional methods.
Offering an Italian menu of wood fired pizzas, housemade pasta and antipasto platters, Salt Meats Cheese offers diners an authentic dining experience carried through to their event catering and online providore.
To take the fuss and stress out of your holiday entertaining, why not jump online, find your nearest store and order a cheese platter for up to 15 people. Choose from handpicked options like the Sardinia Charcuterie and Cheese Platter with generous servings of cured meats like the Sopressa Mild, Cacciatore Mild and Lonza and a cheese selection of Gorgonzola Dolce, Truffle Pecorino and Gouda. For those of you who are known as the hosts with the most, impress your Christmas Day guests with a show stopping cheese wheel tower cake, like the Asti Cheese Tower, made from a base of Maffra Cheddar and topped with Triple Cream Brie, Coulommiers from France and Brillat Savarin to finish, with all orders over $75 receiving free delivery.
When in search of a snack to dazzle up a cheese platter, or a centrepiece for the Christmas table, wrap your hands around the delectable meats of Salumi supplier, Salumi Australia.
The company was founded by Sardinian Chef Massimiliano Scalas, who fell short in finding a salumi here in Australia which matched that found in his homeland, embarking on a journey to create a 100% Australian made artisan style salumi range in the traditional slow European way.
Residing beneath the lush green hills of Byron Bay's Hinterland, Salumi Australia works closely with the free range pork farmers of the Northern Rivers Region to make use of some of the best pork on offer in the country, pairing the meat with traditional curing and fermentation techniques their Italian ancestors have used for centuries. Together with business partner and former restaurateur Michael Dlask, the pair created Salumi Australia as a way to share their culture, passion and their desire to create a community to celebrate the tradition of fermented meats.
Available in stockists throughout Australia, Salumi Australia offer the likes of cold smoked, semi dried Chorizoperfect to add sliced through pastas or rice dishes through to the popular NDUJA Chilli Infused Spreadable Salami, which is ideal for spreading over warm bread with a slice of ripe cheese on top. For the perfect pizza topper grab yourself a roll of the Salame Classico, a classic style peppery salami with a medium grind, whilst the Salame Finocchiona, infused with garlic and fennel is the ideal accompaniment to a soft mild cheese and glass of crisp white as a pre-dinner aperitif.