By Freya Ensbey.
Whether you're a Christmas carol CD on repeat from December 1 type of person or a more relaxed, verging on the side of unorganised Christmas type, one thing we all have in common during the Christmas period is being a guest or having guests come to visit. However, it doesn't need to be as stressful to cater for extra mouths as you might think. We chatted to Ben Foss from the unique street food catering truck, Eat no Evil, getting his hot tips for presentation and a go to, knock out recipe to keep up your sleeve.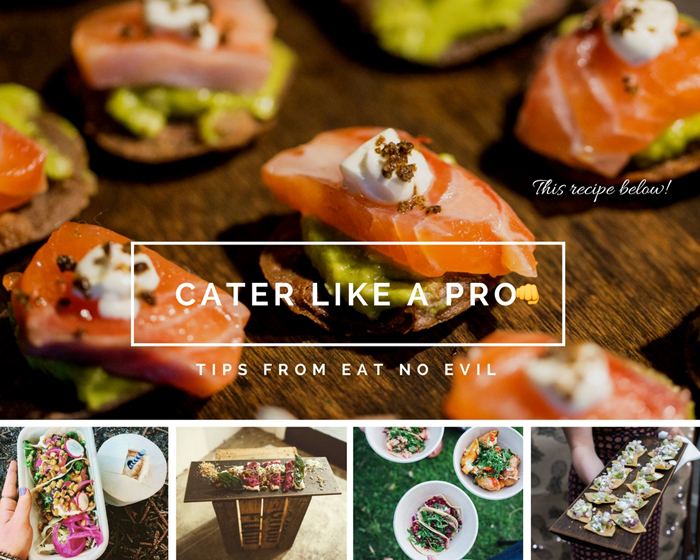 The Perth based company began with a humble mission of creating a food experience that brings people together, breaking down the barriers, giving diners an interaction with local ingredients and offering dishes that inspire people to try something new and really think about what they are eating.
Ben Foss and Ben French, the dynamic duo behind the company, bring with them years of experience within the industry. Working for over 10 years in restaurants and bars both here in Australia and London, French has taken his love for social interaction and good honest food to contribute to Eat no Evil's culture.
As a qualified Chef, Foss harnesses his creativity and high energy to bring interesting, unique and restaurant quality dishes to private events and parties, both gaining the cult following of food truck gourmands.
Foss and French know food and they do it well, creating menus to suit any theme or event. Taking a fun, coastal attitude to their dishes, with vibrant and interesting flavours, it is easy to see why they have gained a foodie following as caterers throughout Perth.
Foss believes the key when catering is to always use what is available in season. This ensures a great taste, freshness and also an abundance of ingredients.
"Christmas time is full of beautiful fruits, berries and leafy herbs, so scatter them everywhere to make an impact. Use lots of colour to jazz up your platters," says Foss.
For a simple yet impressive Christmas holiday dish to whip up at the drop of a hat, the team at Eat no Evil have created the punchy mezcal cured salmon with orange labneh and coconut guacamole.
"This is a very Mexican fiesta style canape dish perfect to serve to guests as they arrive with a glass of wine, champagne or even Tequila. They are very fresh and smoky, with flavours that your guests will love!" says Foss.
This recipe calls for the salmon itself to be cured in flavours of smoked paprika, fennel seeds, bay leaf and Mexican chili, whilst the coconut guacamole is a shining stand-alone element which would be great as a dip to accompany vegetable sticks or corn chips for an easy snack. The dollop of labneh added atop gives a citrusy burst of flavour with the zest and juice from orange and lime being added.
For a paired cocktail to serve with the cured salmon, brighten up the room with a fruity Tequila Sunrise and serve in the half shell of a coconut for added applause.