By Leigh O'Connor.
Enjoy city lifestyle experiences wrapped up in the wild beauty of nature on a Winter whale trail to Warrnambool on Victoria's Great Ocean Road – stopping into Pickled Pig restaurant for contemporary fare to chase away the chills.
Head Chef and Owner Brenton Banner's seasonally changing menu of contemporary flavours is sure to have you salivating after a day in the outdoors, taking advantage of everything this region offers from art galleries and hot springs to refined dining.
Located on Liebig Street, Pickled Pig entices diners with white linen tablecloths combined with a wine rack feature wall, to create an environment that is as polished and elegant as the service. Focusing on dishes made with locally sourced produce designed to thrill and engage diners, Brenton calls on his background in Melbourne's high-end culinary scene to create plates such as pork belly with fennel and apple.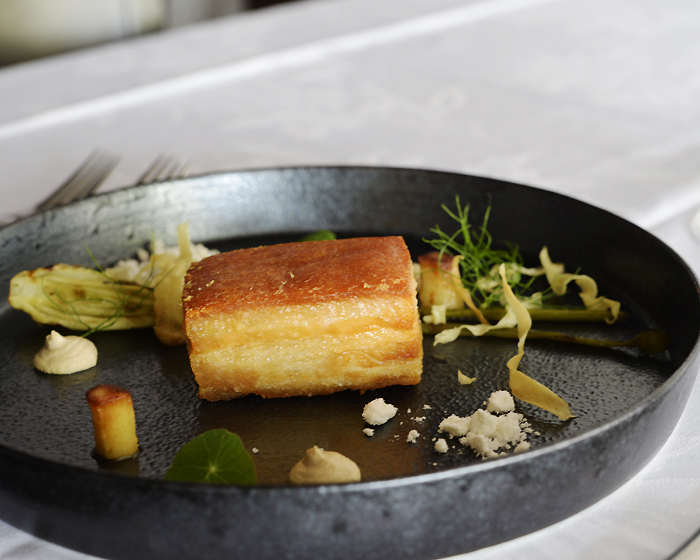 After beginning an apprenticeship in his home town of Warrnambool, Brenton moved to the big city lights and spent a year under Matt Wilkinson at St Kilda's famed Circa, then George Calombaris' flagship The Press Club before a stint on Hamilton Island servicing the tourist trade.
A return to Circa followed before he decided to start his own venture and in 2014 he bought the established fine dining venue Pickled Pig and set about applying the techniques he had learnt in Melbourne to a seasonal degustation menu. The award-winning restaurant has quickly become a favourite among local diners celebrating a special occasion and international visitors experiencing the Great Ocean Road.
His signature dish, which he shares with AGFG readers, combines crispy skinned pork belly with the aniseed flavour of fennel and tang of apple to produce a dish to delight any palate, served with caramelised parsnip rounds, deep fried peel and macadamia oil.
Brenton's wine pairing for his pork belly is a 2017 Verdehlo from Olive Farm Wines, in the heart of Western Australia's Swan Valley. With a light straw colour and nose of green apple, tropical fruits, guava, spicy orange blossom and hints of banana, it is an ideal match for this plate.
This is Olive Farm's fifth dry Verdehlo and they are honing in on their desired style with each vintage - tight, crisp, dry, prominent varietal fruit, refreshing and clean, this wine leaves you wanting more. It has a palate of lime acidity, tight minerality, a rounded mid palate and clean finish.
To finish a perfect meal at the Pig, delve into the likes a decadent dessert of chocolate with honeycomb, salted caramel and Nutella; or seasonal Eton mess.