Renowned Chef Peter Kuruvita is bringing a new restaurant venue to Noosa Heads, with the opening of 'ALBA by Kuruvita' in late 2021.
Moving on from his eight-year tenure at Noosa Beach House to create
ALBA,
Peter promises a beautifully appointed space on Alba Close, which will encompass a café and pizzeria, cocktail bar, restaurant, providore, cooking school and event space.
Those looking to enjoy Peter's signature style of quality produce spiced with global flavours, including his famous snapper curry, won't be disappointed.
Built on the site of the original 'Noosa White' quarry, ALBA is the Latin word for 'white' and Spanish for 'sunrise' or 'dawn' – tucked away in calm grassy surrounds, this new venue embodies the essence of fine food and the natural elements of its coastal surrounds.
A hub of food and beverage offerings utilising Sunshine Coast produce and the local community at its heart, ALBA starts as a café, providore, pizzeria and relaxed all-day bar, evolving into a stylish restaurant and cocktail bar as the day progresses.
It is the 'ALBA Chef's Kitchen' – a creative space for cooking classes, private Chef's tables and a complete studio kitchen – that excites Peter the most about the project.
"I can't wait to start on a cooking school and Chef's Table program; we'll even be able to hire the space out as a wired studio kitchen with camera solutions," he says. "It's a Chef's dream!
"It is really exciting to be building a new venue again from the ground up. Working with the designers and developers, it's going to be a beautiful destination. I wanted ALBA to have a diverse range of offerings – there's something for everyone."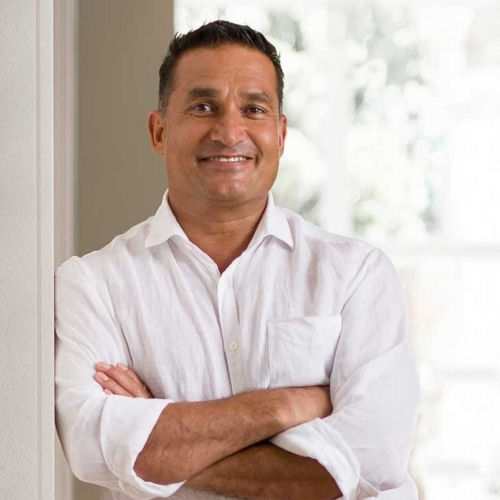 Peter says the surrounding community will be happy with the cafe, takeaway wood-fired pizza and boutique providore; while the stylish bar and all-day menu will draw golfers straight from the 18th hole at the bottom of the road. The dining room will offer either intimate dinners or open up for large events.
Inspired by childhood experiences cooking with his grandmother in his ancestral home of Colombo in Sri Lanka, Peter has written three cookbooks along with appearing in five TV series, combining beautiful scenery, culture and local cuisine.
He also keeps busy with his ambassadorial work with Dilmah Tea, hosting culinary tours for World Expeditions and frequent guest Chef appearances at leading hotels around the world.