After 15 seasons as a star utility for both Hawthorn and the Dees, Jordan Lewis has been romanced by the wine industry, taking his love of wine to the next level with a residency at Pentridge Cellars in Melbourne.
Igniting his passion for fine drops while on his honeymoon in Italy and recently co-founding Mornington Peninsula wine label DML VIN (D'Anna Middelton Lewis VIN), Jordan's appointment as vino ambassador at Pentridge Cellars is a match made in heaven.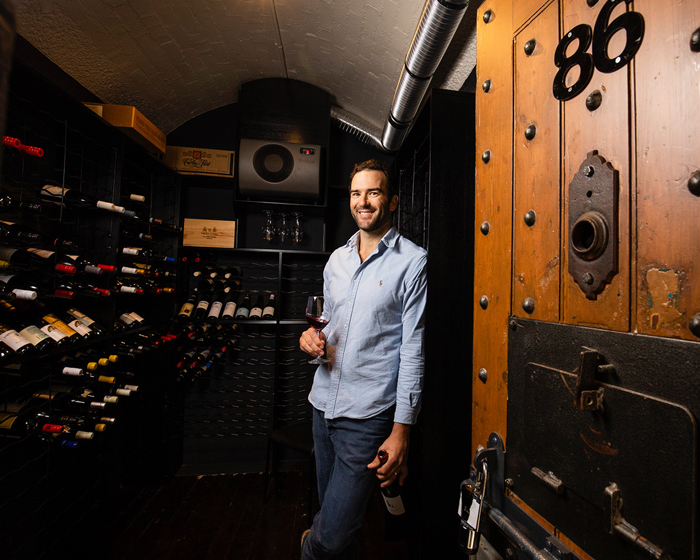 Jordan Lewis in his wine cellar at Pentridge.
We caught up with Jordan this week to find out how this gun footballer translates his on and off-field sporting passion into a career as a winemaker and cellar dweller.
"I heard about Pentridge Cellars through a friend of mine and being the curious person I am, I did some research and looked into it. It's a really exciting opportunity and I'm proud to be associated with something so unique," he says.
Having homed such notorious criminals as Mark 'Chopper' Read, Pentridge Prison in Coburg was closed in 1997, but several of its historic and significant buildings remain – including D-block, where cells within these bluestone walls are available as luxury wine cellars, complete with racking, temperature control, ambient lighting and CCTV security.
"As an ambassador, I believe it's very important to be authentic and I genuinely love what Paul Tardivel and Michael Woodworth [Pentridge Cellars'owners] have created," Jordan says. "It's part of my role to share this amazing place with the world, to have people want to experience it for themselves and understand its magnificent offering.
"To store my wine at Pentridge is an added bonus!"
Presently, Jordan is storing everything he has collected so far, with a good representation of Australian drops, alongside Burgundy, German Riesling, Napa Cabernet and Champagne.
Sold with their own strata title, each cellar owner has 24/7 access with a swipe card and can bring guests to showcase their collections in comfortable common areas.
We asked Jordan to describe an evening at his Pentridge Cellar, tasting wine with friends:
"An evening with my friends at my cellar would be held late at night to create an environment that no one would have ever experienced," he explains. "We'd start off with a nice bottle of Champagne and walk the history-rich halls of Pentridge, we'd then settle back into my cellar and open a nice bottle of Pinot Noir."
His own label DML is a collaboration between Sam Middleton (Mount Mary), Franco and Anthony D'Anna (Hoddles Creek) and Jordan – their aim is to make single, vineyard wines of very high quality, sourcing fruit themselves so they always have a say in the quality brought into the vineyard.
The first vintage of DML Pinot Noir was released in June 2019 and Jordan says more varietals will be added to their portfolio over the next few years, as well as hopefully securing a long-term lease on a vineyard.
It's hard to think of too many skills that translate from the footy field to winemaking, but Jordan believes patience is the one thing he has taken with him, after retiring from the sport that he chose over basketball as a teenager.
"One thing people don't know about me is that I was originally really interested in basketball as a young kid. I liked a lot of sports, but I was splitting my time between playing football and basketball up until the age of 16.
"There came a time I had to decide whether I wanted to become an NBL player or pursue my AFL career."
Will it be footy, basketball or winemaking for the Lewis children in the future?
"I would love to have a vineyard up and running by the time they're old enough to work. Winemaking would allow them to travel the world doing something they will hopefully love," Jordan says.
As for his ultimate food and wine pairing:
"Chablis and oysters are the perfect pair. The citrus and white-fleshed fruits of Chablis work so well with the salinity of an oyster – it's a delicious combination."
This is one footballer who doesn't mind being locked up in a cell – or cellar, for as long as there are bottles to drink!