The release of our 2020 Readers' Choice Awards comes at a time when catastrophic bushfires continue to rage around the country. Many of the country's regional operators have been directly affected, some devastatingly, resulting in their indefinite closure at the time of these awards.
A host of this year's award-winning list are doing their part to assist fundraising efforts and we applaud them along with the hard work of many others in these pernicious times.
Once again, our readers have been given the opportunity to vote for their favourite establishments around the country for the 2020 Readers' Choice Awards.
No one knows better than you what's hot and what's not – whether it's fine-dining, or a locally-loved café serving the best coffee in the area. To find out if your favourite made the grade this year, click here for the complete Readers' Choice Award winners list.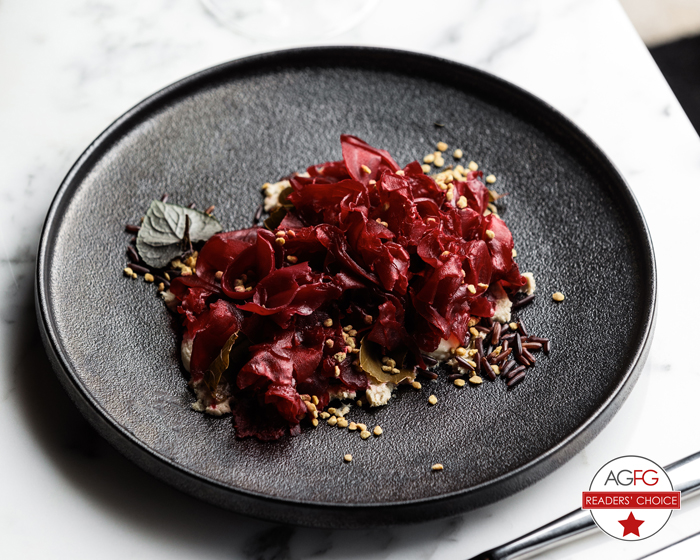 2020 Readers' Choice Regional Winner: Clover Hill Vineyard's cured sirloin, sardine paté, wild rice, pickled vine leaves and bee pollen.
By voting, our readers can recognise hard-working establishments and also help AGFG editors gain invaluable information on the current dining trends, helping shape the direction of food in this new decade. With these votes, we've seen trends change over the last 12 months, in particular, holiday trends with people all over the country rewarding themselves through food tourism. Luxury accommodation, as well as fine-dining experiences, have received higher votes in 2019 when compared to 2018 - which was the year of budget accommodation and cheap (but good) eats.
Voting is open for the course of one calendar year, from January 1 until December 31, and readers can voice their opinions by clicking the 'Vote Now' button on the establishment's AGFG listing, along with adding a review.
The establishment with the most votes in their category and region wins an award. Some establishment types have sub-categories such as Restaurants (cuisine) and Accommodation (B&B) and if insufficient data is collected for a category, no award is allocated.
Can't find your favourite listed on the AGFG website? Simplysubmit a listing request. Once the establishment is added a 'Vote Now' button will automatically appear on the listing.