By Leigh O'Connor.
From gourmet cheese to salami, artisan bread to raw desserts, jams and relishes – Australian providores are passionate about stocking the best and most unusual produce for their customers.
As well as fine food, providores around the country offer catering, hampers, coffee, olive oil and much more. Just step inside and be blown away by the kaleidoscope of wafting aromas, or try handmade soaps and lotions, all individually selected by business owners scouring Australia and beyond for something different.
Whether it is a gourmet box of produce, synonymous with a region or place, that turns up on your doorstep each month; or products simply available online, providores are not only concrete and mortar businesses.
Many operate from their website as a cost-effective way to provide a unique product line. Let's cast our net around Australia and find some of the best providores and what they offer.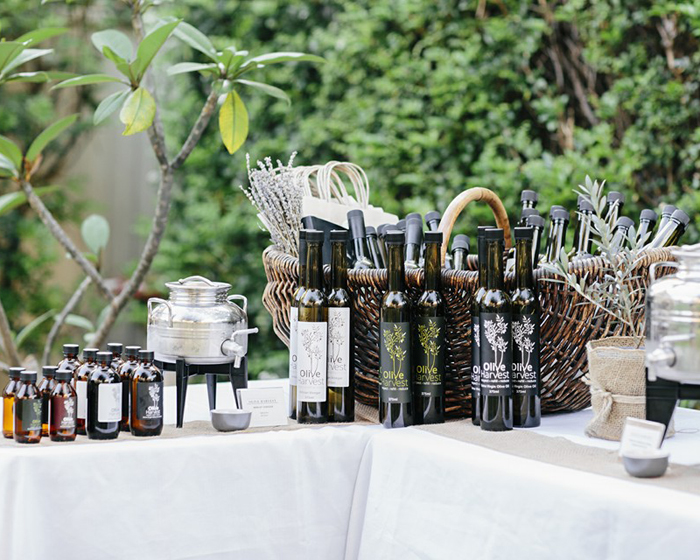 Olive Harvest.
Queensland:
Mobile onsite catering company Fire 'N' Dough brings woodfired pizza ovens to events and parties throughout South East Queensland. Serving up a traditional slice of Italy, with hand stretched Neapolitan style pizzas with thin crusts and just the right amount of topping, Fire 'N' Dough is ideal for birthdays, anniversaries and corporate functions.
Made onsite with fresh dough and the best quality ingredients, there are several packages available, such as a standard three-hour service including entrée, main and dessert pizzas. Expect temptations such as classic margherita on a tomato and garlic base, cheesy pesto, or carnivore with pepperoni, ham, capsicum, Spanish onion, mushrooms, olives, topped with cheese and herbs.
Creating high quality extra virgin olive oil and artisan vinegars, Olive Harvest sources the finest olives from Australian family owned groves. Founder Tracey Tyler's products are supplied in boutique refillable bottles and available at Gold Coast farmers markets and online, with oils such as Truffle Organic Infused with an earthy flavour and green, grassy notes of extra virgin.
Try the Tuscan Herb Organic Infused oil, with rosemary, sage, bay leaf and garlic, ideally paired with roast potatoes, pasta, pizza and Asian-style meals. Artisan vinegars include a traditional Spanish-style Chardonnay based finishing vinegar, crafted from premium grapes from selected South East Australian vineyards.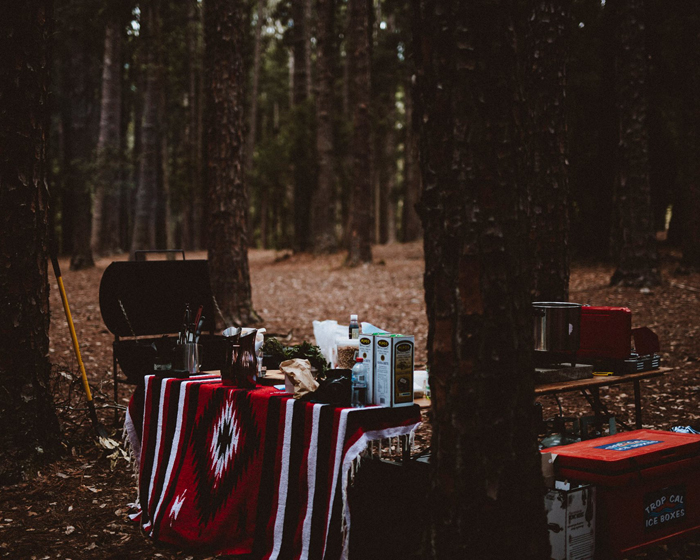 In the forest, with The Wilderness Chef.
NSW:
Creating unique and exclusive dining opportunities at unimaginable locations, The Wilderness Chef believes food is more than just compulsory calories – it is a connection between earth and human. Newcastle Chef Cooper Thomas brings people together with menus customised for every occasion and believes in living life in the most sustainable manner, not only for the environment, but also those living in it.
Expect plates such as seared King salmon lettuce cups, crispy onions, carrot and fennel slaw, or slow cooked lamb, chargrilled asparagus, feta, spiced almonds, braised carrots and house gravy. A vegan menu is also available with options like house pickled cucumber and cabbage salad, macerated cranberries, blackened corn, garden peas, salsa verde and toasted grains.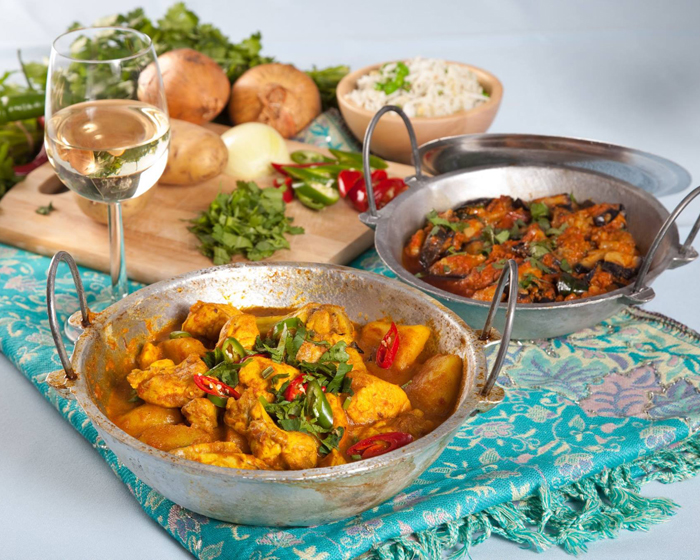 Curry made with The Spice People.
Victoria:
Opening the door to a world of different cultures at the dinner table, Victorian providore The Spice People aims to make eating fun, interesting and wholesome. Delivering Australia-wide, this online store connects people with spices, to add an extra kick to life.
Producing a range of dried herbs, spices and bespoke flavours from around the globe, as well as herbal and chai tea blends, the business was born from the vision of rural NSW, passionate spice evangelist Liz Edgecombe. Tasty recipes are also provided online, along with how-to videos, tips and tricks.
Stocking a range of imported deli delights, experience the true taste of Italy at Affettati & Co – Italian Delicatessan on The Terrace in Ocean Grove. This fresh, vibrant and modern deli serves up cheese, prosciutto, pasta and wine, as well as local artisan bread in light, bright surrounds, where shoppers can wander the aisles and gather goods for lunch, dinner or the next Italian feast.
Pick up a platter for a special occasion, with jamon serrano, smoked ham, marinated grilled vegetables, olives, brie, Saint Augur, seasonal fruit and crackers, paired with a favourite wine. From olive oil to polenta and everything in between, Affettati is the place to find European delights to send the senses into overload.
Make the next special occasion one to remember with divine creation from Amarantos Cakes on Lookout Rise in Macleod. This boutique cake shop is a must for Melbourne party planners looking for a centrepiece like no other, as every delicately handcrafted cake has been uniquely designed to guarantee a slice of individuality.
With decadent flavours like Cherry Ripe mud cake, cookies and cream or chocolate and caramel mud swirl, Amarantos Cakes are as delicious to devour as they are to look at. Whatever the occasion – birthday, engagement, wedding or christening – all tastes and sweet desires are catered for.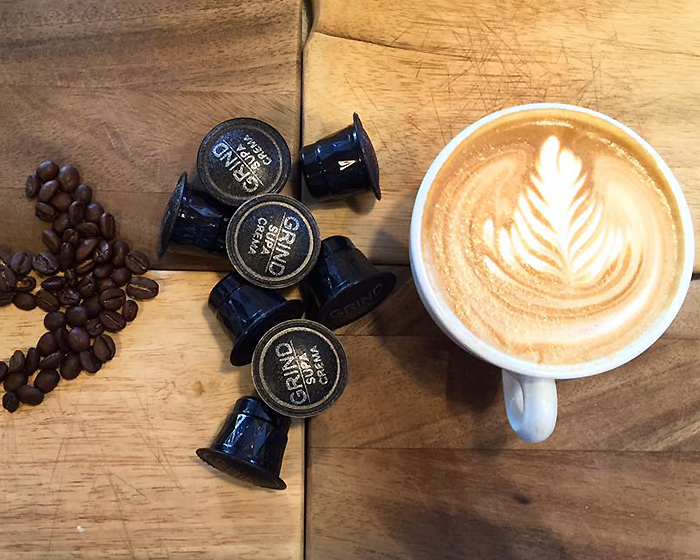 Coffee, Coffee and Coffee at The Grind at Norwood.
South Australia:
Dedicated to supplying the finest blend of coffee, ground and bagged for all to enjoy, The Grind at Norwood sources beans from more than 20 countries of origin such as Colombia and Uganda. Situated on The Parade, it's all about Fair Trade and organic coffee - choose from specialty blend, single origin or rainforest alliance beans and take home a favourite bag.
The Grind also stocks a range of Nespresso compatible pods, available in five varieties including decaf, individually wrapped to guarantee taste and freshness. Tea lovers aren't forgotten with a connoisseur's range of top notch brews ranging from black, white, green and fruit to herbal. Leave with a stainless-steel percolator, plunger or coffee grinder to make the perfect cup of choice in the comfort of home.
ACT:
Delivering a range of premium jams, marmalades, chutneys, relishes and sauces, Black Horse Fine Foods is a family run providore based in Canberra. With an online store, regular markets stalls and retail outlets around the city, Black Horse's products are all free from artificial colouring, preservatives and flavouring.
Using fresh produce direct from the farmer, everything is prepared by hand ensuring each batch meets rigorous standards, resulting in vibrantly colourful and flavourful products such as mango chutney, dark whiskey marmalade, spicy tomato chutney and plum and cinnamon jam. Team all-time favourite tomato relish with smashed avocado, lemon and toasted sourdough and enjoy!
Check out the 1960s food van 'Frank' as he meanders around Canberra dishing up delectable delights at events and functions, all prepared by Little Prince Catering, or be served an intimate dinner at home while relaxing with a drink and enjoying guests' company.
With personalised mobile menus for all occasions and access to a commercial kitchen, Little Prince can cater for any event from corporate functions to small parties, with seasonal plates like tomato, basil and truffled feta bruschetta. Be enticed by mains such as rare roast beef Thai style salad and Peking duck tacos with hoisin sauce, shallots and pork floss.
Still looking for a special product or service? Click here for more Australian providores.