Drinking wine is a pastime for some and a career for others and this week we've set out to know a little more about life between the vines. Instead of analysing the characteristics of wine on the nose and palate, we're delving into the character of the man behind Howard Vineyard's 2014 Amos Cabernet Sauvignon Cabernet Franc (saying that is more than a mouthful of wine), to understand how one becomes directly involved with not only the winemaking process but also the science behind growing the grapes.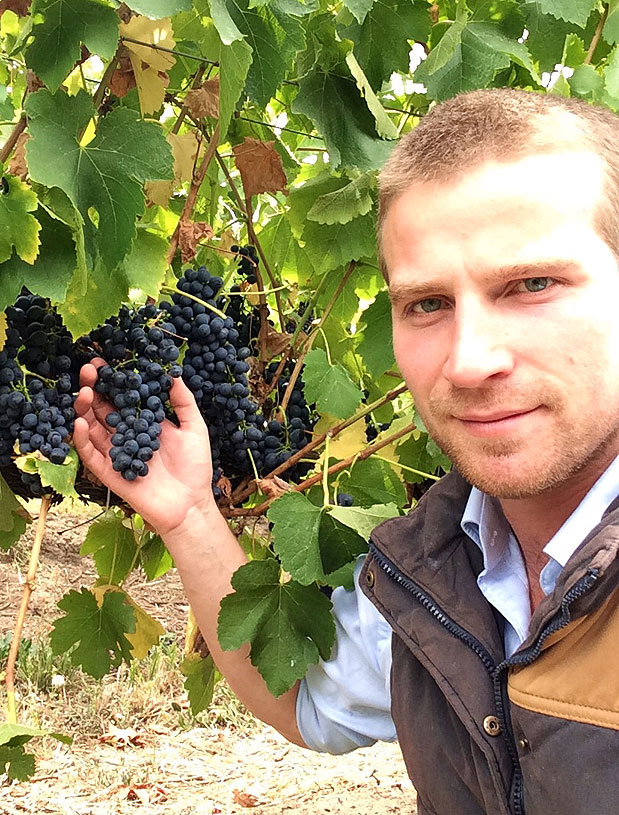 Tom Northcott among the grapes and vines
Working among the rolling vines, towering gum trees and terraced lawns of family owned Adelaide Hills winery, Howard Vineyard, Tom Northcott eagerly awaits vintage so he can put his winemaking techniques to use, however, in 2014 Tom was not only the winemaker but also the viticulturist (expert grape grower) for the opulent Amos Cabernet, making it one of his favourites in the Howard range.
AGFG: Tell us a bit about your history and how you came to be in the world of wine.
Tom: I grew up around wine, it's been a large part of my whole life. When I was young, around 5 or so, I remember playing in the weeds here before the vines were even planted. I use to even "help" with vineyard tasks on the weekend (free labour really!)
Our family always shared great wine and food together and through those experiences there was really only one path for me, to take over the family wine business. It's an infectious industry, full of passionate people and loads of fun. I think through loving the outdoors, science and hospitality, it was a natural step for me into Howard, where I worked throughout school and university.
AGFG: How long have you been working at Howard Vineyard?
Tom: Since we started in some capacity. Our vineyards were planted in 1997, I have been directly involved since 2007 and winemaker/viticulturist since 2013.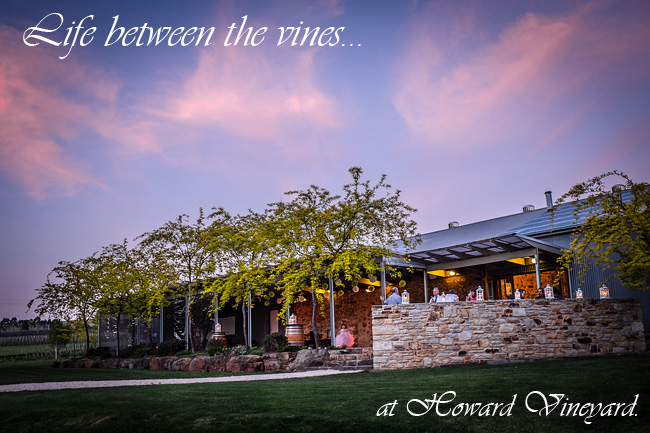 AGFG: When did your love for vineyards and wine truly develop?
Tom: I began to truly love the work shortly after my degree in Viticulture and Oenology (the study of wine) as I travelled abroad to complete a vintage in the South of France as well as working in wineries in Barossa, Western Australia and Tasmania. It's a demanding job, you have to get up early, go home late and few know or understand the challenges of vintage, but the challenges in the vineyard/winery is part of what I love as there is never a dull moment.
Watching something that grows out of the soil, making it into a wine and then watching someone enjoy it is one of the best feelings you could ever imagine! Each wine really has a part of you in it and knowing the effort that goes into each individual wine makes it taste so much better. My experiences and the people along the way have driven me to love and be passionate about the industry..
AGFG: How does Howard Vineyard express terroir? Could you give us a rundown of the thought processes behind each wine you make?
Tom: Attention to the 1%'ers is what makes a great wine, observing the nuances of each block and variety is important, as they all have their own unique characteristics and quality. Across the white and red wines, I try to be hands off in the winery, too show fruit purity, varietal characters and fresh clean styles of wine for everyone to enjoy. We really want the wine to taste exactly like the grapes in the vineyard. I pick the grapes early to retain the wonderful natural acidity we get in the Adelaide Hills and also to get lower alcohol wines to match with food, so the wine doesn't over power what you're eating. The combination of wine with food is very important, so I keep that in mind when making it.
AGFG: What are the different responsibilities undertaken by a Winemaker and a Viticulturist – which do you prefer?
Tom: A Winemakers main job is to turn grapes into great wine and a Viticulturists is to grow great grapes. They are equally important jobs and both must work in harmony for the best outcome. Winemakers decide when to take the grapes, how to manage the fermentations (sugar -> alcohol), how the wines age, whether in tanks or oak, as well as many other qualitative factors. The vineyards require pruning, spraying and disease monitoring as well as watering and nutrient programs to keep the vines growing strong and healthy to ensure a good crop.
I probably slightly prefer the vineyard mainly because you get to be outside, but when it's 2am in the morning and it's 5C, which it often is at vintage, I prefer to be in the warmth of a barrel shed in the winery!
AGFG: What vintage has been your favourite at Howard Vineyard and why?
Tom: I think the 2014 year will always be my favourite, it was my first year in charge of production. I have never learnt so much, so fast and made so many mistakes before! Learning from these mistakes and seeing the first estate wines grown by the team and I will be something I will never forget. I do think 2015 may have been one of the best vintages in Adelaide Hills' history and in terms of quality, it would be hard to beat.
AGFG: If you could be a wine, which one would be and what would be its highlighted characteristics?
Tom: I would be a Rosé, best when drunk in Summer and Spring. Dry and very light in style, a little fruity, serious but loads of fun and made to be had with friends.