By John Rozentals.
Mudgee, in the Central West of NSW, has built a reputation over some 150 years for its heroically structured and flavoured dry reds, but after this month's Mudgee Wine Show critics will have to at least partly reassess their thinking.
The big winner at the show was riesling, with Westcourt Wines 2016 Riesling being named the Champion Wine of Show and Robert Stein 2009 Riesling winning the trophy for Best Museum White Wine.
As well, Jacob Stein, winemaker for Robert Stein Wines, which regards riesling as more or less its flagship, was named inaugural Mudgee Winemaker of the Year.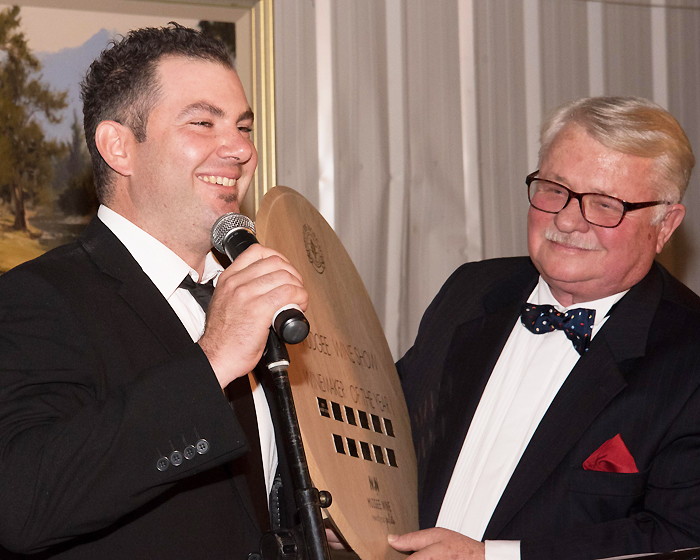 Robert Stein winemaker Jacob Stein (left) receives the inaugural Mudgee Winemaker of the Year Trophy from Graeme Little of renowned cask producer Seguin Moreau. Image: Paula Hanson, Ambient Rose Photography.
Westcourt's win was an extremely popular one, with the owner and winemaker being Malcolm Roth, whose family has a long standing in the town and has been central to the history of wine in the Mudgee district.
I wrote just a few weeks ago of the high regard in which the Stein family holds riesling when I reviewed several of their wines.
The variety's huge success at the local show proves beyond doubt that it has well and truly cemented a place near the very top of the Mudgee wine pecking order.
Other wine companies to do particularly well included Huntington Estate, which was founded by Bob and Wendy Roberts in the late 1960s and which continues to thrive under new owners Tim and Nicky Stevens.
Their 2014 Special Reserve Shiraz was named Outstanding Red Wine of Show and Best Shiraz of Show.
Chairman of Judges, Mike DeGaris praised the overall quality of the show, which returned 203 medals to the 340 entries, but he was particularly full of praise for the Rieslings.
"Every wine in the aged riesling class was a winner. It's pleasing to see some very strong styles … It revealed a hallmark of the region that these wines can age so gracefully."
In the red classes, DeGaris said that shiraz had continued to shine.
"This is a consistently awarded class. The top wines showed the different regional styles," he said.
Wine Reviews:
Lowe Wines 2013 Organic Zinfandel ($75): this won the Gil Walquist Perpetual Trophy for Best Organic/Biodynamic/Preservative-Free Wine at the recent 2017 Mudgee Wine Show. Zinfandel is also known as primitivo in its Italian homeland and it makes some massive dry reds. In this case the size is tempered by a certain softness which makes for a very alluring red.
Huntington Estate 2014 Special Reserve Shiraz (not yet available): this won the trophies for Best Shiraz and Best Red at the recent 2017 Mudgee Wine Show. Like the zin, it's a full-bodied red wine but it's already showing a bit of maturity and it will soften further over the next decade. It's certainly worthy of cellaring.
Wine of the Week:
Robert Stein Winery 2009 Riesling ($80 but only available in limited quantities as museum stock): this won the Bunnamagoo Estate Trophy for Best Museum White Wine at the recent 2017 Mudgee Wine Show, in a class described as a winner in its own right. There's absolutely no sign of flabbiness, just really delightful nutty, slightly bread aged riesling flavours. An absolute gem of a wine.