By Leigh O'Connor.
Did you know ravioli are also known as pregnant stamps? On Sunday, March 20 we all get the chance to fill up on this fun and versatile pasta in celebration of National Ravioli Day.
Traditionally ravioli are made up of a filling sealed between two layers of thin egg pasta – imagine a small meatball tucked snugly inside two cosy layers of delicious dough. The filling can be anything from cheese to meat and the cooked ravioli are usually served in either a broth, or pasta sauce.
According to the Guinness Book of World Records, the largest round piece of ravioli ever cooked was made by an Italian restaurant in Volgograd, Russia in 2014; a whopping 109cm in diameter, it took 4kg of flour, 40 eggs and two cups of olive oil to make, while 2.3kg of ricotta cheese and 4.5kg of spinach were used for the filling.
Here are five restaurants to get your pasta fix and celebrate ravioli in style:
Create lasting memories with family and friends at
Capriccio Osteria & Bar
on Norton Street in Leichhardt. Expect Italian fare with a modern Australian twist, in warm and cosy surrounds downstairs, where the wood-fired oven roars to life; while on balmy days the covered courtyard beckons as a great place to relax with a glass of red.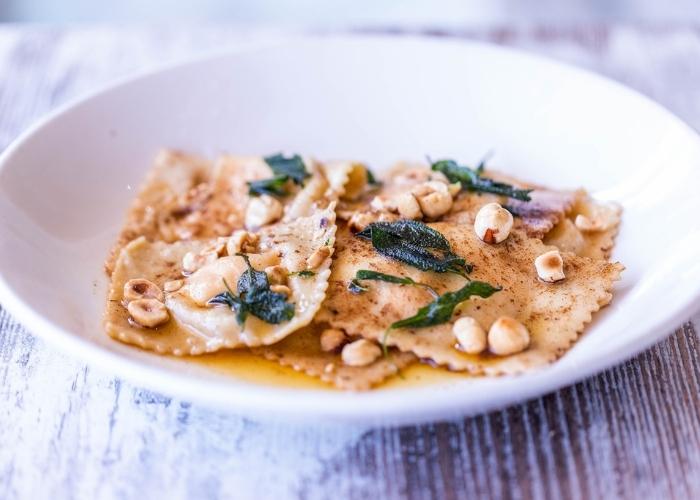 Capriccio's signature pumpkin and ricotta ravioli makes a comeback for Autumn.
For the Autumn months, Capriccio's signature pumpkin and ricotta ravioli makes a comeback on the menu; drop by on Sunday and delve into pasta made fresh daily, with moreish burnt butter sauce and roasted hazelnuts. Mention this offer to receive a free glass of house wine with your plate of ravioli – buon appetito!
Offering traditional Italian dining and an exclusive vibe,
I Maccheroni
on Jersey Road in Woollahra draws visitors from near and far to enjoy an authentically styled experience. Charming rusticity abounds inside with timber furniture and walls accented with navy cushioned seating and dark racks overflowing with an extensive selection of wines, creating an intimate ambience for romantic dining.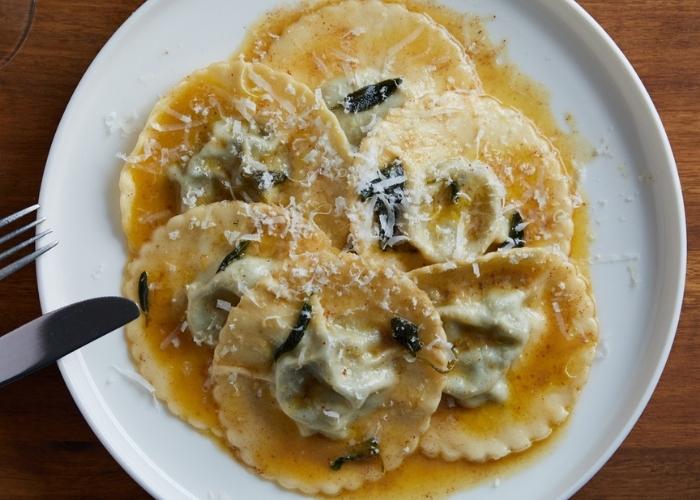 Spinach ravioli in a rich buttery sauce, topped with Parmesan at I Maccheroni.
Drop by on Sunday and enjoy a piping hot bowl of signature spinach ravioli, made using a traditional recipe from Northern Italy. The buttery pasta is hand-rolled and stuffed with locally-sourced spinach, cooked to perfection and topped with melt-in-your-mouth Parmesan cheese – best enjoyed with a glass of white wine.
Combining food, fun, family and friends, dining at
Criniti's Wetherill Park
in Stockland Mall on Polding Street brings loved ones together. When you visit this rustic restaurant - voted Australia's favourite Italian - you are treated like family as you peruse a fusion menu of traditional and contemporary dishes, from wood-fired pizza and pasta to ribs, steaks, burgers and gourmet salads.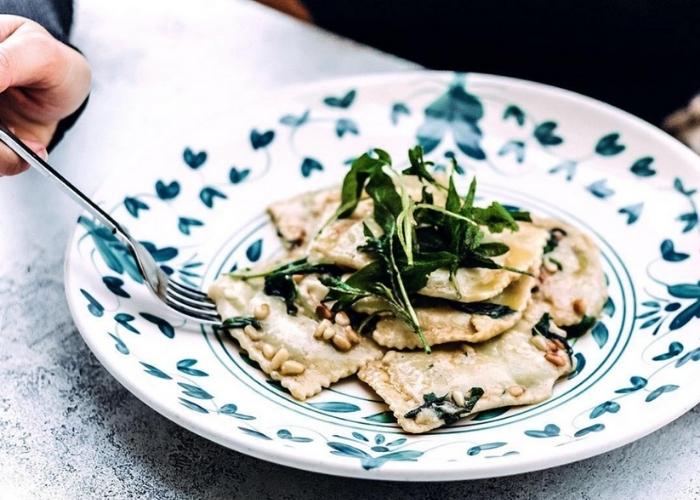 Get a complimentary glass of vino with any ravioli dish on Sunday at Criniti's Wetherill Park.
Enjoy a complimentary glass of vino or Birra with any ravioli dish on Sunday, while delving into the likes of spinach and ricotta with burnt butter sage and roasted pine nuts; or ravioli rosa with pink sauce, melted mozzarella and basil.
For a fresh take on Italian fare and perfect handmade pasta, discerning Carlton foodies head to
Al Dente Enoteca
on Nicholson Street. Housed in a double-fronted building this fine diner also boasts a delicatessen full of artisan Italian products, while the restaurant has been stylishly renovated to present a sleek and elegant vibe of polished concrete, cream walls and white-clothed tables.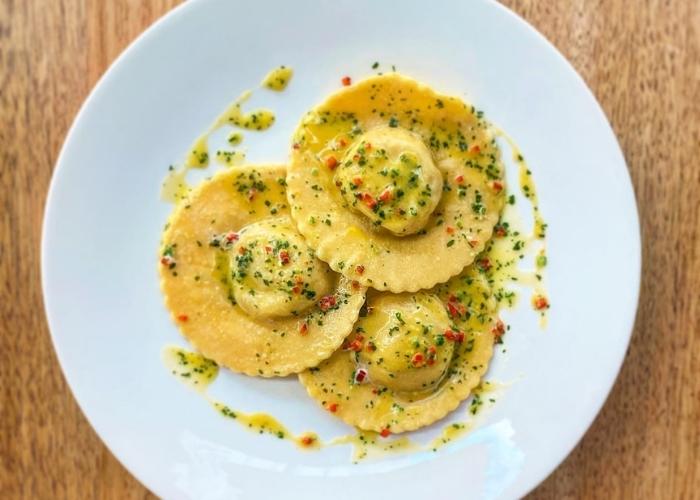 Spanner crab ravioli with apple, chilli and lemon butter sauce from Al Dente Enoteca.
Settle in with an icy glass of Chardonnay and devour plates like Fraser Island spanner crab ravioli, with apple, tarragon and munthari; or scallop, parsnip and bacon ravioli, before camembert, brie, apricot, fig, hazelnut praline and borage to finish.
Delivering Italian fare with a modern edge,
Vine Restaurant Bar
in New Farm is one of Brisbane's most versatile dining spaces. Quietly tucked away on the corner of idyllic, tree-lined Moray Street, Vine presents a warm, modern vibe and sophisticated ambience of moodily lit corners and tables set with white linen; ideal for lunch, dinner or any special occasion.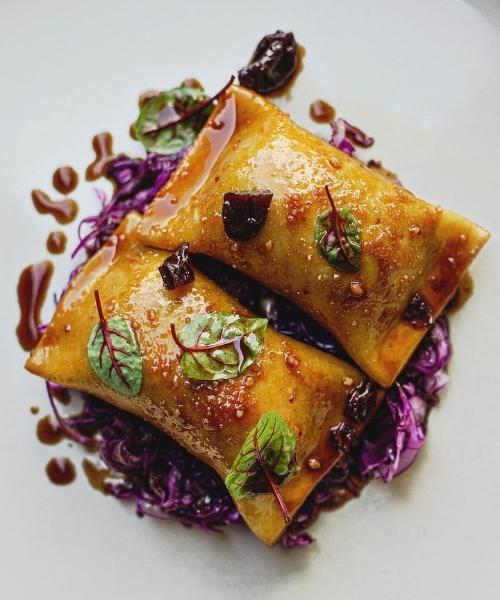 Enjoy an early Ravioli Day dinner at Vine Restaurant Bar and devour braised beef cheek ravioli.
While not open on Sundays, enjoy an early Ravioli Day dinner on Saturday night and devour ravioli with braised beef cheeks, fermented red cabbage, jus and Tasmanian raisins; finishing decadently with classic tiramisu.
For more Italian restaurants to celebrate Ravioli Day, click
here
.