From pides and kebabs to tagines, Australia's love affair with Middle Eastern food is based on punchy flavours and tender meats.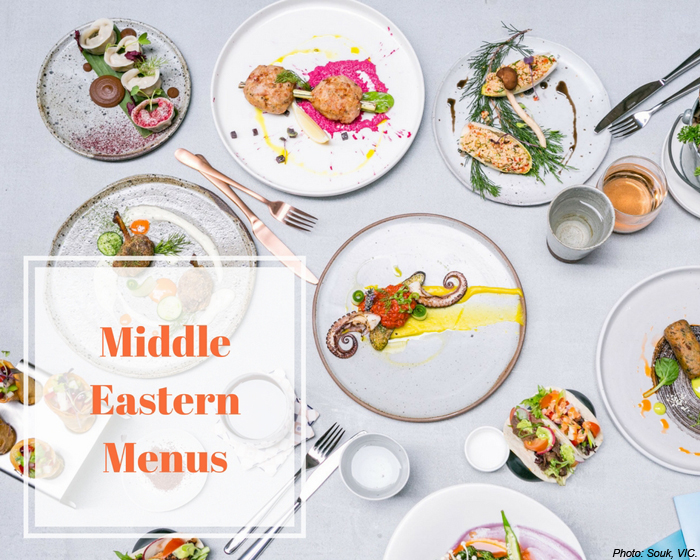 A crossroad between Europe, Asia and North Africa, hospitality and food go hand in hand in the Middle East and it is common to share from a communal plate in the centre of the table, with the emphasis on enjoying meals with family and friends.
Dishes combining grains, spices and fruit with meat such as lamb, create a unique fusion of flavours which can only truly be described as Middle Eastern. Shared plates of various small bites, teamed with dips such as hummus and baba ghanoush, lead into heartier mains and sweet, sticky desserts that taste as good as they look.
Here's a list of top spots to get your Middle Eastern fix.
Embers Mezze Bar | NSW
Arched white windows and rustic wooden tables greet diners at Embers Mezze Bar in Darlinghurst, where authentic Lebanese share plates get a modern twist. Skillfully blending exotic spices with contemporary flavours, Embers' menu has a fresh approach to dishes such as halloumi with honey and za'atar crumbs, or labneh balls in thyme and chilli oil. Those with heartier appetites may opt for confit lamb shawarma with tahini and pickled radish.
Souk | VIC
The concept of writing backwards is embraced in Souk's logo and décor, with mirrors and reflections offering a glimpse of Arabian style. Salivate over a menu of small and medium plates to share such as charcoal octopus, with hot muhammara sauce, roasted potato and herb oil, before tucking into Arabian tacos with grilled chicken, cucumber, red radish, mixed leaves, cherry tomatoes and a housemade basil mayonnaise.
Turkish Delight Restaurant | ACT
From belly dancing to lavish banquets, Turkish Delight Restaurant in Belconnen is the place to be in the ACT. This lively dining hall serves up an array of original Turkish fare from pide breads with minced beef, onion, tomato, capsicum and parsley, to marinated lamb and seasonal vegetables baked in a tomato-based sauce in a sizzling clay pot and served with rice and salad. Don't forget to try the chocolate baklava as a sweet treat.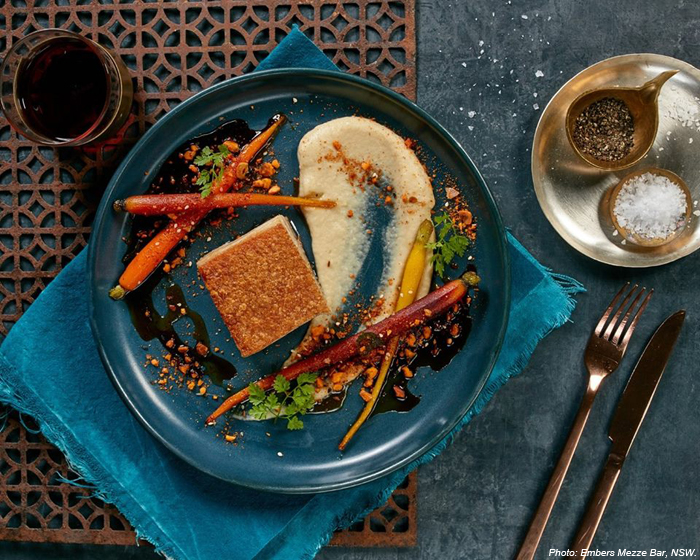 Le Souk | SA
Transporting diners to North Africa, Le Souk in Adelaide brings a blend of house spices, condiments and preserves to its menu, reflecting traditional Algerian fare. Devour an all-day breakfast of a tasty tabouleh omelette with spicy sausages and mushrooms, or delve into a tagine where lamb chunks have been slow cooked for six hours in a house blend of spices, topped with chickpeas and vegetables and served with couscous.
Take a seat among Egyptian-styled artwork, surrounded by soft red and orange hues and inhale mouth-watering aromas from the kitchen at The Nile Grill & Kebabs in Eaton Fair Shopping Centre. A tantalising fusion of Middle Eastern fare lures weary shoppers in need of nourishment, to devour family recipes and housemade spiced sauces. Satisfy hunger pangs by chowing down on a kebab rolled with marinated meat grilled on a spit, or try a thin and crispy Gozleme filled with cheddar cheese, spinach, mushroom, diced tomato and onion.
Sultans Café & Restaurant | QLD
Savour the exciting flavours of Turkey at Sultans Café & Restaurant in Maroochydore, where traditional dishes are showcased with modern flair. Begin with vegetarian fritters, pan fried and served with garlic infused lemon yoghurt sauce and salad, before digging into oven roasted eggplant, filled with sautéed onion, tomatoes, capsicum, garlic and herbs, served with seasonal salad and rice. Top off the Middle Eastern journey with authentic Turkish Delight.
For more Middle Eastern fixes, closer to you, check out our national guide here.