By Leigh O'Connor.
"When I was growing up mobile phones didn't exist and even if you were lucky enough to have a TV, generally the only programmes on were Vietnamese opera or propaganda, so there were none of the distractions we have these days." – Thuy Diem Pham.
Most of Thuy Diem Pham's fond childhood memories are connected to food – her Vietnamese family may not have had much, but what they had was tasty!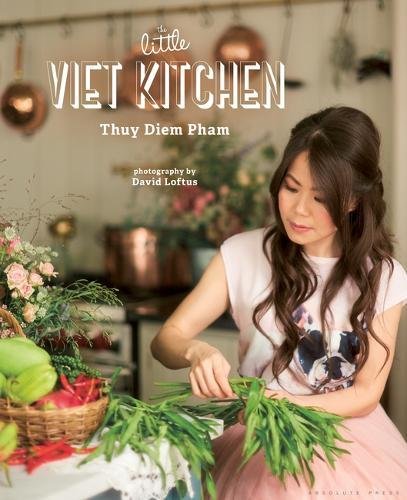 It is from these memories she has carved out a career in the United Kingdom as a renowned Chef, with her Islington restaurant The Little Viet Kitchen featuring on Jamie Oliver's FoodTube. Her recently released cookbook, named after the restaurant, brings an authentic taste of Vietnam to readers' homes, with more than 100 recipes ranging from breakfast to traditional pho and street food.
Born in a small village in the south of the country, Thuy spent her early years in Vietnam before moving to England with her family at age seven. Surrounded by food, she grew up amidst livestock and fresh produce, an amazing variety of fruit, morning markets with freshly picked vegetables and the smell of traditional street food.
"Food plays a huge part of life in Vietnam. Stretching back centuries, it has been the backbone of our culture and way of life," she explains.
"It is us\ed today in many ways, from welcoming friends into your home, to expressing love for someone either romantically, or familial. In a country where people have so little in terms of possessions, so much emphasis and meaning is put on the role of food and family – the two constants that everyone has in common."
Without any formal Chef training, Thuy learnt her craft through studying recipes and techniques passed down from her mother and other family members. She and husband Dave established a weekly supper club from their home in Angel, London – which grew so much in popularity, it was booked out six months in advance.
Eventually, they took the plunge and opened The Little Viet Kitchen and have continued to run a supper club at the restaurant each month, combining the best of restaurateur precision with the comforts of the home kitchen.
Thuy has now taken the next step with her cookbook – offering a fresh approach and insight into how to make the best classic dishes and Vietnamese family favourites, with her memories and expertise at the heart of each and every recipe. The book delves into Thuy's journey to England and celebrates her love of Vietnamese cooking and culture, tantalising readers' tastebuds alongside their imaginations.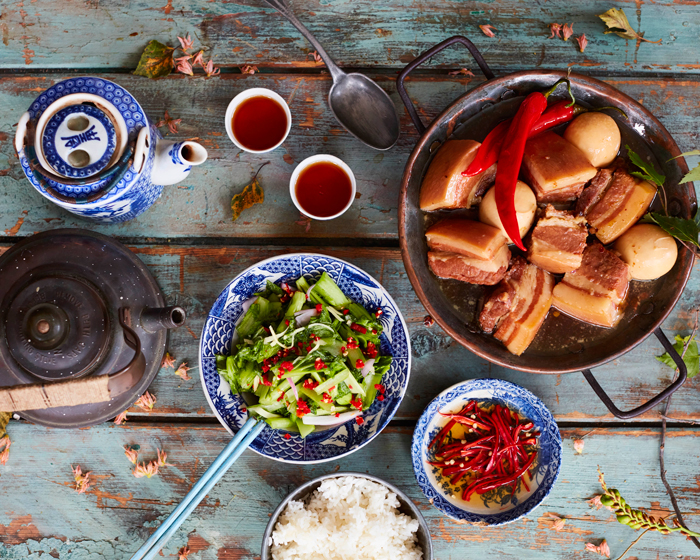 Evoking thoughts of large family gatherings for special occasions, her coconut braised pork and egg recipe is a simple dish showcasing the key techniques of slow cooking in coconut water. Sweet, salty and spicy, it is best teamed with sour and bitter pickles and fluffy jasmine rice, allowing every bite of the juicy and tender pork to melt in the mouth.
"Pork is considered a luxury, a symbol of wealth and fortune. Perhaps, it is because we had this dish so rarely that even to this day I savour every mouthful like it is my last," Thuy says.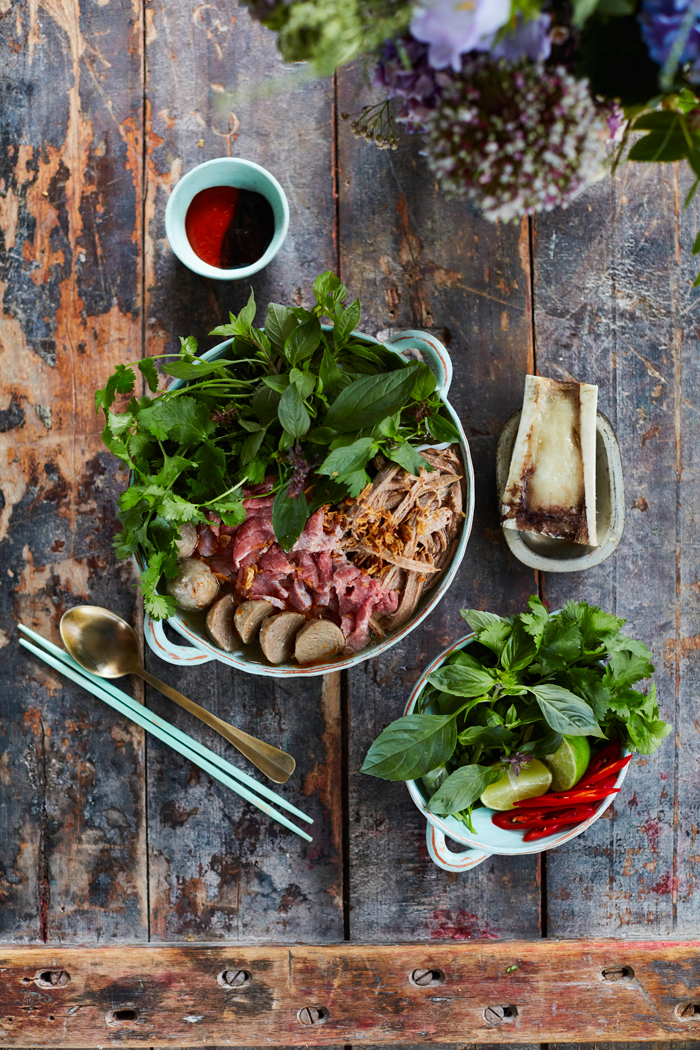 Beef pho is Vietnam's national dish and so synonymous with the cuisine that the quality of a Chef's broth defines their cooking skills. Thuy's beef pho Southern style is classic dish close to her heart as she is from the Mekong Delta region, which has been tweaked over generations to suit the tastebuds of loved ones.
"This is a recipe I have worked on since the launch of The Little Viet Kitchen and is one I'm now proud to share with readers."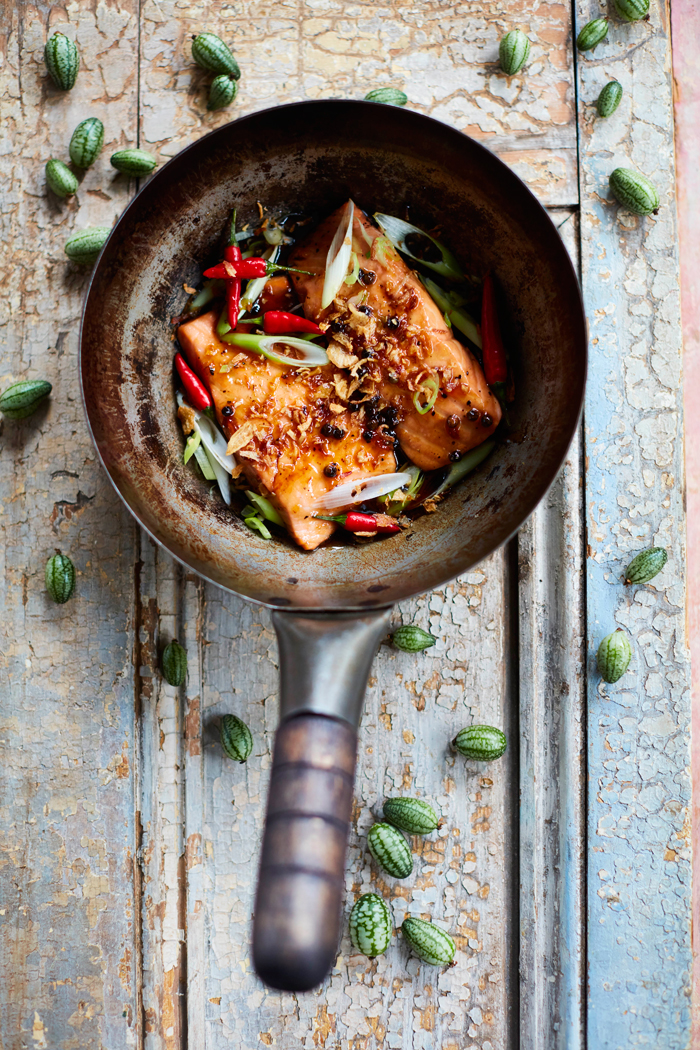 Choosing a non-traditional fish for her caramelised salmon and green peppercorns recipe, Thuy says she wanted something readily available that wouldn't compromise the authenticity of the dish.
"For me, salmon works wonderfully, as the meat is perfectly moist with a firmer texture than white fish and of course it's absolutely delicious."
As well as telling a story of Vietnamese life and culture, this dynamic and engaging cookbook is beautifully photographed by David Loftus, including black and white images of Thuy and her family together in the kitchen.
Let's leave the last word to Thuy…
"When you have so little, everything means so much. I sometimes wonder how much of who I am today is down to where I came from, how strong my family role models were and how hard we all worked just to put food on the table. My love for food comes so naturally, I feel it in my bones. I am not alone in this either; the whole country has so much love and respect for food."
The Little Viet Kitchen by Thuy Diem Pham is published by Absolute Press ($39.99) Out now!