Signature Wines is a family owned winery in the Eden Valley Barossa region, they source grape varieties from Eden Valley, Barossa Valley as well as the Adelaide Hills to produce award winning wines.
Eden Valley's signature varieties are Riesling and Shiraz and Signature Wines produced a 4 star winner Black Label Shiraz Cabernet from the region in 2012. This deep red wine with purple hues has a well balanced flavour of red berry fruits and plums with a hint of wood. With savoury fruit and oak characters, this Shiraz will linger on your palate. If Shiraz Cabernet blends are your drink of choice, head over here for 20% off a 6 pack.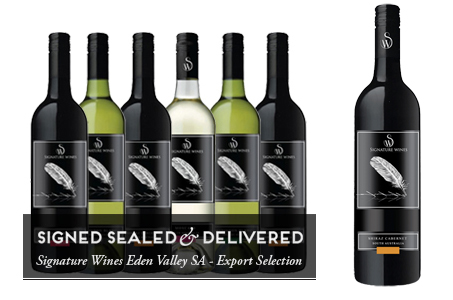 Adelaide Hills is famous for its award winning wineries and wines, Signature Wines has produced a Sauvignon Blanc (2014) from the region that will pair with seafood, grilled fish as well as Asian dishes. Experience a bouquet of lemon and tropical on the nose while enjoying flavoursome citrus on the palate. Enjoy a 6 pack of Sauvignon Blanc 20% off here.
If you can't decide, or if you enjoy a selection of red and white, you'll take pleasure in our offer of 20% off a 12 pack of award winning Signature Wines' Black Label. It's a true Aussie mix of deliciously sweet value, for more information see here. All wines are delivered Australia wide for free.