Interview with Luke Mangan - Salt Grill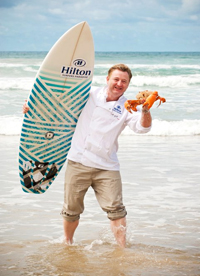 Upon the release of Luke Mangan's new book Salt Grill (September 1, 2013), AGFG were able to sit down and have a chat to Luke about his past experiences that went into the making of his book.
Share with me your experience cooking for the Oscars, who did you get to sit down with after? Were there any unusual requests?
Well you know what happens on tour stays on tour – I had a great time, met lots of different people and cooked in many private homes along the way.
Salt Grill is your 6th book now, it seems very different to your other cooking books, it's rather industry focused, is this the way you see your future going?
Industry focused? It's definitely a book with technique and substance, but it's a book that has recipes from everything I have done in the past. It represents the way I see food going, it's designed for the home cook and food is a lot about sharing. There is a tapas section in there and there are some restaurant dishes but Salt Grill is all about a restaurant that is quite simple but uses great ingredients and gets the full flavour out of the dish.
If you had to choose, what one dish defines 'Luke Mangan?'
Sashimi with ginger dressing, which is a dish that is very simple but full of flavour, and of course the crab omelette that is in the book which again is very simple and full of flavour. Many would also say my liquorice parfait.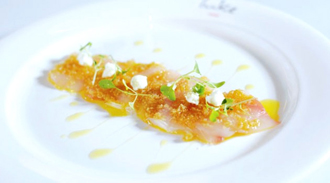 What is it like working with Virgin?
It's great, it's a big thing, we are really working on quality food for the business class and we are trying to give a restaurant experience in the sky. Working with different aspects to get that happening is a good experience and it is definitely challenging.
Is it hard to make sure the food that has your name on it is up to standard on flights?
I'm not a control freak; I have a great team that will follow my vision. I have this philosophy, even in the restaurants, whether I am in the kitchen or not, whether I am in the restaurant or not, shit's going to happen no matter what so we do our best to make sure everything runs smoothly.
What is working with P&O cruises like?
It's quite different from Virgin, with P&O we have three Salt Grills and the kitchens are very separate from the rest of the ship, the produce is different from our land based restaurants, it's run very independently and separately, so it's not mass produced or anything, we are giving the best quality we can give.
What do you do on the weekend – when you get a weekend?
Have a BBQ and get drunk! I mean my life is all about food and wine, it's all about sharing food, one picks the herbs, one makes the salad, one makes the dressing while I am cooking on the barbie. Good wine must flow throughout.
When you were young and still finding your direction in life, where did you think you were going to be, was it anything like where you are today?
I didn't know really where I was going to be, I got kicked out of school when I was 15 and I came from a middle class family - I really had no direction of where or what I wanted to do. I kind of just fell into cooking and got lucky and lost my way in it. It has been a lot of hard work but I was passionate and I throw everything I can into my career and business.
Salt Grill Book Review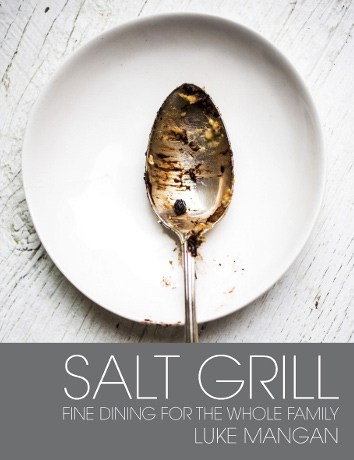 Internationally regarded as one of Australia's leading chefs and restaurateurs, Luke Mangan and his vastly acclaimed Salt and Salt Grill establishments have been a shining example of the nation's ever expanding culinary culture.
Launched on September 1st, the debut of Luke's most recent cookbook 'Salt Grill; Fine Dining for the Whole Family' is a welcome addition to the kitchens of culinary enthusiasts wishing to take inspiration from the global gourmand himself.
Offering simple twists on home favourites (think orange lamingtons and rum and raisin chocolate bread and butter pudding) through to untouched classics like salt and pepper squid and lobster thermidor, Luke's style remains home cook and kitchen friendly. True to form, all aspects of elegance and precise presentation are evident throughout the compilation of recipes, with over 140 dishes emphasising sharing amongst family and friends.
Immerse yourself amongst the pages of 'Salt Grill' and you'll also discover an exclusive selection of Luke's signature dishes, including the praised liquorice parfait, all in print for you to recreate at home and set the bar for fine dining in your very own home.