Are you always on the lookout for a new café or restaurant to indulge yourself, family and friends?
No sweat…we have you covered! Every week AGFG will aim to let you know what new venues have opened in your area and why you should give them a try.
You can help too – just click
here
to email our PR team and let us know of a new eatery in your suburb so we can inform everyone and help these establishments thrive and survive during lockdown and pandemic times.
Water views, a select wine list and dishes cooked by a Michelin-star awarded Chef is what awaits Gold Coast locals at
Jonez on Ephraim
restaurant in Paradise Point. Newly relocated to Ephraim Island, this elegant venue has a full glass frontage to let in an abundance of natural light, creating a relaxed ambience to enjoy contemporary cuisine, prepared by critically acclaimed Chef Gary Jones.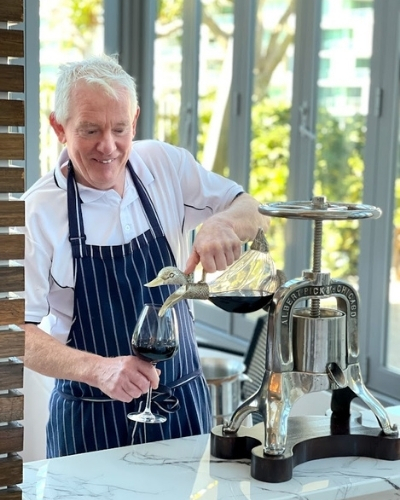 Michelin-star awarded Chef Gary Jones and the restaurant's 131-year-old duck press from Chicago.
Why should you dine at Jonez on Ephraim? Here are three good reasons:
What's your most popular dish:
There are definitely a few! Treacle-cured venison, braised cabbage with pecorino sausage, roasted kipflers, duck Ma Hor and pan-roasted scallops…
What's your point of difference:
Casual dining with fancy food. Jonez on Ephraim is headed by Michelin star Chef Gary Jones, who curates a menu blending fresh Aussie seafood with French and British classics.
What is a fun fact that not many people know about the restaurant?
We have a 131-year-old antique duck press from Chicago at our restaurant – it's rumoured to have probably pressed a couple of ducks for Al Capone!