Offering choices from ice cream to bratwurst and everything in between, food trucks have grown in popularity and are now as much of a dining concept as family-style restaurants and fast-food joints.
Selling food street-side is not a new idea…it dates back to the late 17th Century when living conditions were cramped and people didn't have the resources to cook their own meals. Vendors would sell food from small carts, or street kitchens – starting the craze that has taken the world by storm.
Roy Choi became one of the leaders in the food truck industry when he opened Kogi in Los Angeles in 2008. Serving Korean barbeque, it is considered to be one of the first gourmet food trucks in the United States.
Back Down Under, we are also spoilt for choice when it comes to grabbing a tasty meal from your favourite food truck – here are 10 we think you should try: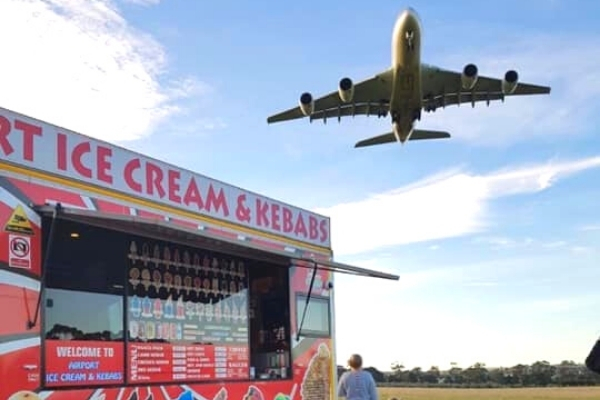 Feel the rush of overhead planes at Airport Ice Cream food truck.
Watch the planes fly overhead while enjoying the tastiest ice cream and gelati at Greenvale food truck
Airport Ice Cream
on Sunbury Road. This long-established mobile eatery parks up in the Melbourne aircraft viewing point for all to enjoy the rush of landing planes, alongside lamb kebabs, Kransky hot dogs and classic fish and chips; don't forget to grab a cone of soft-serve covered in choc candy.
Enjoy a day at the park in Wodonga without forgoing your caffeine and food fix from
Bites N Beverage Mobile Café
. This bright yellow food truck can be found at various locations around the city including Sumsion Gardens' Huon Street carpark, dishing up drinks and a light seasonal menu from pies and pasties to rice paper rolls, wraps and quesadillas; as well as sweet treats like Lindt chocolate almond slice.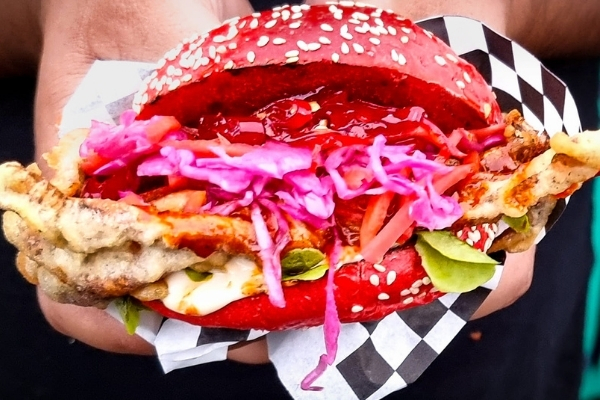 Grab a crab burger at Buns on Wheels.
Clayton-based food truck
Buns on Wheels
can be found trundling around the streets, markets and festivals, easily visible with its black paint job covered with vibrant fast-food images, serving up uniquely delicious burgers, subs, loaded fries and chicken wings. Wrap your hands around a Panko crumbed chicken Katsu burger, with melted cheese, Japanese mayo, streaky bacon, kohlrabi, apple, onion remoulade chilli jam and ketchup, in a black sesame bun.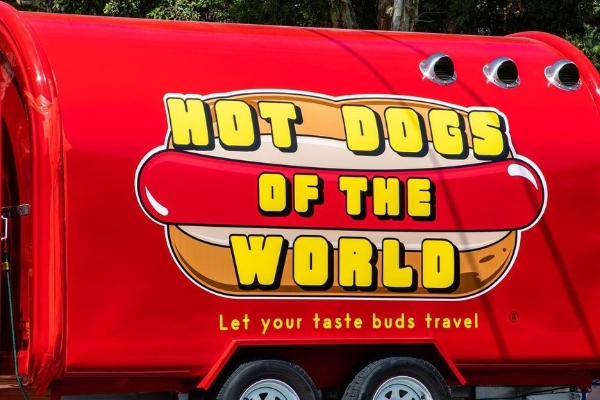 Find global fare at Hot Dogs of the World.
After 30 years of hibernation, take your taste buds on a global travel adventure with Sydney food truck
Hot Dogs of the World
. Find this bright red truck at various locations around the city, serving up creative dogs from Texas to Slovenia and everywhere in between; chow down on a Mexico, with a Frankfurt, grated cheese, chilli con carne, jalapenos, toasted onions and guacamole, on a soft bun. A side of loaded fries with cheese, bacon and Dog Squad special sauce is also a must.
Brisbane's original pita pocket slinger,
The Tasty Pocket
dishes up Greek feasts to city streets, events and the food truck scene. This pocket trailer boasts a full commercial kitchen to cater for any event at any location, so you can enjoy food full of flavour, colour and excitement; expect tasty fusion-style pita pockets like tempura prawns, lemon and herbs, or halloumi, with lettuce, tomato and garlic sauce. There are also sliders, gyro, loaded fries, falafel and lamb koftas to appease hunger pangs.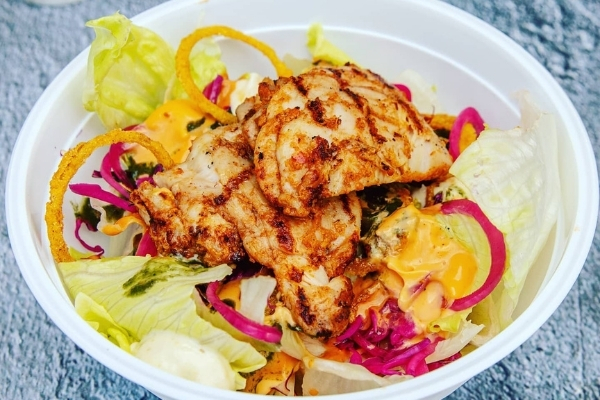 MAASA Wings n Burgers grilled chicken salad.
Melbourne foodies follow tantalising aromas to find
MAASA Wings n Burgers
food truck for decadently delicious fast-food temptations. Based on Dorset Road in Bayswater, this is the place to go for burgers made with the freshest ingredients, housemade sauces and finger-lickin' chicken wings; grab a Drunken Rick burger, with Wagyu beef, sticky Bourbon glaze, lettuce, fried jalapenos, onion rings, double melted cheese and truffle mayo.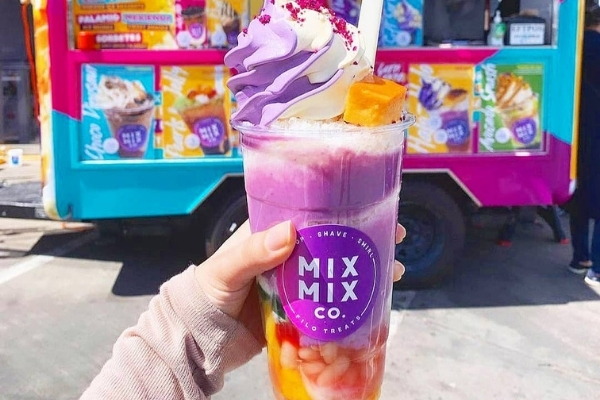 Filipino treats from Mix Mix Co.
Head to Sydney's Parklea Markets to indulge in delectable Filipino desserts and drinks at
Mix Mix Co.
fiesta food truck. Expect to taste exotic creations such as halo-halo – a popular dessert made with sweetened bananas, jackfruit, ube jam, egg flan, palm sugar fruit, coconut gel and strings, white beans, sago, jelly, soft-serve ice cream, milk syrup and shaved ice. There are also mango and peach pies, best washed down by a coconut pandan crusher, or coffee jelly milk tea.
It's all about the sausage at
Mr Bratwurst
, found at various locations around Melbourne including Prahran Market and Toorak. This mobile food caterer has a loyal local following for gourmet char-grilled sausages, cooked the traditional way over wooden charcoal; this proud ambassador of German cuisine serves up gluten and MSG-free snags like Kranksy, Spanish chorizo and Hungarian beef, along with chips, salty pretzels and beer.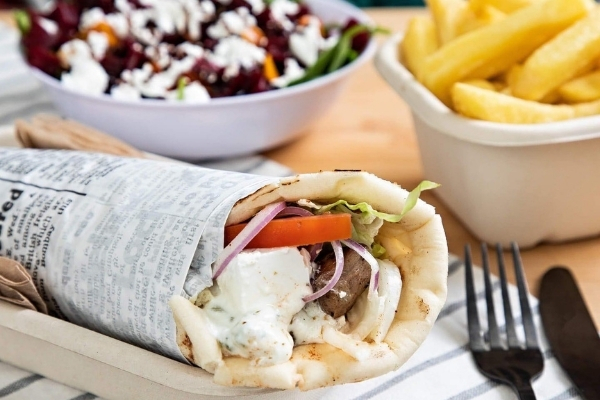 Souvlaki and sides from That Greek Truck.
Looking for a souvlaki fix in Brisbane?
That Greek Truck
has you covered with authentic fare just like Yia-Yia makes at various venues, markets and festivals – think mouth-watering meat, marinated in olive oil, salt, pepper and oregano before being barbequed on board. Grab an open lamb souvlaki, with lettuce, cucumber, tomato, onion, feta and olives, drizzled with olive oil; before a dessert of rich, sweet baklava, layered with chopped nuts.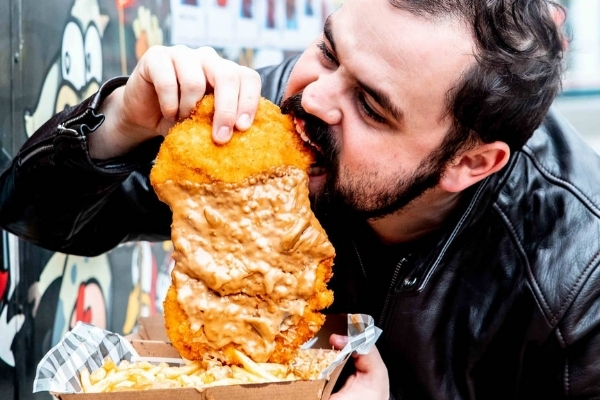 Wholly Schnit, that's a schnitzel.
Sydney schnit heads follow the graffiti artwork covered food truck
Wholly Schnit
around the city in search of their next schnitzel fix. Bringing handmade golden, crispy succulent schnitzels to the city streets, pull up a camp chair and settle in for a food coma session with a Wholly Schnit special, topped with mashed potato, mushy peas and gravy. Perhaps put a schnit between your buns, with coleslaw, cheese, peri peri mayo and chilli, on a brioche roll.