By Leigh O'Connor.
Vegetables are an essential part of a healthy lifestyle and to encourage us all to eat more, we celebrate National Eat Your Vegetables Day on Thursday, June 17.
It is recommended we consume 3-5 servings of vegetables per day, depending on our age and gender – one serving is equivalent to 1/2-1 cup of veggies, eaten either raw or cooked.
Here are four creative ways to add more veggies to your diet and a hearty Winter vegetable stew recipe ideal for a weeknight family dinner on Thursday:
•Add veggies to your breakfast, whether mixing spinach into your eggs or swapping out that muffin for a smoothie, you can get at least one serve every morning.
•Skip the chocolate bar when you're craving a snack; instead have some carrots, kohlrabi, celery or other fresh veggies to munch on.
•Another great snack is veggie chips, they not only reduce calories and fats they taste great too.
•Swap out French fries or chips for a side salad at lunch or dinner. If you're having a baked potato, choose sweet potato instead.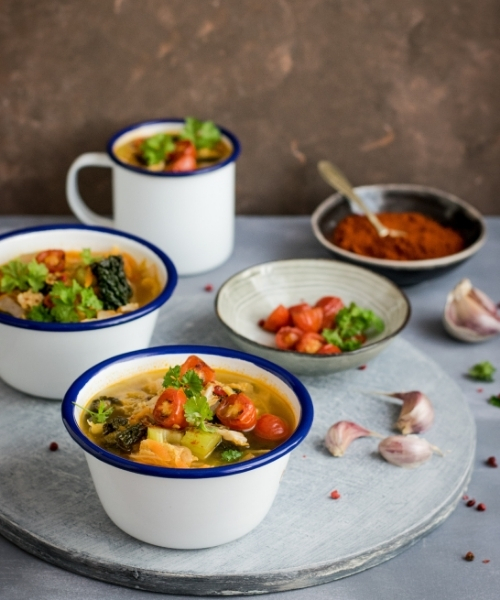 There's nothing like a warming casserole or stew on a cold night to fuel not only your appetite but also your soul. Try this
Winter vegetable stew
on Thursday to mark Eat Your Veggies Day and watch the smiles on dials around the family dinner table.
The spices in this hearty stew are classic flavours of North African cooking – a mix of sweet, savoury, bright and earthy all in one dish. Saffron may be the world's most expensive spice, but this recipe only calls for a small amount along with sweet paprika, which is a milder form of spice.
Not keen on cooking? Click
here
to find a vegetarian restaurant near you.