Did you know lobsters can live up to 100-years-old? That's if they can avoid the lobster pot!
Come National Lobster Day on Tuesday, June 15 there'll be shellfish on the plate around the country as we celebrate this seafood favourite.
While we consider these crustaceans as delicacies, that hasn't always been the case – in colonial times, the lobster received very little culinary credit.
In fact, pigs and goats ate more lobster than the well-to-do…they were considered 'the poor man's chicken'; prisoners sometimes dined like Kings in these days, as lobster was plentiful and cheap.
Here are three more fun facts about lobsters and three restaurants to shellabrate on Tuesday:
•Lobsters aren't red, they turn red once cooked. In nature, they can be green, yellow, or even bright blue.
•Lobsters shed their shells, or moult. A female can only mate just after she has moulted.
•Lobsters can swim forward and backward; when they are alarmed, they scoot away in reverse by rapidly curling and uncurling their tails.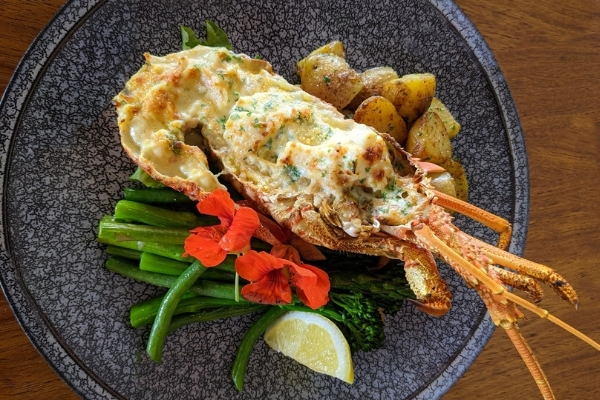 Tasmanian southern rock lobster at Mures Upper Deck in Hobart.
Take in breathtaking waterfront views through floor-to-ceiling glass at
Mures Upper Deck
on Victoria Dock in Hobart. Watch the sky turn pink with a glass of chilled wine in hand on Tuesday and delve into Tasmanian southern rock lobster, with Mornay sauce, garden salad and seasonal potato chips; from a fishing line to plate menu showcasing local catches at their best.
This family-owned business has a passion for the sea, from deckhands to the Executive Chef the emphasis is on a fresh approach to a la carte dining; expect starters like braised octopus, yellow split pea purée, semi-dried tomatoes and crispy capers, before mains of Atlantic salmon, puy lentils, beans, tomato, basil and sweet potato.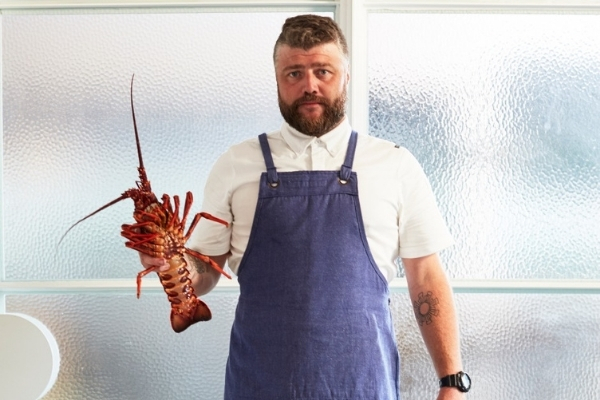 Harbord Hotel Head Chef Adam Rust delivers lobster kissed by flames.
Kissed by flames and served with chipotle coriander butter,
Harbord Hotel
on Moore Road in Freshwater delivers a lobster dish that pairs great with sunshine and good mates. Capturing the spirit and flavours of the ocean through salt, smoke and wood, head to this hotel for great food, cold beer and cracking tunes, from brekky to sundown.
If a brioche bun is more your vibe, Harbord's signature lobster roll with pink peppercorns and lemon mayo is sure to tempt; washed down with a cheeky Longboard Martini cocktail, with vanilla Vodka, aloe juice, lychee liqueur, lemon and dehydrated dragon fruit.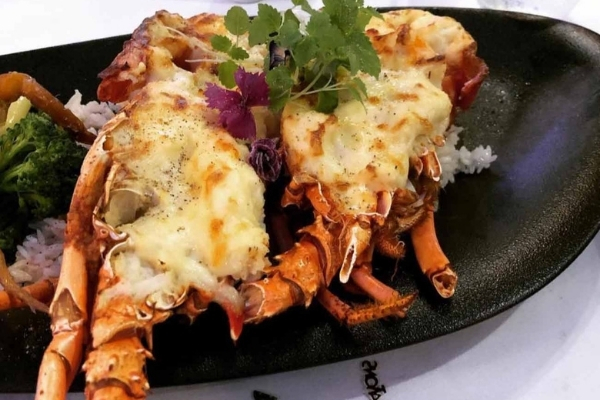 Swim up to Psari Bar & Grill for lobster and garlic butter sauce.
For a twist on Mediterranean fare, including a live seafood tank, swim up to
Psari Bar & Grill
on Brisbane Road in Mooloolaba, just a cast away from the beach. Anchored on the ground floor of the Le Balsa building, this family-style restaurant exudes a contemporary vibe of exposed brick, circular pendent lights and white-clothed tables.
After a leisurely beach stroll on Tuesday, hook into a bowl of creamy Boston seafood chowder to start, with scallops, snapper, black mussels and charred sourdough; before devouring grilled lobster and garlic butter sauce, with a garden salad on the side.
Go cray cray for lobster on Tuesday! For more places to shellabrate, click
here
.