Primarily eaten as a snack to accompany a crisp beer, Yakitori restaurants and bars are easily found spread across every part of Japan. It is not uncommon for locals to leave the office or workplace and head straight for these bars or for the street markets commonly known as Yakitoriyas, to grab some tasty skewers and enjoy an afternoon wind down before heading home.
Traditionally cooked over a charcoal fire, these skewers can be put together with ingredients to your liking or any type of off cuts, as it's the sauce that really makes the skewer a Yakitori. It is known throughout Japan that a great Yakitori sauce may be simple with its ingredients list but takes a lot of practice to execute properly. The sauce is also used throughout the cooking process as a glaze to ensure the protein or vegetable you are barbequing is coated in the deliciously sweet, yet savoury sauce, making for a sticky, finger licking result.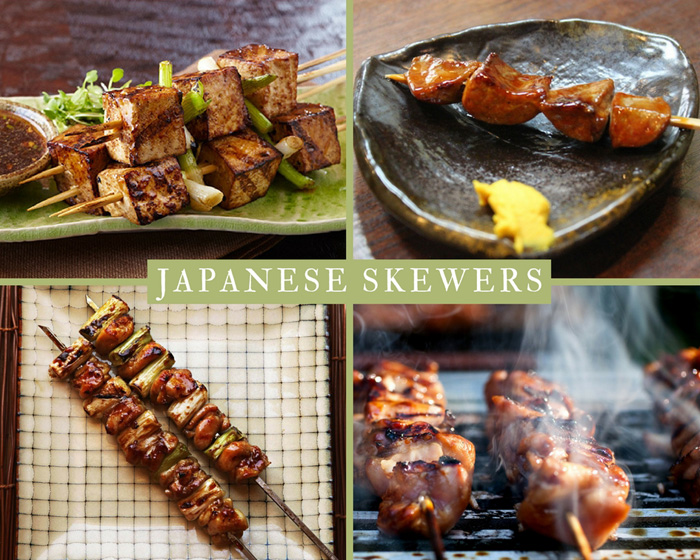 Japanese Chicken Skewers with Spring Onions
Being the most sought after of all of the Yakitori recipes, these chicken skewers are a sure crowd pleaser. The addition of spring onions makes for a flavoursome burst, whilst the teriyaki sauce makes for tender and succulent chicken pieces.
Yakitori Style, Tofu Japanese Skewers
This is an ideal recipe for vegetarians, replacing the traditionally used meat with a firm tofu. Tofu, made from soy bean, is used in abundance in Japan due to its availability. It is an ideal protein to use when cooking as it has a unique subtle taste and absorbent texture, taking on and soaking up any flavour you mix with it, creating a crunchy outer texture whilst leaving a soft and chewy centre.
Yakitori Chicken with Ginger, Garlic and Soy Sauce
Calling for the addition of ginger, garlic and soy sauce, this recipe adds a flavour punch to the normal. The ginger adds a perky lift to the chicken, whilst the dry cherry and brown sugar harmonise well together, creating a sweet finish, leaving you wanting more.
Grilled Pork Belly Skewers (called Yakiton in Japan)
Reba (pork liver) is another type of meat that is commonly used to make Yakitori. It's high in protein and low in fat, making it a healthy alternative. Ideally, Reba should be grilled on the outside and left rare in the centre, so that the creamy texture of the meat remains – this recipe uses pork belly, with similar preparations.
In addition, Enoki Mushrooms Wrapped in Bacon are just one of the many non-skewered options offered at Yakitoriyas, including vegetables wrapped in a protein, easily eaten with one hand whilst enjoying a beer. Those who don't enjoy mushrooms can easily alter this recipe with the inclusion of another vegetable, like julienned baked sweet potato or carrot.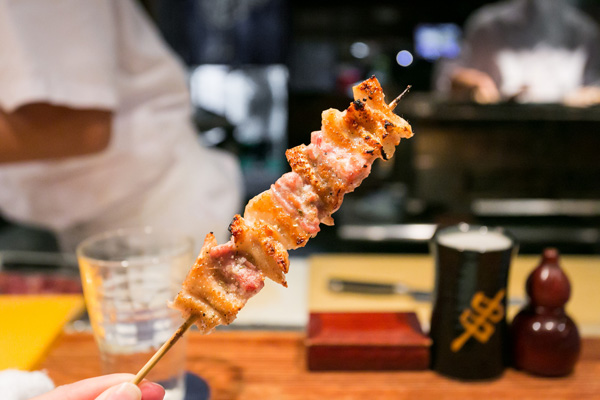 Skin at Bird Land,Tokyo. Lead image thanks to City Foodsters.