May 2012
Great Recipes Are a Recipe for Success
AGFG: Spinning off your Cleo Bachelor of the Year 2012 status, when you're wooing a woman with aphrodisical fare, what is your preferred entrée, main and/or dessert? (Assuming you don't skip straight to the dessert.)
HAYDEN: I think for me it has to be oysters and champagne for an entree, the main must be light and fresh (maybe seafood again with some delicate herbs, Asian even), then for dessert I always like the idea of doing a coconut tapioca pearl, raspberries, white chocolate mousse and dark choc shavings served in a tall skinny glass.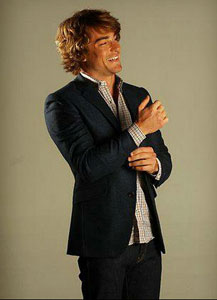 AGFG: On MasterChef Australia Season 3 you proved to yourself and the nation (not to mention world-renowned chefs) that your cooking is not to be underestimated. At this stage of the game what is your signature dish?
HAYDEN: I don't think I really have a signature dish… I'd probably say the moules frites that I cooked on MasterChef in the very first episode.
Our AGFG Recipe section now includes another Hayden Quinn recipe, his Maderas Fish Taco recipe.
Hayden's Take on Being a MasterChef & Beyond…
AGFG: With a science degree behind you, sexy lifeguard status and an endearing closeness with your Mum and Nan… plus your good-natured personality, it was hard for your MasterChef fans to see you go in Week 12. But it brought you to where you are today. Of all the MasterChef memories, what is the one that stands out most in your mind? And what was your sweatiest moment in the kitchen? (On set, of course.)
HAYDEN: I am truly grateful for the amazing experiences and life changing situations that MasterChef has brought me; it really was a blast and I am still living a pretty incredible life. Recently I rode my first horse with Jeep Polo in the Valley over in Perth…. I promise you that in the past that is something that I probably never would have done!
Spending time in NYC with Michael was unreal. Sweetest memory on set in the MasterChef kitchen would have been when David Chang of Momofuku gave me a rap and said, "I didn't see this coming from you." That was pretty cool.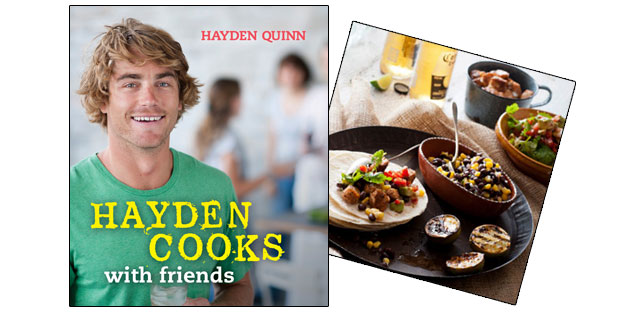 AGFG:Your online presence is ever-expanding, including a Hayden Cooks with Friends segment on ninemsn food where you proved to be a "massive steak man" with one of your delicious meaty recipes. In that promotion your recipe is associated with Curtis Stone, who's had great success in the Australian and international media as a celebrated chef - it seems there's a likeness. Out of those you've worked with (or would like to work with), who inspires you?
HAYDEN: Many people have compared me to Curtis, but there is one fella that some people say I am similar to as well, and that is Jamie Oliver - I get pretty chuffed when I hear that. I learned how to cook with passion and a relaxed attitude by reading his books and watching him on TV. Most of all, Jamie gets people excited, not just about food but about the people and the produce and the stories that go with it all, and that is what I really want to be able to do.
The Hayden Cooks series is just the start, and if I can keep moving forward like that and maybe one day (we are working on it) get a TV show up and running that combines my love of travel, the ocean, people and food, then I would be well on my way to achieving my goals.
AGFG: Since your Mum's a home economist, she's surely passed on a wealth of kitchen knowledge and culinary skill. Can you speak more about her positive influence on your cooking?
HAYDEN: Mum was a home economist and is now in real estate but the food is still unreal and that passion never dies. For me the biggest influence my mum instilled is her ability to bring people together with food; she loves having people around, and I remember in the past telling her at 5 in the afternoon that all these people would be around at her house for dinner in an hour and she would be able to whip up an incredible meal.
AGFG: Some say that love is the most important ingredient when it comes to cooking, especially in the home. In your mind, is this a sappy sentiment or is there something to it?
HAYDEN: No, I think it is for real. When you feed someone you are not just giving them a plate with food on it, you are nourishing and caring for them at the most simple level. And if you put that love and care into your food that will then shine through to the person you have shared it with.
AGFG: Your website is growing steadily and your professional writing is merging into the scene. Is food your true passion? How does it play into your lifestyle, such as surfing? And how stoked are you about the upcoming release of your new book?
HAYDEN: Food is one of my passions but only part of my life; my food focus is not so overwhelming that if I forget about all those other amazing things that I like to do. And if I didn't have multiple passions, I wouldn't be me. For me life is about balance and being able to get outside and have a go at everything, experience it all.
Playing into lifestyle, food is about nourishing your body. I lead a very active lifestyle (when I am not on a plane!!!) and having good, healthy and fresh food is always important. And it is also important to spoil yourself sometimes too! I cannot wait to share the new book with everyone. It is going to be packed with some unreal recipes, cool little stories from my life and of course some amazing photography. I am incredibly lucky to be working with some of the best at Murdoch Books.
AGFG: You've recently visited Bali and are a known global traveller. Do you foresee a restaurant in your future and if so would it naturally be in Sydney, or maybe in Melbourne, possibly somewhere else in Australia or overseas?
HAYDEN: Bali was my first holiday since the MasterChef craziness started nearly 2 years ago, and that is a long time for me to sit still! For me travel is a way to gain inspiration; from the food, from the people and from the other travellers that you meet along the way. Food can tell incredible stories that can, one way or another, be linked back to an experience each person may have had at different stages of their life.
In the future I wouldn't mind a small restaurant where I could express my love of food and different flavours, and most of all share the food that I have come across on the road with people. But I think that is a little while off yet. But then again, you never know.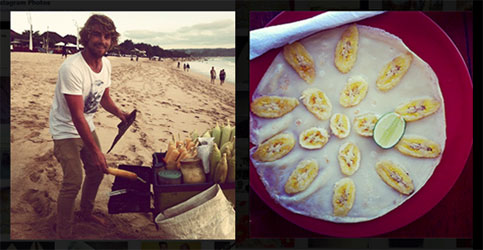 AGFG: American author, James Michener wrote, "If you reject the food, ignore the customs, fear the religion, and avoid the people, you might better stay home." Considering your travel tales to date, what food experience totally challenged you to keep an open mind? And was the result delicious, or did it simply taste like chicken?
HAYDEN: I think for me every time I walk out the door I want to challenge myself in some way or another. I think the result is always delicious… although I was in north Queensland recently and a Japanese lady gave me one of the more "interesting" dishes I have ever tasted. Not sure exactly what it was but it wasn't great.
AGFG: Winning the title of 25th Cleo Bachelor at 25 is a memorable feat. You're not married, so eligible foodie females out there are surely wondering if you have a girlfriend? Or are you truly an eligible bachelor?
HAYDEN: I am truly a bachelor, yes. Life is super busy at the moment so it's hard to find myself a girlfriend, but when I do have time it is always nice to have a beautiful meal with a special someone, be it at a restaurant, a picnic or dinner at home. Eating outdoors is probably the best...
AGFG: Cleo online reported your quote on bachelorhood: "The best thing about being a bachelor is travel because when you are with someone it is always hard to be away from them." Right now does that solitary man, just you and the world dynamic suit best? Could you see yourself travelling together with your sweetheart, so you don't have to be away from them? And if so, what would you do if the two of you preferred different kinds of restaurants?
HAYDEN: I do like travelling alone, but there really is nothing better than sharing that experience with someone. One day I would love to be able to travel with someone and if we liked different restaurants that would be a good thing as we would be continually trying out new things!
Hayden Quinn's website is up-to-date with news on this lifestylers ongoing culinary and travel adventures.