Dan Hunter's Brae is one of Australia's best restaurants, but by late February 2016 it will solidify itself as a once in a lifetime experience, as six luxury guest suites will be available for diners, to, as Dan says "sleep over."
Come Thursday, February 25, you will be able to experience these spacious guest suites, designed by Six Degrees Architects with interiors by Studio Round. Keeping in theme with the Brae experience of sustainability, all suites have been constructed using recycled materials, solar energy, harvested rainwater and a worm farm waste water system. If this sounds like your glass of NV Roger Coulon 'Réserve de Hommée,' bookings are now open (available for adults only).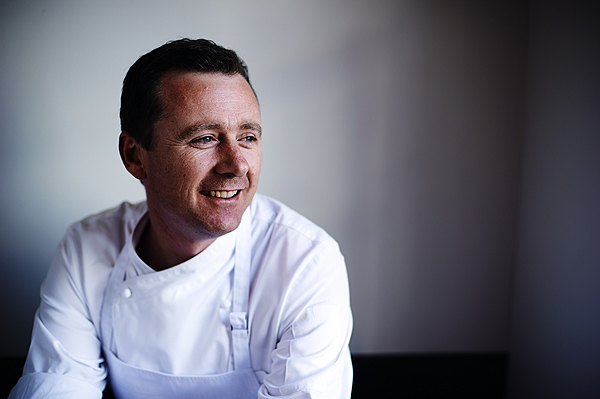 AGFG had the chance to speak with Dan about Brae, Chef Hat season and the future of Brae's 30 productive acres.
AGFG: How did going down the organic and sustainable path first come to mind for you? Step us through your thought processes in running a kitchen from an on-site organic fruit and vegetable garden.
Hunter: It seems obvious really. If you work with food and flavour you probably want the food to be the best version it can be and also the most flavoursome. Particularly with fruit and veg but it's pretty hard to argue with the quality of flavour when you taste a just picked organic version of something over a cold stored chemically raised product, and after that I want to eat and serve food that is healthy to eat and raised with consideration to the health of the land it came from.
Each year we decide what sorts of varieties and quantities of fruit and veg we want to grow and start to map out what's needed to achieve that – land, water, labour, infrastructure - and see what we can achieve. Then we basically work out a planting and harvesting schedule and from that the dishes and menus develop. Of course we always supplement to some degree from other producers but we are certainly working toward a fairly productive environment that includes small scale cropping for grains for bread, chickens for eggs and manure, large scale composting and rain water harvesting.
AGFG: We're currently in Chef Hat season; results will be out at the start of January, what do you think such awards do for chefs, their team and the restaurant itself?
Hunter: These awards are really a recognition of work that's already been done, so it's like a big public pat on the back for the team's hard work and a way of benchmarking the industry.
AGFG: Do you think it poses more pressure on the team to become more innovative than before or are they simply rewards for hard work?
Hunter: I use them as a way to evolve –receiving any award generally makes me want to improve rather than relax and we're quite conscious of the fact that everything can be lost or taken away, including restaurant guide book rankings and reviews, so it's good to move on from them as quick as possible.
AGFG: Brae has been acknowledged by many as one of the best restaurants in Australia – what did you envision for Brae when you first opened?
Hunter: I hoped that our commitment to providing a unique restaurant experience would lend itself to our guests thinking it was an experience that could not be had anywhere else.
AGFG: Are you near where you set out to be?
Hunter: Not yet and we probably won't reach any sort of point where we think it's all done, but of course we're very happy with what we've been able to achieve in our first two years. Especially from an internal point of view, I'm happy that we have low staff turnover and a good work culture with many people still with us since opening and some that have worked with me for many years now.
AGFG: You have recently announced on-site accommodation in the form of suites at Brae, how did this come about and what will you be focusing on in regards to guest experience?
Hunter: It was always part of the business plan – a restaurant with rooms rather than a hotel. Somewhere where we can continue the level of hospitality that's provided in the dining room but for a sleep over.
AGFG: What will be part of the in-room breakfasts?
Hunter: A farm style breakfast of everything made on sight from ours or our neighbours produce. I want it to be healthy as well as delicious. It will be generous and seasonal.
AGFG: In regards to food, what dishes in the past have been real highlights on the Brae menu, what did you enjoy creating the most?
Hunter: Iced oyster, parsnip and apple, plums and onions, the bread and butter, duck and quandong, jowl cooked overnight – I like them all.