From revered international chef, food and wine journalist and multiple cookbook author, Peter Howard, comes an addition to his recipe book repertoire, a collection of his best recipes sourced from his career spanning more than 33 years, aptly named The Best of Peter Howard.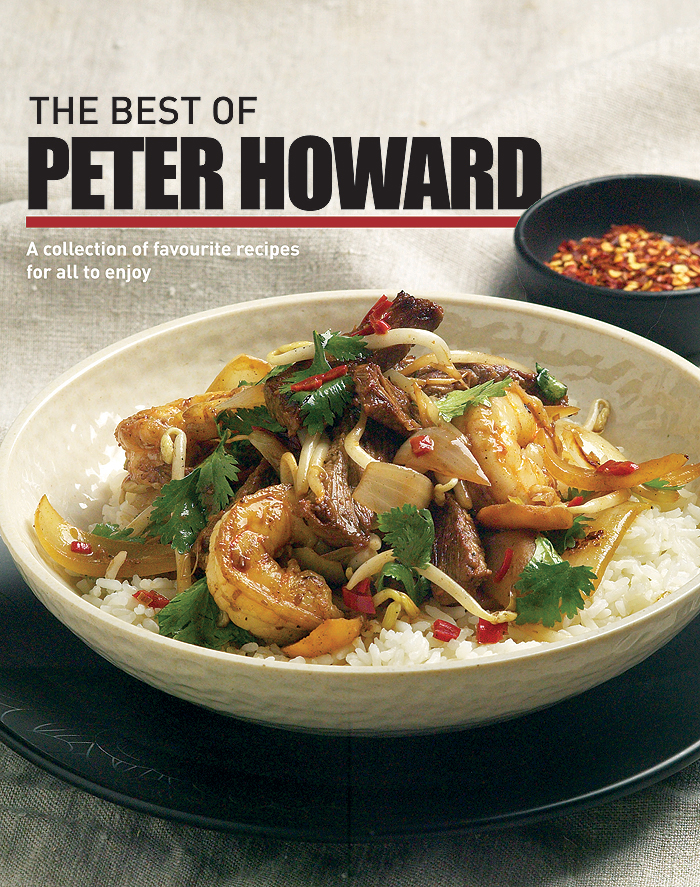 With humble nature, Peter acknowledges that to produce such a cookbook is a monumental achievement and he shares insight with the reader, both into his thoughts on the book and a reflection on his long-standing career within the industry. He learned love and respect for food from his parents, and, growing up in a small Queensland town meant he knew surrounding farmers, understood and even experienced some of the hardships they faced when growing high quality produce in Australia's extreme climates. It is from this respect for primary producers that Peter forms his recipes and cookbooks.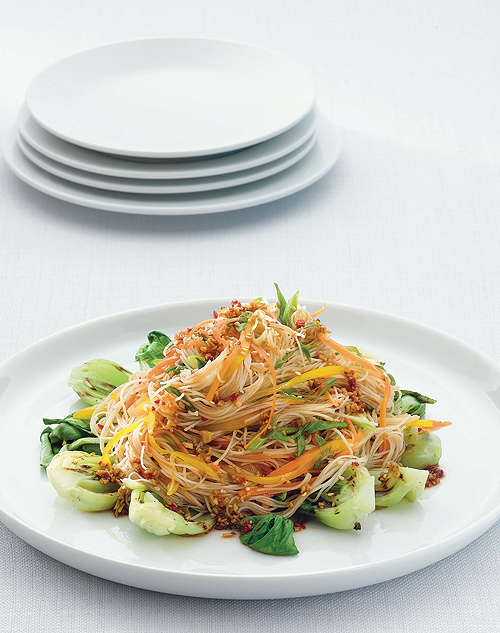 Rice Noodles and Bok Chow Salad with Ginger Chilli Soy Dressing.
With easy to follow and down to earth content, there is an air of no-nonsense about each glossy page, from a chapter of basics through to various kinds of meat dishes and vegetarian meals all ending with desserts such as the Passionfruit Souffle. This cookbook isn't preoccupied with hard-to-achieve dishes full of gels and emulsions, it's a cookbook bound to help the everyday cook at home with new ideas, like a Peach, Feta and Prosciutto Salad with a lime and lychee dressing. If you already know your way around the kitchen, advance your skillset with a few tips and add some extras to your monthly meal rotation. First time cooks need not worry either; this book is warm and inviting in disposition and will gently guide you to discover your inner chef.
Throughout this collation of recipes, Peter gives a nod to Australian farmers and encourages the reader to do the same by making just a few small changes and using fresh, local ingredients. Rather than relying on store bought goods, Peter provides recipes for dressings, flavoursome sauces and mayonnaise with a real taste. While many recipes are family favourites and emanate what we recognize as European inspired flavours, there is also a running theme of Asian style combinations and other international culinary influences.
In getting to know the Australian community, Peter can share through his cookbook what he has seen every day of his career, a nation of multicultural gastronomy, an excitement to venture out and try new tastes and an acceptance and celebration of exotic cuisines. From Middle Eastern inspired lamb koftas with pita bread, yoghurt and mint, to more European recipes like char-roasted chicken with old-fashioned bread stuffing and back to Rice Noodles with Bok Choy Salad and ginger chilli soy dressing, enjoy a complete mingling of influences in a likeness to our country from front page to back.
Keep this book on your kitchen bench. Use it as inspiration for trying new flavours, to add a new recipe to this week's meal plan and for simply getting the basics right.
By Julie Johnson.