Holidays, Christmas and New Year are just around the corner and here in Australia we are finally able to celebrate with our family and friends after months of lockdown, border closures and restrictions, so why not kick up our heels a bit?
Many tips for this time of year are focused on all the stuff we shouldn't do. While it's true that too much rich food and alcohol over a prolonged period can impact our mood, energy and well-being, it's also entirely possible to enjoy some holiday indulgence, without it having a negative impact on our health.
After what we've all been through this year, now is probably not the time for us to place further restrictions on ourselves!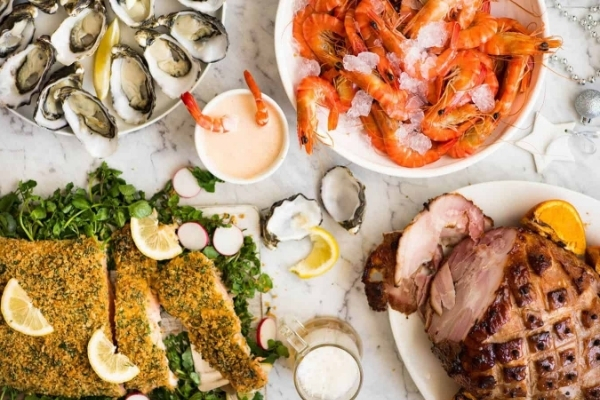 We asked
Alimentary's
Alison Wright to put together a few tips to get through to 2021 feeling fabulous - it's all about adding in some positive behaviours and adjusting our mindset.
If you've enjoyed a few too many mince pies, or glasses of bubbly here are some things you definitely SHOULDN'T do:
•Over exercise
•Feel guilty and/or beat yourself up about it
•Tell everyone how fat you feel
•Restrict foods and/or skip meals to compensate
•Keep checking on yourself in the mirror, or on the scales
Food is there to enjoy and punishing ourselves for overeating will only make us miserable and can have a negative effect on our eating habits and overall relationship with how and what we eat.
Instead of worrying about what you've eaten, shouldn't eat or can't eat, try the following tips to keep the balance in your diet and ensure you are eating plenty of nutritious foods to support your health:
•Start every day with a nutritious, balanced breakfast - studies have shown that eating breakfast can be beneficial in reducing appetite and increasing energy for the day ahead.
•Eat mindfully – be conscious of what you are eating and why - try to eat only when you are hungry. Keep portion sizes small, sit down to eat and eat slowly. Enjoy your food. Relax. Try not to graze and eat on the run.
•Eat plenty of vegetables and salad with lunch and dinner, they should take up half your plate.
•Move – you don't have to go to the gym every day but pack as much incidental exercise into your day as you can. Walk the dog, walk to the shops, take the stairs. Instead of sitting down after dinner, go for a walk around the block, or set up a game of backyard cricket.
•Drink a glass of water between every alcoholic drink.
•Get plenty of sleep. Too little sleep actually ramps up our hunger hormones and impacts our stress levels. Prioritising a good night's sleep is one of the best things you can do for your health and well-being.
•Remember – just because it's there doesn't mean you have to eat it! You have a choice in the matter. Nourish your body by providing it with more of the food it thrives on, this will make you feel more vital and energetic and help you to enjoy the time with your family and friends.
•Choose delicious seasonal fruit and vegetables to enjoy - berries and cherries are bursting with flavour at this time of year and packed full of all the good stuff!
It goes well with cold meats, shellfish and fish, as well as delivering some important nutrients. Capsicums are high in antioxidants such as vitamin C, while the bitter rocket can help with digestion and contains powerful chemicals which aid the body's detoxification pathways.