By Leigh O'Connor.
"I believe that each of us is the sum of all our parts. I know that everything I have done and experienced in life has brought me to this place in my career, and looking back, I can see how all the dots join up. In my case, these indelible markers started before I did." – Anjum Anand.
Meal time for Anjum Anand is always a mix of family heritage – her Pakistani Mother's light vegetarian fare blended with her Father's meat-based curry culture.
Her eighth cookbook – I Love India – is a collection of recipes inspired by family and travel, showcasing fresh, light ingredients and local dishes. It is a personal collection, interspersed with stories and history gleaned from multiple visits to the sub-continent, where Anjum's tastebuds have been opened up to a wealth of dishes reflecting India's diverse food culture.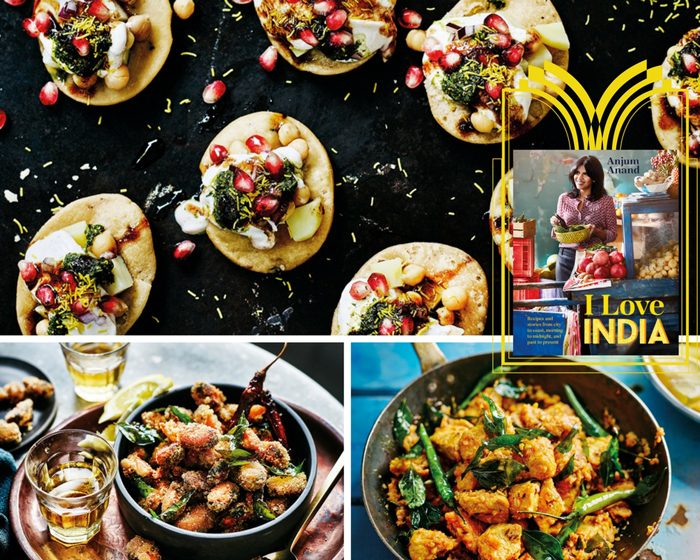 From steamed Nepalese meat momos from the dumpling houses of Calcutta to finger-licking crispy spinach chaats eaten at North Indian street stalls, it is a food journey packed with flavour and love.
The streets of India are vibrant, chaotic and colourful - most cities don't have a main shopping street, usually shops and stalls cluster in small markets selling everything from shoes to the local street food of the region. This fast food is affordable and really delicious and some of Anjum's favourite recipes come from the markets, where she would watch hawkers toss humble ingredients onto dried banana leaf plates, resulting in sensational mouthfuls of many flavours and textures.
From the Sunder Nagar market in Delhi comes papri chaat, a lunch or teatime snack made with potatoes and chickpeas, combining spices and creamy yoghurt with tamarind chutney, pomegranate seeds and red onion to create an explosion of flavour.
Few people consider Indian food when they think of mussels, but they are loved on the West Coast. This shellfish takes spices and strong flavours really well and is used in curries and stir fries, enveloped in pastry and steamed in jackets made from rice.
Crispy fried spiced mussels from Kerala is one of Anjum's go to tapas-style dishes, where dinner guests can pick at a big pile of moreish morsels, sprinkled with coriander and lemon wedges, or in the half shell on a bed of curry leaves. Semolina can be added for a crunchy finish or the mussels may be served on little toasts brushed with coriander oil.
Food from Andhra is some of the spiciest in India, where fat, green chillies grown in the area are used with abundance in many delicious lamb and chicken dishes. Andhra Green Chilli Chicken 65 is not for the faint hearted as Anjum allows at least one chilli per person when preparing the meal, but she says those unsure of the heat can push the chillies to one side and still enjoy the wonderful flavour of the chicken.
With her own internationally stocked range of sauces, dhals, chutneys and naans – The Spice Tailor – Anjum is on a mission to bring Indian food up to date and this cookbook is another step in that direction.
It is sure to help novice and confident cooks alike to recreate the flavours of India from the comfort of their home kitchen.