As Summer rolls around, be a little more inventive in the kitchen and ditch the done and tired snags on the barbeque and try your hand at hosting your very own Malaysian dinner party, perfect for balmy nights. Malaysian cuisine is so diverse that it really does offer something to suit everyone, and what better way to celebrate it than to learn some of its tried and tested recipes from some of our country's best Malaysian restaurants.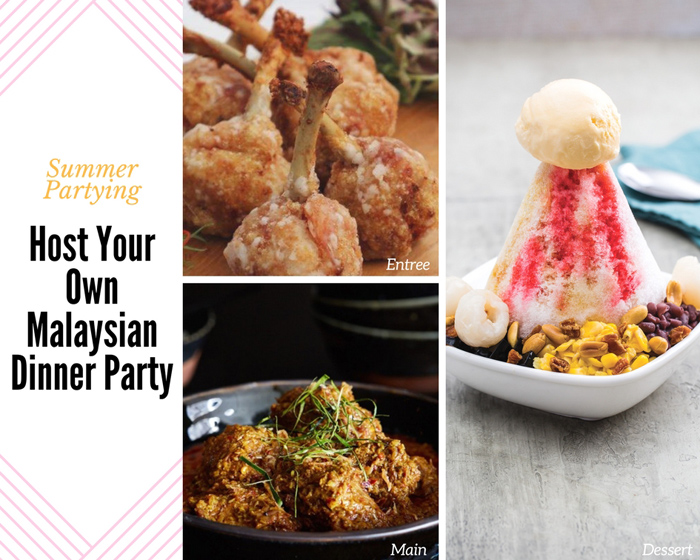 Traditionally known as a spicy cuisine, Malaysian food is not always chilli hot per se, but there will usually be a sambal sauce of sorts on hand used throughout many dishes. Pungent flavours of coriander and cumin are used as a base for many Malaysian curries, with lemongrass, kaffir lime leaves, cardamom, star anise and fenugreek lending uplifting fragrance.
As Chinese workers arrived to Malaysia, they brought with them the cooking styles of their homeland and introduced ingredients like noodles, bean sprouts, tofu and soy sauce, as well as the wok technique of stir frying smaller portions of ingredients in a little oil over very high heat, widely adopted.
Due to the humidity of the country, hawker style street food has become a popular choice for locals of Malaysia, allowing them to enjoy quick and invigorating eats whilst staying cool in the outside shade.
Entrée: Chicken Drumlets
Tahniah by Grace | VIC
Tahniah by Grace serves locals of Hawthorn East authentic Malaysian eats from their funky and modern restaurant on Camberwell Road. Offering a menu filled with street style tasters with the likes of northern style prawn and coriander fritters with chilli jam, it is head Chef Danny Lai Foo Loong's chicken drumlets that has demanded our attention.
These crunchy morsels of chicken are flavoured with turmeric, ginger, shallot and lemongrass before being dusted with chicken powder and potato starch, and fried until golden brown. Served with a punchy birdseye chilli vinaigrette and Siracha mayo dressing, they make the ideal finger food starter for any dinner party with the arrival of punchy flavours from the get go.
Main: Coconut Beef Rendang
The Malaya | NSW
Perched regally overlooking Sydney's King Street Wharf, The Malaya offers sprawling water views for diners to enjoy whilst experiencing the harmonious tastes of Malaysian cuisine. Originally founded in 1963 by a migrant merchant seaman from Hong Kong, The Malaya's original menu was shaped by the scarcity of exotic ingredients in the 1960s around the Sydney area, forcing the cooks to create their own unique recipes that challenged the then conservative Australian palate.
Today, The Malaya continues to serve Sydney diners its unique range of Southeast Asian cuisine, from the original 1963 signature recipes. Amongst these recipes is The Malaya's Coconut Beef Rendang, a hearty main which is complex in flavour, yet simplistic in execution. Starting with a base of birdseye chilli, garlic, ginger, lemongrass, paprika and turmeric, coconut is added to bring a rich and smooth flavour to the beef, ensuring a tender melt-in-your-mouth texture. Finished off with a garnish of zesty Kaffir lime leaves and fried shallots, this satisfying main is sure to be a requested household dish time and time again.
Dessert: ABC Dessert
PappaRich | AUS
PappaRich began with the simple goal of creating a modern version of the traditional coffee shops in Malaysia, here in Australia. Offering their customers a unique taste of Malaysian culture and cuisine, reflecting the balance and harmony of the different cultures in Malaysia, PappaRich have created a menu filled with dishes like the fiery sambal in their Nasi Lemak, to the silky smooth curry laksa broth and savoury satay skewers made for dipping into flavoursome side sauces.
Serving from more than 100 outlets worldwide, PappaRich hold a philosophy to remain a genuine Malaysian company, allowing diners to experience the abundant tastes from their culture. Served in hawker style food carts throughout Malaysia, the ABC Dessert or (Ice Kacang) is a popular choice amongst locals when temperatures soar, making for the ideal dessert to cool the palate after a fiery Coconut Beef Rendang. The ABC Dessert is made with a base of shaved ice, before being topped with the eclectic mix of grass jelly, corn, red bean, skinless peanuts, sultanas and drizzled with Gula Melaka (palm sugar), red sugar syrup, mixed milk and a scoop of vanilla ice cream, creating a colourful and impressive dish to leave a lasting impression on guests.
For those who are left motivated by memorable Malaysian dishes post dinner party, take the trip to one of our country's top authentic Malaysian restaurants and delve into the cuisine head first.