By Freya Ensbey.
A sink full of dishes, a messy dinner table strewn with cracked bonbons, the table cloth painted with spilled food and a lounge room filled with snoozing guests who are too full to initiate the clean-up; it's the typical post-Christmas lunch scene we are all familiar with. This Christmas, why not make things easy for yourself and serve up a fresh and light menu of two sumptuous salads from Chefs, Gavin Hughes of The Byron at Byron Restaurant and Michelle Rogerson from Hawthorn's Ocha.
Filled with lean proteins, nutrients and little to no gluten, these healthy Christmas Day lunch alternatives will have you filled with energy and ready for an afternoon game of backyard cricket in lieu of needing to take a siesta.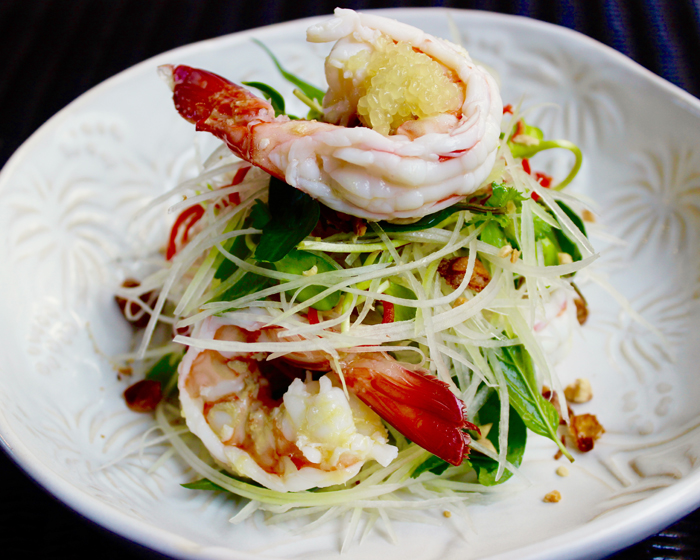 The Byron at Byron Restaurant | NSW
The Byron at Byron Restaurant offers a unique dining experience for guests to sample produce from the surrounding areas of Byron Bay itself, all whilst seated in tropical resort surrounds. Head Chef, Gavin Hughes is a true advocate of all things local, ensuring the restaurant adopts a paddock to plate philosophy and uses regional producers wherever possible.
The restaurant is best known for their light Mediterranean fare, creating dishes for a health conscious local clientele as well as the visiting gourmand resort guests. Hughes' menu highlights include the likes of cauliflower and celeriac risotto with baby kale, thyme, dried shiitake and Queensland spanner crab.
Created specifically for you, Hughes has put together yet another show stopping dish which will make the perfect accompaniment to your festive table this year with his aptly named Cold Christmas Prawns with green mango, red chilli, Vietnamese mint and Thai basil, and a ginger and finger lime dressing. Using the freshest prawns available, sourced locally, this recipe is packed with protein and low in carbs, offering the perfect option for those who wish to delight in Christmas lunch but not over-indulge.
The dressing alone is a knock out recipe to keep up your sleeve to dress other Summer dishes with soy sauce, grapeseed oil, vinegar and sake all coming together and creating a harmonious elixir to carry through the flavours of punchy finger lime, ginger, garlic and sesame, ideal for drizzling over a piece of grilled white fish.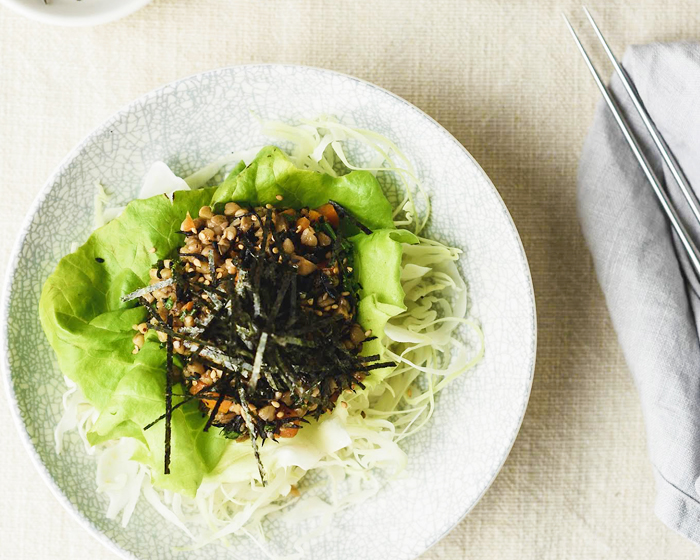 Ocha | VIC
Japan is leading the world's tally with the highest population per capita of centenarians (people living over the age of 100) primarily based on the island south of Japan's mainland, Okinawa. Scientists who have studied the community have pinned the locals' longevity down to three main contributing factors: their active lifestyle, the absence of stress where possible and the diet they consume which is high in lean fish and proteins, soy products, rice, edible seaweeds, vegetables and legumes as well as smaller meal portions.
Japanese cuisine has been widely adopted here in Australia, with the easy accessibility of sashimi bars and lighter dining options, ideal for our humid climate. One Japanese restaurant which has had our chop sticks clicking is Ocha restaurant in Melbourne's northern suburb of Hawthorn. Owned and run by dynamic duo, Yasu Yoshida and Michelle Rogerson, Ocha has been tempting Melburnians with contemporary Japanese flavours for more than 20 years. Creating a menu which inspires sharing, Ocha combine traditional techniques with playful and imaginative touches to create a truly memorable dining experience. Find starters like Hokkaido scallop grilled with Japanese hollandaise topped with panko crumbs and fish roe or the Tasmanian oysters with wasabi foam, whilst larger plates are seen in the form of kombu beef eye fillet, kombu butter and beansprouts.
Rogerson has gifted us one of her favourite go-to vegetarian recipes of buckwheat, hijiki, kale and vegetable salad, which is packed with nutrients to keep you full for hours without leaving that begrudged, heavy feeling. With the added benefits of carrots, kale and sesame seeds and served on a bed of shredded lettuce leaves and cabbage, this dish will have guests gushing over the simplistic yet stunning visual presentation of the plate. Rogerson explains that any leftover mirin and brown sugar can be mixed to create a simple glaze for chicken or salmon for those who wish to add a side of protein to this dish.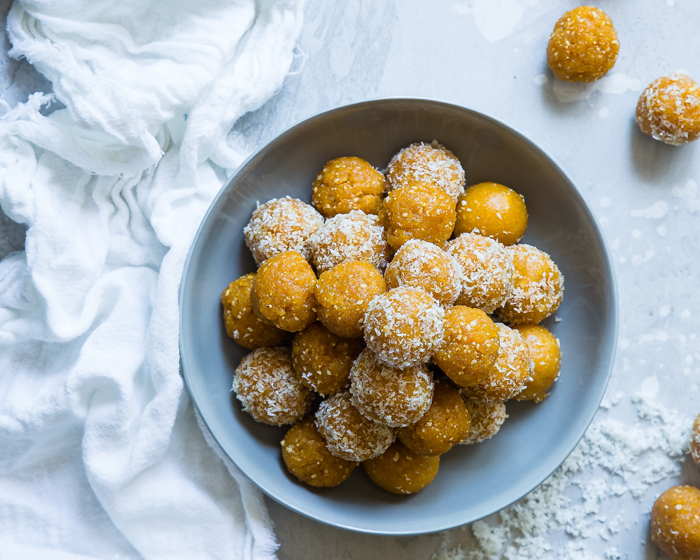 For those who feel like Christmas lunch wouldn't be complete without a little afternoon sweet delight, yet don't want to undo all of the good they have gifted themselves with a healthy lunch, why not get the kids busy in the kitchen and whip up a batch of Fruit Balls by Annette Sym to enjoy with an afternoon cup of tea. Filled with dates, goji berries, cranberries, sultanas and prunes, the secret ingredient of these fruit balls is chia seeds which are high in protein, they'll keep you feeling fuller for longer and rolled in desiccated coconut for added sweetness and texture.