Autumn and harvest go together like wine and cheese…the change of season brings an abundance of fruit and vegetables to our tables, as thoughts turn to cooler weather and longer nights, best spent enjoying good food.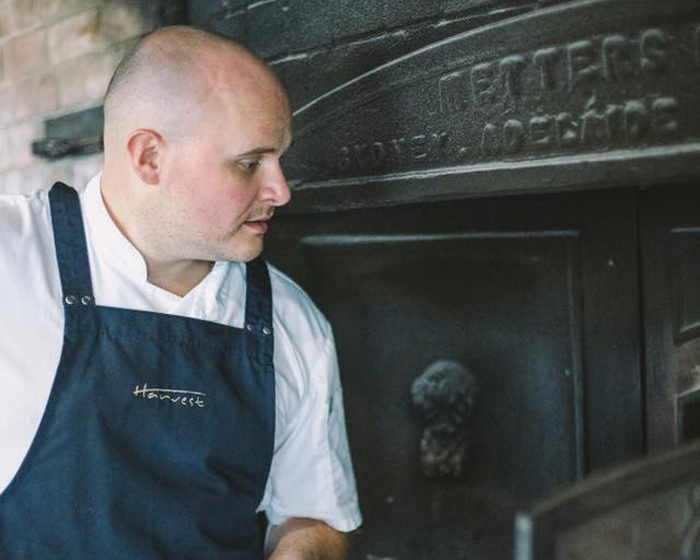 Byron Bay hinterland restaurant Harvest is all about seasonal, fresh organic produce presented in stunningly plated dishes, created by Head Chef Alastair Waddell, embodying root-to-stem cooking at its finest.
Taking over the pans at the Chef-hatted Newrybar establishment in 2017, this Scottish-born Chef works closely with Harvest's food researcher and forager Peter Hardwick, to create dishes exploring Australia's underutilised native ingredients, local artisan producers and the restaurant's own gardens.
Each Wednesday, the duo presents a selection of ideas and flavours on the plate, after a day of foraging and developing – including pickling and fermenting – at their Wild Harvest Sessions, for guests to experiment and provide feedback. The winning dishes make it to the restaurant's seasonal menu.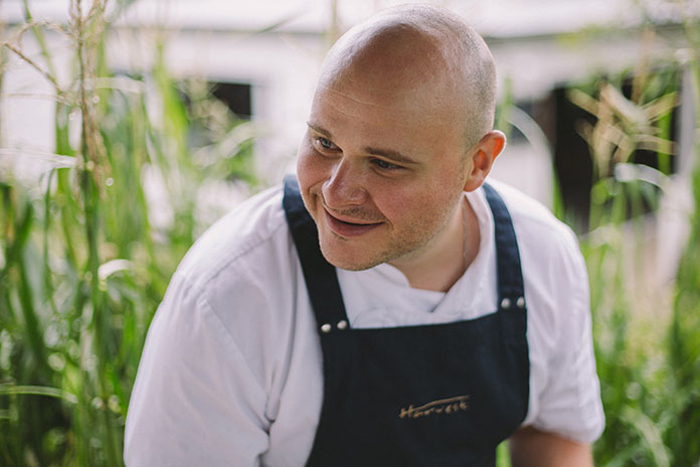 "At Harvest, we prepare dishes that are rare, wild and creative. Each new ingredient is a fresh challenge to our ingenuity and our evening menu is imagined and reimagined weekly," Alastair explains.
Harvest's philosophy offers a comprehensive dining experience, giving guests the opportunity to learn about sustainability, alongside delicious, seasonally prepared food. Solar panels, green waste compost and greywater facilities have all been installed onsite to support this ethos.
There's also a deli housed in a lovingly restored vintage building, sitting next to the restaurant, surrounded by edible gardens. Guests can browse shelves stocked with local and international artisan products, such as sauces, condiments, cheese, charcuterie and housemade sourdough – baked in Harvest bakery's 107-year-old wood-fired oven.
Expect to taste dishes on the menu like beetroot, radish, cultured cream and seaweed vinaigrette, along with kingfish ceviche, finger lime and chilli; while mains may present as Byron Bay pork jowl, beer and mustard with Davidson's plum.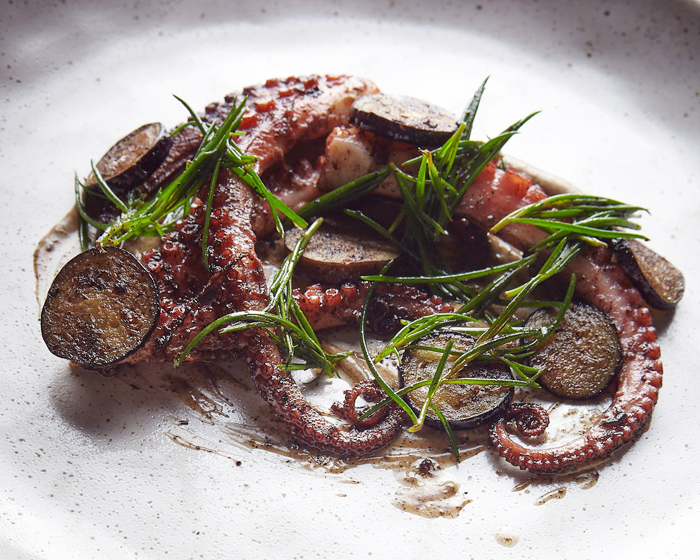 Alastair has chosen to share his Autumn recipe for octopus, charred kelp, green eggplant and coastal succulents with AGFG, showcasing eggplant from the garden and sea succulents foraged from the coastline.
"We use charred kelp prepared by our food researcher and forager, Peter Hardwick,' Alastair explains.
"Peter roasts the kelp at a low temperature until dry and caramelised. The baby octopus, which is caught locally, is brilliant at this time of year and the rich charred kelp flavours complement it well."
The octopus is poached for 90 minutes in well-seasoned water, allowed to cool and then browned in a heavy-based pan over a high heat; while the eggplant is caramelised in butter with sea blight, a squeeze of lemon and seasoned with salt flakes.
Charred kelp, Dijon mustard, vinegar, lemon and oil are combined to form an emulsion the thickness of mayonnaise, to serve with the octopus.
For a little taste of Harvest, try this dish at home… it's sure to please all palates, teamed with a chilled glass of your favourite Chardonnay.