By Freya Ensbey.
Spaghetti Bolognese is arguably the most well-known and requested Italian pasta dish in Australian homes. The term Bolognese is known in Italian as ragú alla Bolognese, the word ragú meaning meat-based sauce, originating from Bologna in the Emilia-Romagna region of Italy.
It is an age old debate of self-proclaimed Bolognese connoisseurs, whether to add vegetables or not, to simmer for hours or use the frying method or to stir the sauce through the pasta or only add it on top.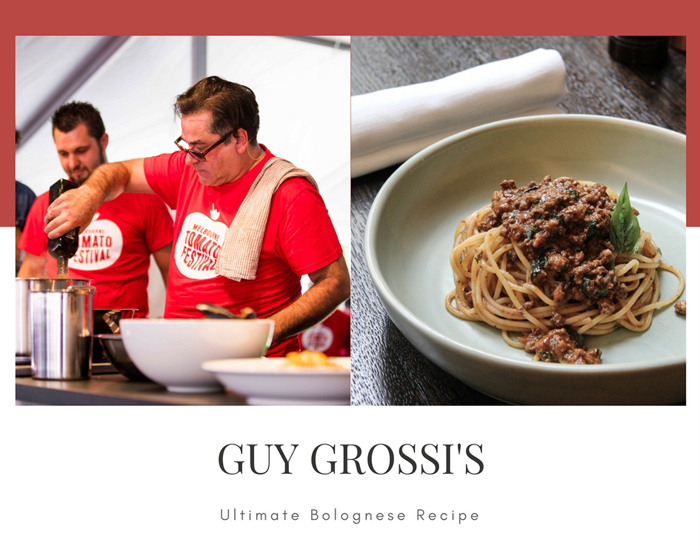 We decided to go straight to our country's God Father of Italian cooking, the celebrity Chef with pasta flowing through his veins, Guy Grossi, to unravel the argument once and for all with his family's famous and surprisingly simple Spaghetti Bolognese recipe.
With six Italian restaurant establishments, a stable of published cookbooks, various television appearances and an award gifted by the president of Italy for his dedication to promoting La Cucina Italiana (the Italian kitchen) lifestyle, Grossi knows what he is talking about when it comes to this beloved cuisine, and when he does, we listen.
When chatting to Grossi, he recalls his earliest kitchen memory, with his father Pietro, a renowned Chef himself, frying onion and garlic, filling the home with aromatics that forged their bond through cooking, shaping Grossi's future and direction into the culinary world. We humorously asked Grossi what he would do with a simple jar of tomato sauce and his answer spoke in volumes of the Italian ethos.
"Invite friends around for dinner!" says Grossi.
Grossi's Spaghetti Bolognese begins with a trio of meats; beef, pork and chicken mince, to ensure flavour and an ideal balance of fats. The usual suspects of tomato paste and red wine are found, whilst the addition of sage, chilli and parsley add freshness with just enough bite, with a pinch of nutmeg offering a touch of sweetness to harmonise with the pungent cloves.
For the pasta, it is imperative to use a large pot of water for the boiling process to ensure the pasta has enough room to dance in the water, cook evenly and avoid sticking. Because most pasta is made without salt or very little, the addition of a generous amount of salt to the boiling water is used for added flavour, seeing it taboo in Italy to rinse the pasta after the cooking process as it will only wash away any of this needed flavour. Grossi calls for his pasta to be completely coated in the sauce before serving to create an even, pleasurable experience with every bite - finishing with a dusting of finely shaved Parmesan; making this Spaghetti Bolognese recipe the bench mark for any other 'impastas' trying to imitate.
We'll be giving one lucky winner the chance to dine at Grossi's restaurant, Grossi Florentino, in Melbourne on our facebook page. The competition we'll begin at 4pm on Friday, June 2.