By Freya Ensbey
It is believed that more than 400 years ago, cattle farming was introduced to the Rio Grande do Sul region of Brazil. The cowboys who looked after these animals are said to have created their own style of barbeque cooking on the grill called Churrasco, whilst spending overnight trips in the outback droving the cattle. As the cowboys spread across Brazil during the 16th and 17th centuries, so did this cooking style.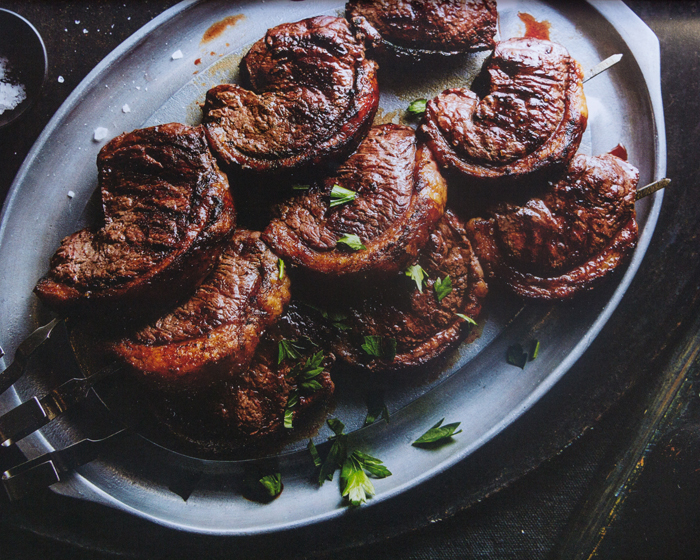 Braza Churrascaria's signature Rump Cap on the Skewer by Andre Felicio.
It is now standard practice in Brazil for most homes to have a built in churrasqueira (barbeque grill) in their homes. These would be ovens either inside the home or outside made of brick or stone where meats can be cooked for Churrasco.
A defining element between an Australian and Brazilian barbeque is the use of meats. Here in Australia we tend to only cook one or two meats at a time on the hotplate, where the Brazilians enjoy cooking a variety of meats and lots of it, all at once. The likes of Brazilian sausages, steak, lamb, chicken, seafood and even fruits are all used and cooked over heat on specially designed skewers called espeto. These skewers are long and flat pieces of steel with a spike on one end and a wooden handle at the other, making them easy to turn as the meat cooks.
This style of cooking is so popular within Brazil that the barbequing capital of Nova Brescia has a statue of a man cooking a barbeque in the central plaza.
The Brazilians rarely use gas barbeques at all, instead opting to use hardwoods, woodchips and charcoal as fuel, to enhance the flavour of the ingredients they are cooking. It is common in Brazil for cooks to speak more about the types of wood they are using on their barbeque over what they intend to cook, showing just how important the preparation process is. For those who have a fire barbeque at home, consider branching out and experimenting with different types of wood to achieve different flavours in the meat. Amongst the preferred wood to use is Ironbark, Apple, Oak, Manuka, Cherry, Chestnut, Macadamia, Black Wattle, Peach, Nectarine and Pecan.
Once you have chosen your preferred burning material, select your meat cuts and use long metal skewers for the meat to sit safely over the smouldering heat and try your hand at our pick of fiery Brazilian barbeque recipes.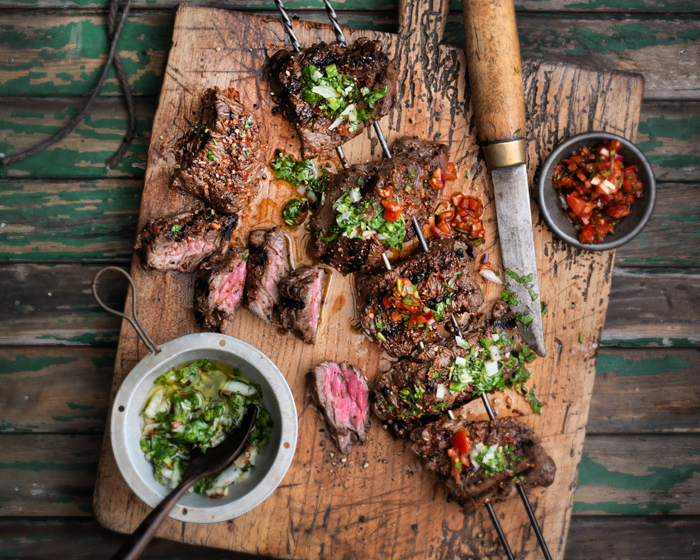 For a succulent and versatile churrasco meat recipe, try this Brazilian Churrasco with Three Sauces. Offering a tasty marinade, the meat is left overnight to absorb the flavours, taking on a punchy persona of Worcestershire sauce, Aleppo pepper, lime and cumin. The side sauces to accompany the meat make for great recipes to have up your sleeve, with a creamy green chilli Aji Verde Sauce, a Chimichurri sauce and a smoky tomato capsicum salsa.
A true Brazilian Churrasco feast wouldn't be complete without a number of side dishes for variety. A traditional accompaniment to serve with barbequed meat is Farofa. It is made from the Cassava plant into a flour and usually toasted with butter, producing a consistency sometimes likened to that of couscous. This Brazilian Farofa recipe also incorporates rehydrated raisins for a pop of sweetness, chopped walnuts for added texture and the addition of bacon for a salty crunch and burst of flavour. Serve with a bowl of freshly chopped pineapple on the side for an added tropical zingy twist.
Brazilian cheese bread is universally loved the world over as a snack, starter, treat or anywhere one can fit it into their day, because these bite sized Authentic Brazilian Cheese Bread balls are moreish. Made from gluten free tapioca flour and two different types of cheese, a gooey and doughy centre is created during the gentle baking process, whilst browning and crisping the outside layer. Best served warm, these make for the perfect vehicle to soak up any sauce left on your plate from the Churrasco.
If you have been left inspired by your Brazilian Churrasco feast, find feistier Brazilian recipes here to bring a little of South America into your home.