By Leigh O'Connor.
"When I first started thinking about this book, I was struck by how liberating and creative it is to devise, prepare and eat green burgers." ~ Martin Nordin.
Just as with all cooking, the art of creating a wicked burger lies in the interface between different textures and flavours. It's all about balance, if the patty is deep fried and crispy it needs something acidic to counterbalance the greasy taste. If the patty is based on legumes and slightly dry, it will need a mayonnaise to even things out.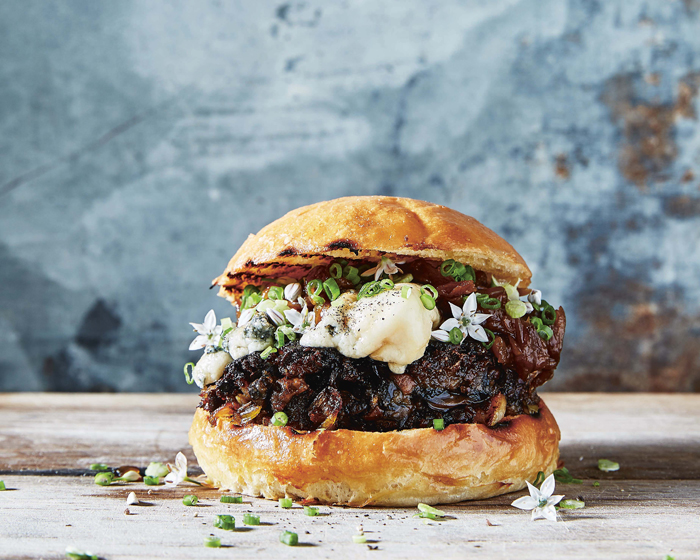 BBQ Porobello Burger.
In 'Green Burgers,' self-proclaimed Cabbage Butcher – Martin Nordin – has taken the classic burger and turned it on its head. Whether you are a vegetarian, vegan or just trying to cut down on meat, veggie burgers make a tempting and filling meal.
They are far from boring as there are no rules or blueprint, you are free to push the burger boundaries as far as you want. Filled with exciting recipes – that just happen to be meat-free – readers learn how to appreciate vegetables in a whole new way.
Packed full of flavour and nutrition, experiment with unexpected combinations such as courgette kimchi and deep-fried plantain. Don't stop there though, delicious patties are just the beginning, try making your own charcoal burger buns, purple cabbage and apple sauerkraut and roasted sweet potato chips.
"Do what you want, experiment, go for it, question what a burger can be," Martin says.
"See it as a sociable way of eating, informal and simple and create things you like. I want to inspire you to have the courage to try out different variants, so you can then start to create your own favourite."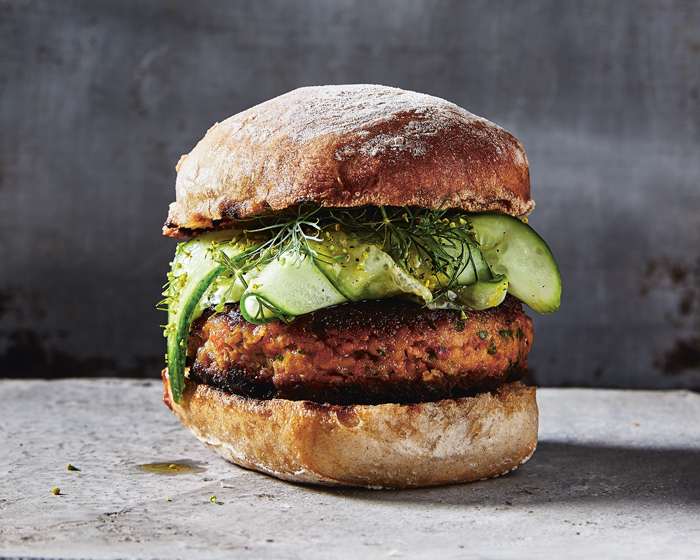 Chickpea Burger.
Most patties improve if they're left to rest in the fridge for a few hours before cooking. Martin says it is a good idea to prepare bean patties the evening before cooking, while those that will be deep fried, benefit from freezing first.
"Forget everything you have heard about lettuce being at the bottom of the burger – totally immaterial if you ask me. For my part, I think there is too much of an emphasis on lettuce – there are after all, quite a lot of other greens in these burgers."
For a classic barbeque taste it is hard to go past Martin's Portobello burger with caramelised onions and Saint Agur cheese. The patty is a combination of finely chopped toasted sourdough, sautéed mushrooms, spring onions, garlic, barbeque sauce and eggs, grilled and topped with onions caramelised in red vinegar and the sharp bite of blue cheese.
Chickpeas and capsicum go amazingly well together for both flavour and consistency, in his burger recipe with dill-dunked cucumber salad. The crispy chickpeas perfectly contrast with the grilled peppers' smooth consistency, while the heat of paprika and chilli emphasises the sweet and sour taste of the patty.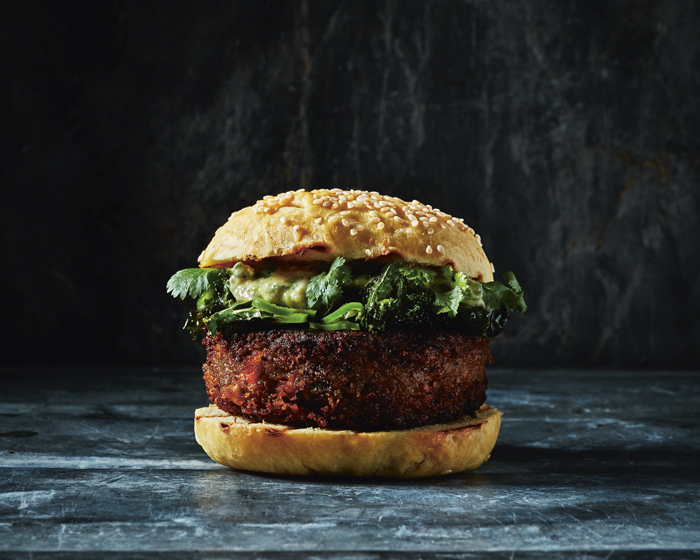 Lentil and Carrot Burger.
Charcoal grilling of root vegetables creates incredibly intense and delicious flavour, as found in Martin's lentil and charcoal-roasted carrot burger, with roasted kale and green banana guacamole. The easiest way to cook the vegetables is to throw them straight onto the charcoal while it is still actively flaming, removing them once charred and leaving to cool.
The patties are made from oven-baked onions, dry roasted walnuts, bread pieces, coriander, chilli and cooked red lentils, once cooked they are topped with the kale, guacamole and thinly sliced jalapenos.
This book is bound to revolutionise the way you think about burgers! Delicious, filling and anything but boring, 'Green Burgers' will provoke a new genre of healthy, nutritious meals the whole family will enjoy.
This is an edited extract from Green Burgers by Martin Nordin published by Hardie Grant Books and is available in stores nationally.