June 1-3, 2012 at the Melbourne Convention Exhibition Centre
Celebrity Chefs Meet the AGFG guyPhone 4S
It's time to celebrate Melbourne's love affair with all things culinary as the Good Food & Wine Show returns in 2012 to delight food enthusiasts and wine connoisseurs.
This year's show will see hundreds of leading chefs, food producers and winemakers converge under one roof for a food and wine lovers' dream day out. The show has a host of new features in 2012 including Cheese Alley, a Healthy Living Zone and the funky new Gray's Online Wine Bar.
Don't miss the AGFG guyPhone 4S on site demonstrating the useful application (nickname: foodiePhone, if you can't find him look in the Cheese Alley).
Additionally, our AGFG Android App has just hit the market so we will also demo this exiting new (and FREE) phone application.
[youtube:0e_skVwumsQ]
TICKETS: Tickets are currently on sale. General Show entry and Chef Theatre tickets are $30. Tickets can be pre-booked through Ticketek on 13 28 49. Book online and receive a $5 discount as an AGFG member, or purchase them at the venue on the day.
Exclusive to Melbourne is John Torode's Celebrity Chef Theatre appearance. The Australian born UK MasterChef host and judge will be serving up his signature style and giving away a few expert tips and tricks.
Expect to find a winning recipe of exciting experiences and hands-on activities at the show, including International and home grown celebrity chefs, cooking schools, master classes in wine, cheese or chocolate, unforgettable meals and delicious produce from around Australia and the world.
The Good Food & Wine Show 2012 Fact Sheet
The ultimate day out for foodies returns to cities this year with a sizzle, welcoming a plateful of brand new features to join old favourites in a recipe that is sure to excite and satisfy punters.
Fisher & Paykel Celebrity Theatre
See your favourite chefs take centre stage and serve up their signature style of food and fun. Discover mouth-watering new recipes, expert tricks and new techniques to try at home as chefs like Maggie Beer, Matt Moran, John Torode, Adrian Zumbo, Rick Stein, George Calombaris and Manu Feildel present an unforgettable blend of flavour, skill and entertainment.
Lifestyle FOOD Chef's Table - NEW
LifeStyle FOOD presents an exclusive foodie experience this year, taking guests on a culinary journey with a delicious tasting menu of three dishes perfectly paired with premium wines designed by leading chefs, including Maggie Beer, Rick Stein and John Torode of MasterChef UK fame.
Dan Murphy's Wines of the World Master Classes - NEW
Open up to a whole new world of wine as 40 leading winemakers from across the globe introduce you to premium drops. Expect international sommeliers and wine makers to take you through a journey of wine discovery in a series of wine master classes.
Tuckeroo Cooking School - NEW
Andrew Fielke's unique cooking class will introduce you to all the secret delicacies of the Australian Bush. Smell, taste and learn how to work native ingredients into your everyday cooking at home.
Cheese Alley and Masterclass - NEW
Get absorbed in a world of cheese, as Lyndey Milan presents a variety of delicious sessions that will introduce you to handpicked cheeses from around Australia complete with matching wine. This feature has been developed based on overwhelming feedback from visitors and is sure to be one of the busiest areas of the Show. So before you take on one of Lyndey Milans's Cheese Masterclasses, take a stroll down Cheese Alley and indulge!
Healthy Living Zone - NEW
Discover healthy recipes and tips at the Macro Kitchen Stage and taste delicious, healthy food in this new dedicated Healthy Living Zone. Macro's team of chefs and nutritionists will help you discover the best in organic, gluten free and nutrition products.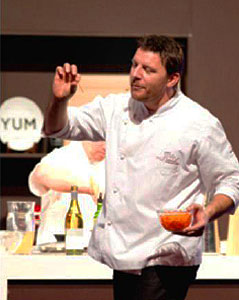 Private Dining Room - NEW
A sophisticated dining experience, guests will enjoy the chance to personally meet top chefs Manu Feildel, John Torode and George Calombaris in this intimate session for only 16. Your Celebrity Chef will create and present a 3 course meal, spending time discussing the dishes with guests.
Riedel Wine Sessions
This year Riedel brings to the show three fantastic wine class options in the Riedel Decanter Bar, Riedel Glass Tasting and Riedel Wine Theatre. At the Decanter Bar pick your poison and let some of Australia's leading sommeliers show you everything your drop has to offer. At the Glass Tasting learn how every glass highlights different wine characteristics, while at the Riedel Wine Theatre explore rare vintage drops and uncover new boutique labels under the guidance of a panel of fine wine experts.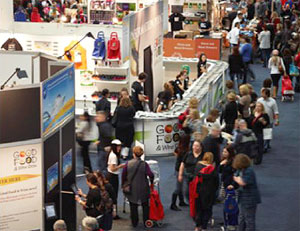 Some of the other amazing features that will be at the Show include:
Oxford Landing Estates Restaurant – featuring menus from Maggie Beer
Nespresso Masterclasses providing a Journey Through Coffee
Pamper Zone – an all new pamper feature sponsored by Skinny Girl Cocktails
Countless well-loved food and wine exhibitors
Courtesy of Fiona White, Spark Communications
When planning your weekend in Melbourne consult our online travel guide with detailed restaurant and accommodation information.