By Leigh O'Connor.
When four young lads from Liverpool visited India in the early months of 1968, they created a two-way flow of ideas that has heavily affected both cultures ever since. India got Western pop culture in the form of The Beatles and the rest of the world took in a myriad of eastern ideals from yoga to Buddhism.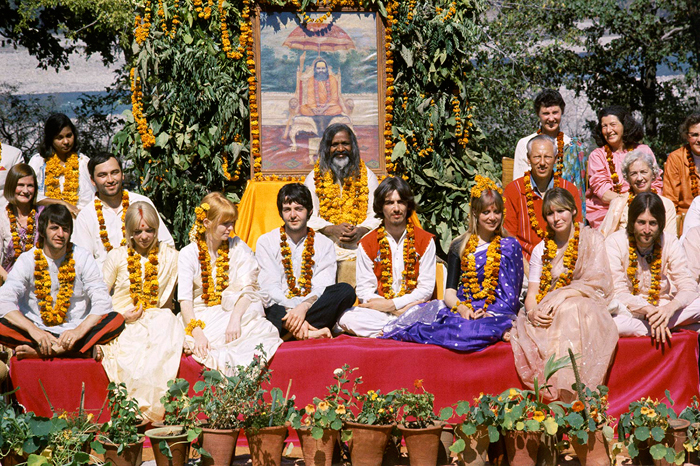 The songs The Beatles wrote while meditating with Maharishi Mahesh Yogi inspired a generation of hippies to pack a bag and head to India – most of them ended up in Goa. While there were not many holy men, there were beautiful beaches and coves just waiting for all night parties, psychedelic music and the Summer of Love.
In Goa today, the tourists still come and the hippies are still there… albeit a lot older than when they first arrived!
Sandy beaches, gently swaying palm trees and a chilled-out vibe are just three reasons both Indian and international travellers make their way to this small state, in the country's southwest. Goa is one of India's richest and most literate states, despite the peaceful languor and slow pace of life that is unique to the area, in comparison to the hustle and bustle of the north.
Arguably, India's most popular holiday destination for decades, Goa boasts some of the best beaches in the Sub-continent, as white sand, coconut groves and the azure blue Arabian Sea act as a magnet for those wanting to dip their toes in the ocean, while watching the red orb of the sun set, with a cocktail in hand.
Despite the rest of India being under British control, Goa was colonised by the Portuguese in the 16th Century and has remained a colony for more than 450 years – isolating it from the rest of the country and allowing a distinctive cultural flavour to develop.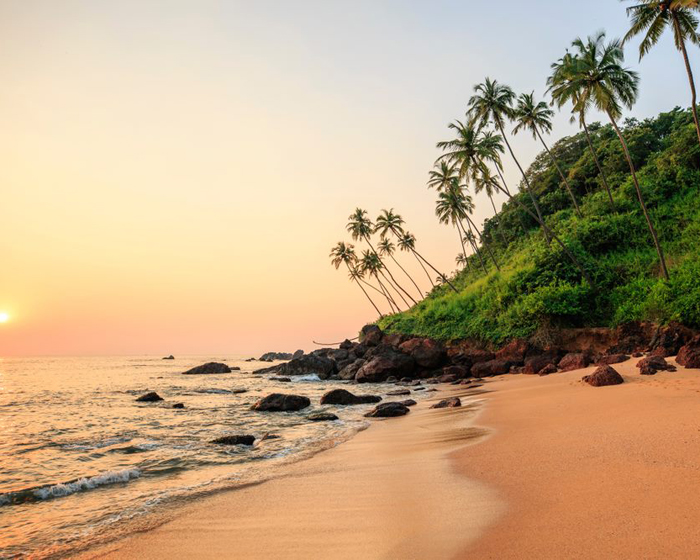 Portuguese ruins dot the coastline including the impressive fort of Cabo de Rama, overlooking the secluded beach below. Take in the stunning vista from the top of the fortress, which was built by Hindu rulers and the site of many important battles in Indian history.
Restored by the Portuguese in 1763, the fort had 21 cannons, a chapel and military barracks; from 1935-1955, it was used as a prison but later abandoned and while the main entrance has now been reconstructed, the rest of the citadel still lies in ruins making it an attractive and popular tourist stop.
Goa has long conjured images of all-night wild parties - flip the coin and look to wind down by heading south, where the lifestyle is way sleepier. Tiny beach towns like Agonda, Canancona or Calgibaga, lure visitors with long pristine stretches of sand, monkeys, turtles and a remoteness that promises even no mobile coverage!
Those seeking livelier activities may opt for Palolem Beach, known for its calm waters and nightlife, including 'silent discos' where partygoers wear headphones. Featured as the Goan residence of Jason Bourne in the move The Bourne Supremacy in 2004, Palolem's natural beauty is enhanced by distinctive tree covered rocks at one end and beach shacks.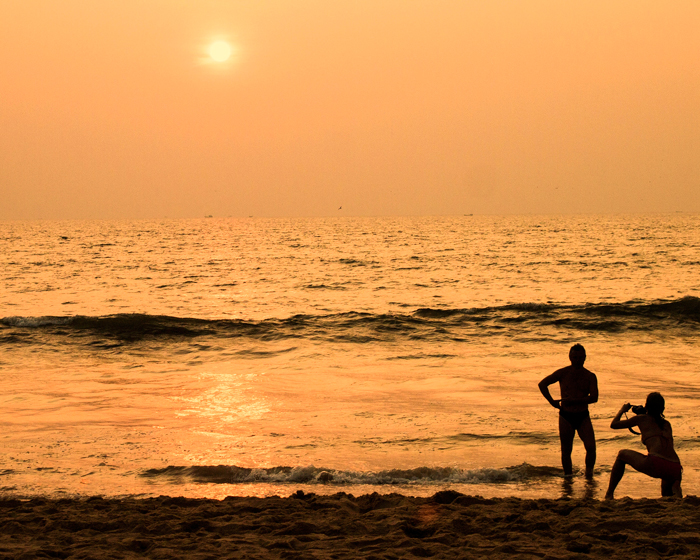 Young couple capturing their Goa sunset moments, taken by Ian D. Keating, flickr.
As much a part of Goan culture as the beach, markets are everyone's favourite and every Wednesday, more than 500 stalls attract visitors and locals to the southern end of Anjuna Beach. Conceived more than three decades ago by hippies smoking joints, meeting to compare experiences and sell off excess clothing or jewellery to extend and fund their stay; these days you are more likely to find more mainstream items to purchase like sculptures and jewellery from Tibet and Kashmir, vibrant saris, bedspreads from Rajasthan and sacks of spices from Kerala.
After a day of driving a hard bargain, head to legendary Curlies beach shack to take in the sunset scene and party hearty. If one market doesn't satisfy the knick knack cravings, check out the hip Saturday night market and Mackie's Night Bazaar in the Arpora Baga area, both offering entertainment, live music and a diverse range of food.
Once a magnificent capital city, all that remains of Old Goa is a handful of churches and cathedrals, including the Convent and Church of Saint Francis of Assisi, built in 1521. This present-day church is a mixture of styles with Tuscan order exterior decoration and Baroque and Corinthian features inside, including the main altar.
Just opposite is the Basilica of Bom Jesus, which houses the preserved body of missionary and patron saint of Goa -Saint Frances Xavier, whose body is shown to the public every 10 years, the last time in 2015. Some of the other buildings in the old town have become archaeological museums, providing a fascinating insight into Goa's history.
This is just a tipple of what India's beachy bohemian paradise has to offer…want to know more? Click here.