By Leigh O'Connor.
A global celebration of all things gin, World Gin Day on Saturday, June 12 is the time to try this wonderful juniper-laced spirit in all its glory!
Created in 2009 by Neil Houston as a bright idea to bring his friends together to drink gin in Birmingham, the day has spread around the world as a good excuse to imbibe a G&T.
Gin was born around 1689 and the earliest food pairing was in 1731 when gingerbread became a common accompaniment to your tipple and is still traditional in some parts of England.
By 1726, London had 1500 working stills and there were 6287 places where you could buy gin. Fast forward a couple of centuries to the 1920s when gin and tomato juice was all the rage as a hangover cure in New York City, years before the vodka-based Bloody Mary made its debut at the St Regis Hotel.
While British sailors received a daily ration of rum, it was the naval officers who got a daily shot of gin…lucky devils!
Here are three bars and a cocktail recipe to renew your gin membership on Saturday:
In non-pandemic times, trendy Melburnians head to late-night cocktail bar and inner-city laneway institution the
Gin Palace
for after-work drinks made with all things juniper. Take a seat in the Palace's hidden nooks and alcoves and feel the outside world slip away as you sip your first Martini of the night and become part of the bar's vibe without even realizing it.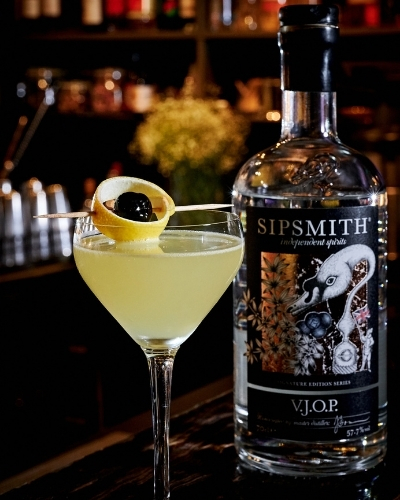 Celebrate World Gin Day at home with this recipe for The Saturn cocktail from Gin Palace.
To celebrate World Gin Day, the Palace created
The Saturn
cocktail to share with AGFG readers; make sure to sample this cheeky drop made with Sipsmith VJOP Gin, lemon juice, hazelnut liqueur, almond and fresh passionfruit syrup on Saturday.
Sydneysiders can head to spirit and cocktail destination
Grain Bar
on George Street for an In Like Flynn gin cocktail on Saturday, topped with the most Instagramable garnish – an edible koala! Made with Widges Gin, Amaro Montenegro, eucalyptus, lemon and a koala print, this concoction has become an instant hit at this bar, which nestles in the Four Seasons Hotel.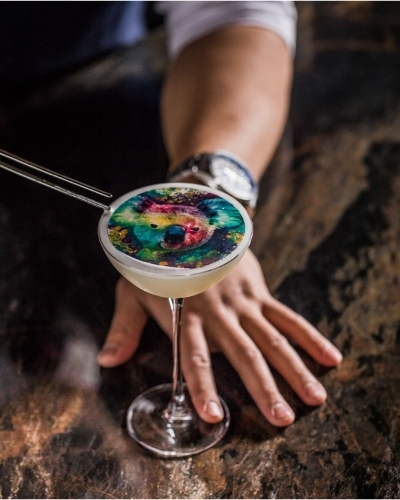 Is this the most Instagramable garnish? Grain Bar's edible koala topped In Like Flynn cocktail.
Grain celebrates the fine craft of drinking in a neighbourhood vibe – showcasing passion, produce and people in moody surrounds of subtle lighting, a glowing aqua bar and embossed walls – setting the scene for lingering over cocktails and share plates like chilli and lime corn ribs, coriander and chipotle BBQ mayonnaise.
Come into
BOBs Beer Brewery & Restaurant
on Elkhorn Avenue in Surfers Paradise for a Mum's Cosmo specially curated gin cocktail to celebrate World Gin Day, on Saturday. Stroll up from the golden sands of the GC's most iconic beach to assuage thirst and hunger at Surfers first and only brewery, where the name over the door means Best of Beers.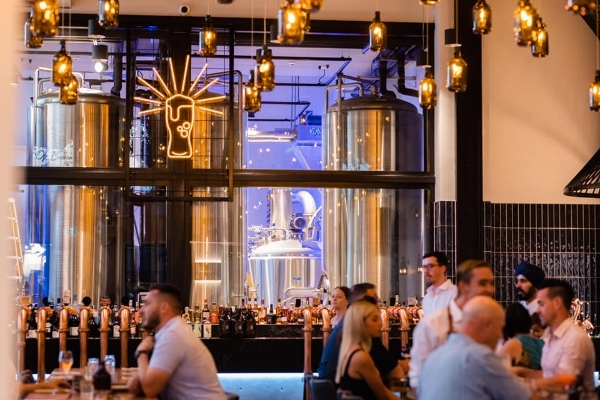 Stroll up from the beach for a Mum's Cosmo at BOBs Brewery on the GC.
Take a seat under growlers suspended from the ceiling as pendent lights, or in a booth by the windows where the smell of salty sea air wafts in the breeze, to sip a G&T and graze on plates like char-grilled Tiger prawns, chilli and garlic.
Click
here
for more places to get ginny with it on Saturday.