By Leigh O'Connor.
If you ask Arnie Schwarzenegger what he misses most about his Austrian homeland, he'll tell you Mozart's music and wiener schnitzel.
Long a staple on dinner tables around the globe, this Viennese specialty even has its own National Day on Thursday, September 9. While schnitzels vary from chicken to pork, in Austria there is a law that requires the dish to be made strictly with veal.
Here in Australia, we like to top our schnitzels with anything we can get our hands on! Most pubs and clubs have schnitzel nights, where chicken parmigiana schnitzel is one of the most popular items on the menu, topped with cheese, ham and tomato sauce.
Want to find the perfect schnitzel on Thursday? Here are four suggestions near you:
Order a takeaway schnitzel and chips plated meal from Schnitz outlets such as the
Schnitz Chadstone
from Tuesday, September 14 to Thursday, September 23 and go in the
Golden Schnitzel 2021
draw for a chance to win a $1000 cash prize. Promotion is not available to ACT or SA residents, for a list of restaurant locations and competition terms and conditions, click
here
.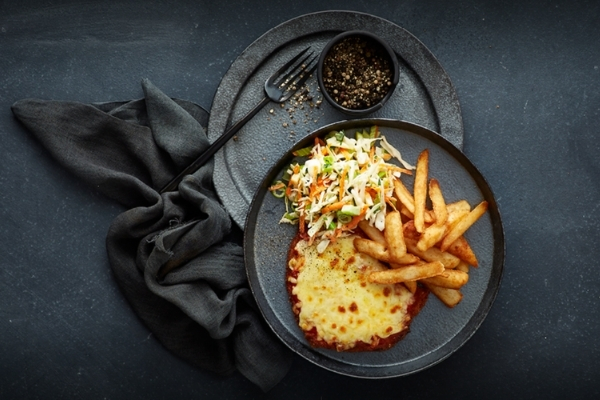 Win a cash prize from Schnitz outlets by ordering a plated schnitzel and chips meal.
Enjoy a cold brew and hearty schnitzel bistro meal at
Charleville RSL
on Watson Street, situated at the gateway to the amazing Queensland outback. This classic country club is a schnitzel lovers' dream with all manner of toppings to add to your chicken, such as bacon, pineapple and grilled cheese; or perhaps avocado, bacon and camembert.
Pouring beers and serving pub grub since 1941,
Lucky Star Tavern
on Hellawell Road is a true Sunnybank Hills local watering hole. This sprawling venue offers a contemporary hub for Southsiders with a spot to suit everyone and pub specials such as $10 golden crumbed schnitzels every Wednesday night, with a drink purchase.
Sydney schnit heads follow the graffiti artwork covered food truck
Wholly Schnit
around various city locations in search of their next schnitzel fix. Bringing handmade golden, crispy succulent schnitzels to the streets is the aim of John O'Kane, who embarked on his culinary journey after his wife developed schnitzel cravings while pregnant with their fourth child.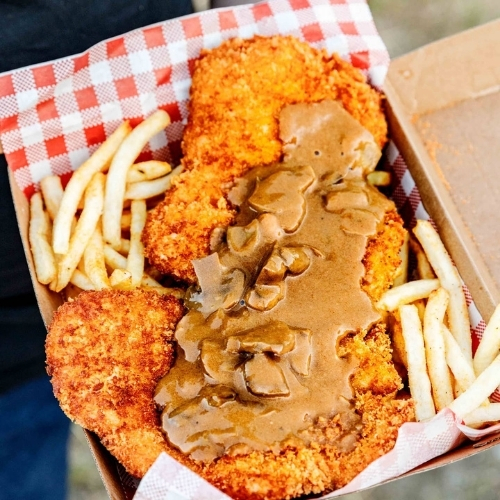 Sydney schnit heads get their fix from food truck Wholly Schnit.
For more places to celebrate schnitzels, click
here
.