Delve into the latest cookbook from renowned Chef and MasterChef Australia judge, George Calombaris. Greek is the title and a lively account of Hellenic food is the content, with George guiding the way through recipes with enthusiasm, evident passion and the skills and knowledge accumulated over a lifetime.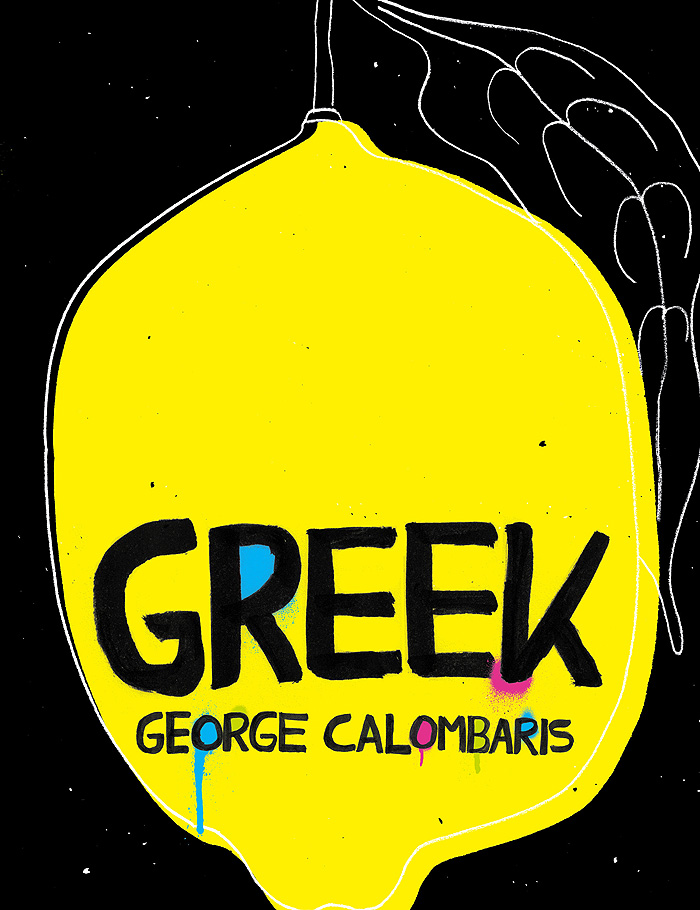 Indulging readers with snippets of his more personal accounts with food, George introduces family influences as a defining factor to the depth of his culinary experiences. He describes himself as an Aussie chef with a Hellenic heart and the meals deriving from this self reflection are equally as lovable as George himself. Stamping his identity on classic meals, George adds a playful twist and a tweak to dishes, showcasing an adventurous spirit that readers can explore in their own kitchens. Revel in George's interpretation of Greek gastronomy and re-create sumptuous Greek inspired meals the whole family is sure to enjoy, with the freedom to choose the best picks of Australian produce the way it is done in his restaurants.
After studying French cooking in an attempt to bury his roots, George eventually realised his deep and underlying passion for Greek cuisine, permeated into his very being over a lifetime. Embracing this, George now returns to Greece a few times a year to discover more delights, soaking in the energy of Greek culture and the vibrancy of a people who share their heritage with pride. Each time, he returns with a revived enthusiasm and ideas of what next to create, as simple as street food or salad with a twist like Garden Peas with Cauliflower, Almonds and Lemon. It's a signature style of fusion George has come to share.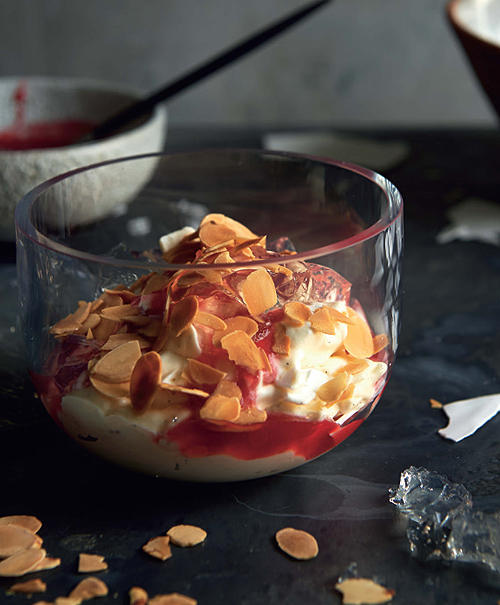 Hellenic Mess p.247.
George also tells of his respect towards animals farmed for human consumption. Learning from a young age that animals should be eaten from nose to tail, like in his mum's chicken nuggets made from lamb's brains, came an understanding of his mother's cooking and now George too reserves gratefulness for all that an animal can give. This is seen in his dishes like Grilled Calamari, with tentacles saved for later to adorn the plate with artistic flair. Harbouring strong family bonds and a love of food, George's family has evolved a philosophy of never taking anything for granted, from the killing of an animal, through to his personal life and respecting those you meet, no matter who they are.
If you find you've fallen in love with the first chapters of Hellenic food just as George did with his heritage, you're in for a treat flipping through to desserts. Feasting with the eyes is near on cruel, with temptations bursting from crisp photography. Readers are met with lashings of chocolate sauce drizzled from edge to edge across sweet Greek doughnuts, sprinkles of chopped toasted hazelnuts and pistachios strewn among slices of baklava and dustings of chocolate espresso mastic soil, only to turn to the last few pages, past the Hellenic Mess, to be met with curious Hellenic drinks. From cocktails to tonics and even tomato tea, one need only flip a page to find summery afternoon refreshments, or perhaps a post-Greek-feast aperitif.
Rustic style photography with moody lighting captures the depth each dish provides and Greek represents who George Calombaris is today. With an insight to George's personal relationship with food, Greek is sure to inspire you and those you share it with to explore the cuisine yourself, encouraging you to add your own modern fusions and tweaks, and perhaps inspiration for your favourite recipes, supporting that you are never too old to play with your food.
By Julie Johnson.
Recipes from the book Greek by George Calombaris, with photography by Earl Carter, published by Lantern, RRP $59.99 and can be purchase online here.