By Leigh O'Connor. Photography by Abbie Melle.
When love brought Ben Bamford to Australia, he expected to be battling crocodiles, sharks and spiders the size of small children. Fifteen years later, he finds himself Executive Chef of hatted Southern Highlands restaurant Birch in Moss Vale and there are no wild animals in sight, except on the plate.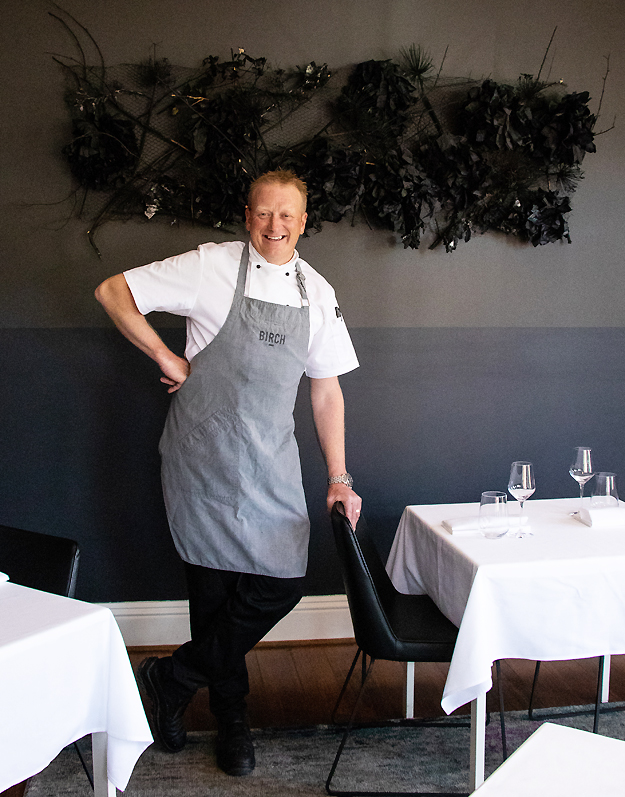 Growing up on the tough working-class streets of Manchester, Ben's early memories are of family-oriented Sundays when the focus of the day was sharing a hearty family roast.
"The rest of the week we very much fended for ourselves, which for a child involved a lot of investigating and experimenting," he recalls. "This inquisitiveness fuelled a passion to learn and challenge myself – a trait that I instil in everyday life still."
The brains trust behind one of the region's most successful restaurants, Ben's determined and innovative approach to the kitchen delivers a menu touched with personality and a passion for using local produce.
"The Southern Highlands is a very seasonal location and it is very evident by the landscape what season it is. We respect this at Birch, so we change the menu each season, as well as the décor, cocktails and wine lists.
"A lot of restaurants refer to 'local produce' like it is a special feature of their menu; our belief is that it should be an 'all the time' feature, without of season or imported ingredients used the least amount as possible."
Ben says the greatest influence on his early career was his hippy, sometime vegan Mother and her colourful and inventive cooking style.
"She was fuelled by her experimentation with all food trends from her vegan (aka hippy) lifestyle to the basic requirement of cooking nutritious meals for two young scallywags. Her courage to experiment was admirable (even if the results were somewhat unusual) – it was this strength that influenced my own creativity with food.
"After each Sunday roast, Mum would save the chicken carcass and use this to make chicken soup for Monday dinner. This is the first dish she and I cooked together, and it is still the best chicken soup I have ever tasted."
Training in UK kitchens before coming to Australia, Ben points to many differences between the two – the people, the mentality of the Chefs and all hospitality staff are very different on this side of the world.
"Here it is much more relaxed, while in the UK it is more fast-paced, and the people are much more driven. It was difficult at first to work with people, who didn't share the same thirst that I did, but it did teach me how to manage people and inspire them to want to work this way."
He describes his cooking style as multi-faceted and developed primarily through travel.
"It is also highly impacted by my location, access to produce and inspiration from the team around me. You're never too old to learn!"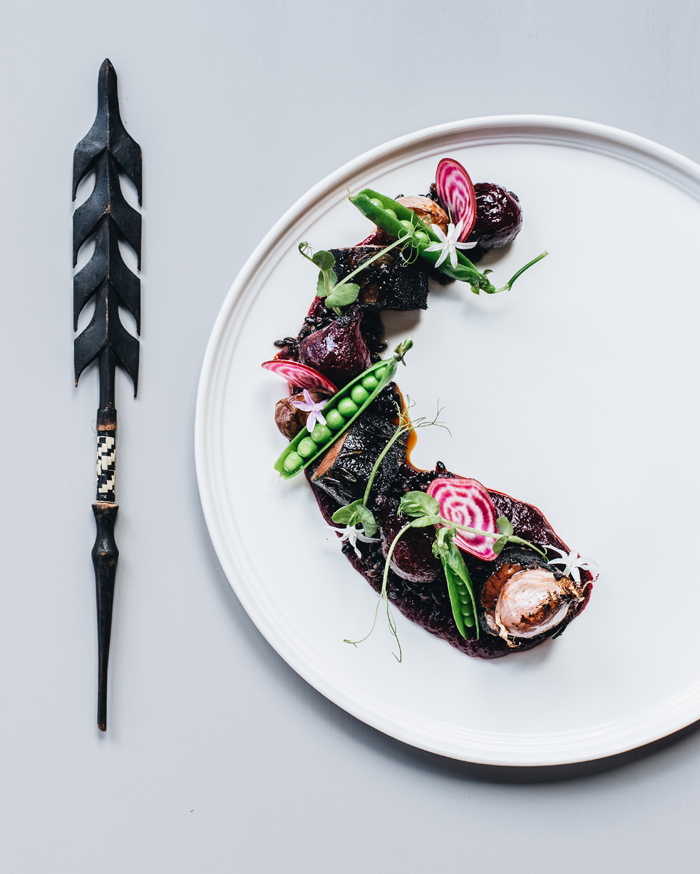 Ben's recipe for fillet of Black Angus with roast eschalot soubise, black barley, beetroot and truffled peas comes from Birch's most recent Autumn menu and encapsulates the process of how many of the restaurant's dishes are created.
"At Birch, there is a dominant focus on using the most local produce we can," he explains. "Our team is small, so brainstorming and creating is very much shared with Sous Chef Daryl Laver. This recipe was a quirky take on having a dish that reflected our environment.
"If you have been to Birch you would know the interior design is very modern, dark coloured and with a hint of Scandinavian feel. This dish utilises dark ingredients, as well as on-trend flavours and features – Black Angus, burnt onion powder, black barley and black truffle, to name a few."
Looking back, Ben says the advice he would give himself as a young Chef is to pay more attention and as wife Alicia has twin girls on the way, he will need to use this philosophy in more than just Birch's kitchen.
"Right now, I'm very focused on learning how to survive twin girls. Outside of that, I can't see my desire to work with like-minded, passionate and driven people changing. The industry is always evolving and that has me excited."
We are also excited to see where Ben's commitment to delivering an engaging dining experience for all who visit Birch, takes him in the future.