A Qantas 747 may have brought Markella Koutalidi to Tasmania – but it was the lifestyle and abundance of fresh, seasonal produce that was the real drawcard.
While working in London with two brothers from northern Tasmania, she constantly heard how great the Apple Isle was and decided to take the challenge and experience it for herself.
Four years later, she's the Head Chef at Mures Upper Deck in Hobart and still loving every minute of her experience Down Under.
With more than 15 years of culinary experience from around the globe – including stints on the pans at Michelin-starred restaurants Petrus (Gordon Ramsay) and The Fat Duck (Heston Blumenthal) – Markella originally hails from Greece.
She says there are similarities between the flavours and fresh produce you find in Tasmania and Greek and Mediterranean dishes, allowing her heritage to shine through in her cooking.
"The most important things I took away from working with senior Chefs early in my career is discipline," she tells AGFG. "Organisation of the kitchen and time management is another important lesson – how to run a kitchen efficiently, especially during peak times.
"From a cooking standpoint, I learnt all about seasoning and flavour balance. It gave me an understanding of matching flavours and great cooking methods, using a very wide range of fresh produce and as much of it as possible."
Mures Upper Deck is blessed to have its own fishing vessel – Diana – providing most of the seafood on the Hook to Plate philosophy menu, fresh and sustainably sourced.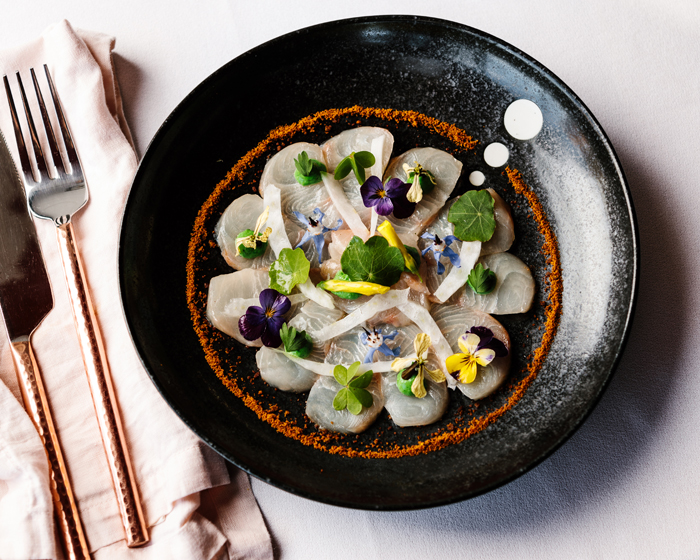 Sitting pretty on Victoria Dock, the restaurant has breathtaking waterfront views and is an ideal place to watch the sun turn pink with a chilled wine, while contemplating dishes such as the recipe Markella shares with you, kingfish ceviche.
"I love the contrast of flavours and colours on this plate. It is a great example of our Hook to Plate offerings, caught off our vessel Diana, delivered to our kitchen, prepped, sliced and marinated to order. You can't get any fresher than that!"
Markella's dishes are renowned for looking as visually stunning as taste tempting, a plating style she has worked on for countless hours.
"Working for nearly a decade in Michelin-starred restaurants gave me a great understanding and eye for attention to detail of presentation, when plating. I went above and beyond basic time to try to perfect the fundamentals."
Markella describes a Bass Strait squid dish she has been experimenting with, as her most eyebrow-raising concoction, matched with whipped cod roe (taramosalata) and lemon gel; while fennel is the one ingredient she can't cook without.
"It is so fragrant and reminds me of star anise, my favourite spice."
So, what does this Chef do in her spare time away from the restaurant?
"I love to jump in the car and drive up the East and West coasts of Tasmania. I was given the book 'Eat Wild Tasmania' by Rees Campbell about a year ago and I am trying to explore as many of the wild native coastal edible plants as I can."
You can follow Markella's journey on Instagram @chefmarkella.